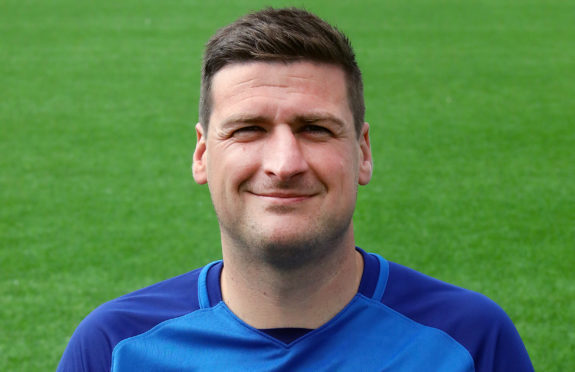 Veteran Montrose striker Chris Templeman had hoped to be dancing with his team-mates on the Ochilview pitch to celebrate clinching the League Two title and the club's first promotion since 1995.
The visitors followed the script perfectly as early goals from Templeman and Lewis Milne gave the Gable Endies their fifth straight victory and a seventh win in eight games.
The Champagne had to be put back on ice, however, after Peterhead's late winner at Elgin ensured that Montrose still require one more point at home to Elgin this weekend to be crowned champions and leave behind League 2 for the first time since 1996.
Templeman, meanwhile, limped across the pitch on his way home on Saturday night, although the 37-year-old said: "I'm not injured, it's just old age.
"It's a big pitch here and it was pretty warm today, and I just couldn't run about any more in the second half.
"Some of the others were having to do the running of two men to cover for me, and it wasn't fair on them."
Templeman was eventually replaced by Martin Rennie midway through the second period but, before fatigue set in, he made his usual sizeable contribution, including an outstanding opening goal after barely 97 seconds.
"I took a not bad touch and saw their keeper was off his line. I knew it was going in as soon as I hit it," recalled the former Brechin, Morton and Forfar attacker.
"It was good to get the second goal so quickly because we know Stenhousemuir are a really good side.
"We never really heard too much about how Peterhead were getting on because we just had to concentrate on ourselves.
"It's a difficult game next Saturday. Elgin are another really good side.
"We drew with them up there but needed to score a late equaliser to get a point.
"We know they have quality players that can hurt you."