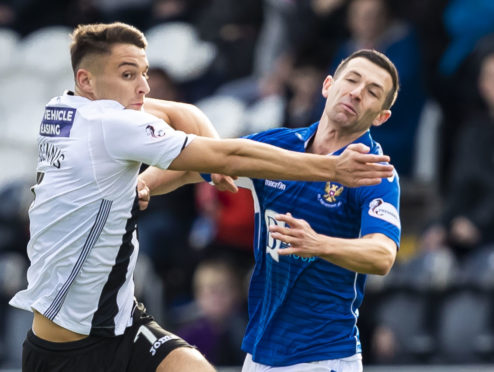 Jason Holt's faith in his St Johnstone manager is rock solid as is his faith in his St Johnstone team-mates.
But the on-loan midfielder is well aware that a corner needs to be turned, and soon.
Winless and bottom of the league Saints are in the spotlight and Holt is determined that they will start to get the results they need to banish talk of a crisis. And "sticking together" is the way to do that.
"The position we're in isn't good enough," the former Hearts and Rangers man admitted.
"We're angry and disappointed at that. There are a lot of games still to be played and we need to start putting things right.
"If we do get a win things can change quickly in football.
"I'm trying to help them as much as I can. When we cross the white line it's us as players who need to produce.
"We need to take responsibility.
"The gaffer here has had a great record here over a number of seasons and been really successful.
"There's no doubting his managerial quality.
"We all need to stick together – players and staff – and stay focused on our aim of moving up the table.
"Knowing the manager's track record gives us confidence that we can do that.
"When I joined I could see the quality in the squad. That hasn't changed. We know we're good enough to turn things around."
It isn't easy identifying where things have gone wrong, according to Holt. But taking the lead against Hamilton on Saturday, something they've yet to do in the Premiership, may be the quickest route to a fix.
"Obviously it's a difficult position we find ourselves in," he said.
"It's hard to pinpoint exactly what's causing the problems that are resulting in us not winning games. It's probably a combination of a lot of things.
"The tide has to turn for us sometime and we have to remain positive that it will happen soon.
"That means working hard to change things.
"In the games since I've come here we seem to start games well but we don't take advantage and then find ourselves a goal down.
"You'd be hopeful that if we were able to take the lead we'd be able to build on that."
The pressure on Saints in Saturday's McDiarmid Park clash with Hamilton Accies will be intense but Holt is confident the team will cope with that.
"You need to be focused on your own job," he said.
"We've not won yet so every game becomes more important.
"As soon as the whistle blows we'll have confidence that we can get the win we need.
"Hamilton will probably look to get as many balls in the box as they can.
"It's going to be a difficult game – we know that. They'll have done their homework on us.