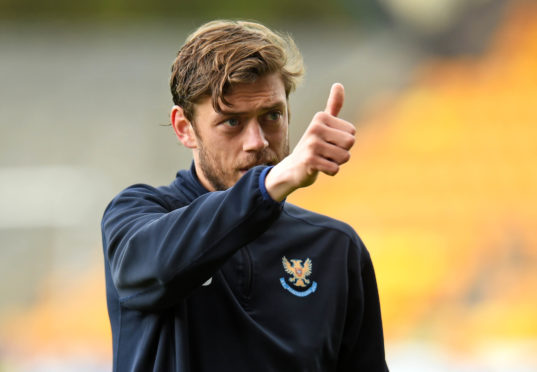 There is plenty to keep Murray Davidson motivated during the coronavirus lockdown.
Not only will the midfielder be at the same fitness levels as the rest of his St Johnstone team-mates after his arm-break lay-off and ready for a comeback, the former Livingston man will also have a testimonial season to look forward to.
Davidson is the latest in a long line of Perth players who have clocked up 10 years at McDiarmid Park in recent years.
The 32-year-old is honoured to be put in the company of the likes of Steven Anderson, Dave Mackay and Chris Millar in being awarded a benefit year, even though event-planning has had to go on hold.
"I've spoken to the club about that but, to be honest, it's been at the back of my mind," said Davidson.
"It's not the most important thing at the moment.
"I'm proud to have done 10 years at St Johnstone and it's excellent the club are recognising that.
"But we will just need to wait and see what happens. At the moment, there obviously won't be anything happening."
Derek McInnes's recruitment of Davidson and Mackay for a combined fee of around £40,000 in the summer of 2009 will go down as one of the best bits of transfer business in the history of St Johnstone.
"I remember the day myself and Dave signed," he said. "It feels like yesterday.
"Time flies but I've had some brilliant memories. I have loved my time, still love it and hopefully I can continue that."
A changing of the guard in the McDiarmid Park dressing room has seen Davidson take on the senior pro responsibilities at Perth, with young star Ali McCann among those who have identified his standard-setting as crucial to the current side's Premiership resurgence.
"Bringing the average age of the squad down was spoken about when we lost the likes of Steven MacLean and Chris Millar," said Davidson.
"It turns out the likes of myself, Liam Craig and Danny Swanson are the experienced ones in the dressing room now.
"You need to try and help the youngsters coming through the best you can, but at the same time look after yourself."
Davidson was closing in on a return to Tommy Wright's first team squad when the season was stopped the day before the Perth side were due to play Hibs at Easter Road.
"The arm has felt good since I got the cast off," he said. "I was out doing some running at training the day before the Hibs game.
"We've all now got our own programmes. Bod (Alex Headrick), the sport scientist, will be checking up on it and so will the management team.
"I've been running down the Inch most days to keep on top of the fitness.
"I've been sticking to all the guidelines and have been clearing off out the way, heading up way past the golf course.
"Once you get past the Inch, I'm mainly on my own. That can be tough because sometimes it feels like you are just running for the sake of it.
"I'm not the type of person who likes sitting in the house so it's good on that front to get out and take in some of the nice scenery.
"Mentally, it's hard to do it on your own every day. But it's something you need to do.
"When you're running on your own, you don't have anyone to push you or keep you going when it gets tough.
"I've been logging into my running apps and have been in touch with Bod most days. I feel fit enough.
"It sounds daft but when you're running five or six days, you need to try and enjoy it.
"Everyone in the team is keeping up their fitness and I am quite lucky in that aspect. I'll just keep ticking over.
"It's not just St Johnstone. Everyone is doing their own thing.
"If you don't, you obviously lose fitness so the benefits are there. We're all just waiting on word on what is going to happen."
Davidson will be no different to every footballer across the country when detailing what he is missing most during this enforced time away from the sport he loves.
"You miss the boys, the dressing room and you miss playing football more than anything," he explained.
"I spoke to a few people about Perth before we went into the lockdown and they were saying they were missing it too.
"But we need to look at the bigger picture and obviously people's health comes first.
"We were on a good run and the timing wasn't great for us, but when it's such a serious thing like this you need to put it first.
"Maybe a month ago people didn't realise the severity of it – probably myself included. Day by day it was getting worse.
"Of course we miss football, but you need to look after one another."