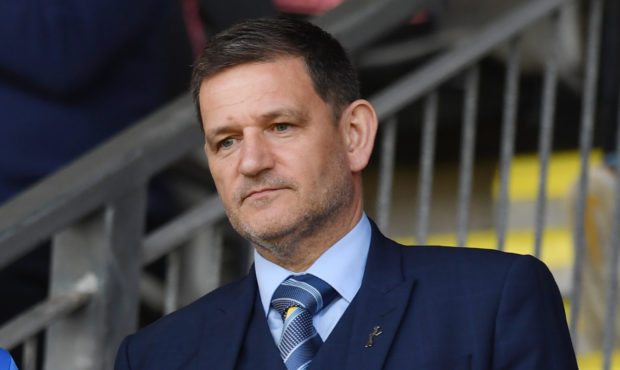 St Johnstone have savoured the taste of success a home-grown, youth-focused ethos at a football club can bring.
And there will be no turning back.
Perth chairman Steve Brown took great pride in seeing a Saints side featuring several academy products flourish in last season's top flight.
They were tested in the intense heat of a battle to get themselves away from the Premiership dangerzone and the likes of Ali McCann, Jason Kerr, Liam Gordon and Callum Hendry, with older McDiarmid Park-developed players Stevie May, Chris Kane and Zander Clark beside them, emerged stronger and better players because of it.
For some it will be a case of needs must as a consequence of the financial ramifications of the coronavirus pandemic. Saints, though, are prioritising youth out of choice, not necessity.
"Our philosophy has changed somewhat in the last couple of years," said Brown. "We can't just keep signing senior pros.
"You can have a keen 19-year-old who is going to be a player. That has to be the emphasis.
"Whether other clubs go down that route, it is hard to say. But from our point of view we were going down that road anyway.
"That is how we were evolving. The average age of our team from last season to what it was a couple of seasons ago has changed.
"At one point, the back four in particular would have had an average age of 30. It is now closer to 21 or thereabout.
"A lot of people zone in on the age, but you need to look at the amount of games played. The age is actually irrelevant.
"The opportunity will be there to play our younger players.
"You can't just throw in guys who haven't played at a level but for the ones who have been out on loan – that will definitely happen."
Brown has yet to appoint a successor to Tommy Wright, who left at the start of May.
Saints have extended the contracts of Murray Davidson, Liam Craig, Callum Booth, Chris Kane and four promising youngsters while Saints have been managerless, however.
And there won't be much need or scope for the new boss to bring in any transfer window recruits.
"I'm not promoting negativity here, but if there is a second wave we could be shut down again," said Brown.
"We have signed three players until January because we genuinely don't know what is going to happen.
"It will probably be the way to go for a lot of clubs, certainly clubs of our size.
"Between now and January, with the young players in there, you are going with 23 or 24. I've always said you only need 11!"
One of the many league reconstruction-related suggestions to emerge in the last few weeks has been the creation of formal partnership clubs in the SPFL pyramid. Brown likes the concept but thinks the informal relationships Saints already have will continue to serve their needs.
"I didn't want reserves two years ago and was kind of talked into it," he said. "Last year we didn't do it because it doesn't develop our players.
"I think the partnerships are a good thing.
"St Johnstone isn't exactly a colossus of Scottish football but I can understand the Old Firm, capital clubs and Aberdeen having a partnership with another club but I'm not sure if we could do that.
"We put players out on loan – we've done it all the way back to Stevie May.
"So we've effectively already got partnerships with the clubs we loan players out to.
"They benefit, we benefit and most importantly the players benefit.
"I don't really see how a formal partnership is any different in reality to putting players out on loan.
"We'll probably just continue to do that."
There have been other issues dominating the Scottish football debate since the Covid-19 shutdown but Brown wants to see the "wastage" of young players who don't make the jump from development football to the first team environment put under the microscope at some point.
"The downside of having 18s is that you'll have a squad of 16 players and it might be that two of them have a chance," he explained. "That's 14 laddies just being dragged along.
"The coaches are not in a position to say: 'Actually, you're not going to cut it' because they need 11 players in a team.
"And in two years' time it just ends in tears. It's getting hit with a sledgehammer. I see the carnage every year.
"I don't think that's right. These young laddies are probably missing out on loads of other opportunities in terms of career paths.
"As an employer of 30 years if I have an interview with someone and all he's got is 'footballer for two years' on his CV he is behind everybody else, there's absolutely no doubt about that.
"In the age group between 17 and 21 nobody seems to concern themselves with the 90-odd percent who don't make it. That's a bigger discussion.
"That's the reason we wouldn't want reserves or a colt team – the wastage."
Meanwhile, with Saints set to resume first training next week and the Premiership pencilled in for an August resumption, Brown believes McDiarmid Park's location and lay-out makes bringing professional football back in Perth less problematic than elsewhere.
"We've got a good road network and access," he said.
"Look at the likes of Dens and Tannadice that are in very tight areas in terms of people coming in. Tynecastle and Easter Road are the same.
"There are very few that aren't. Most are in built-up areas.
"We've got different accesses and can get people in and out. We've got 16 acres at McDiarmid Park. A safety and traffic management plan for matches should be relatively straightforward."
'Callum ticks all the boxes': St Johnstone hero Chris Millar backs Davidson to be the next Saints manager