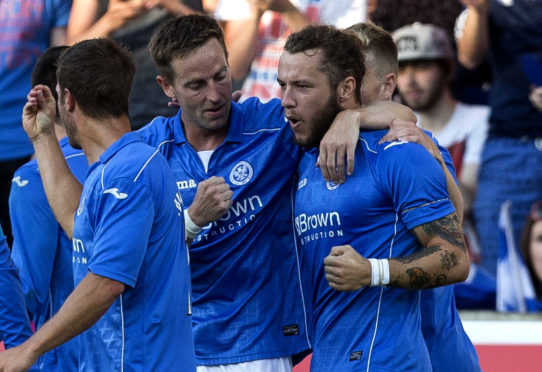 A Steven MacLean running commentary became an essential part of Stevie May's 90 minute routine in his first spell as a St Johnstone player.
And the Perth forward doesn't expect it to be any different now that his old strike-partner will be on the touchline rather than on the pitch.
MacLean's vocal contribution, motivating and organising, in the glory years of a Scottish Cup win and European campaigns was a key part of the Saints success story, as well as a key part of May's personal goalscoring achievements.
The former Aberdeen man believes that influence won't diminish now that the recently-retired attacker will be wearing a tracksuit on match days rather than a strip.
"Macca coming back in as a coach will have a huge impact on the strikers here," said May.
"I'm sure he will be getting in our ears and the likes of Callum, Kano and me can only learn from him.
"Obviously I played with him on the park and he took charge.
"He will be very influential, especially working with the forwards."
The story of May's season last year was one of steady improvement. He ended up on seven goals for the campaign and Tommy Wright believed he was getting back to the player of old.
Even when times were tough individually and collectively in the first few months of his second stint at McDiarmid Park, there were no regrets about returning to Perth.
"I never thought I had made the wrong decision coming back," said the 27-year-old.
"I was still enjoying training and playing games even when we weren't getting results.
"I could see the quality in the squad. I always had belief and so did the boys."
Nobody would choose to get off to a slow start and be bottom of the table deep into a season but that sort of challenge – when you come through it – accelerates the development of a team.
May reflected: "There were a lot of younger players and maybe they took time to gel.
"But confidence came with results. That is a big thing in football.
"Even when we did go behind there was a feeling we could get back into it. That came with getting results from December onwards.
"Sometimes you learn more from the bad times than the good ones.
"The young lads will have grown and they will be better for that experience, no matter how tough it was at the time.
"If there are little off periods in the future they will be better prepared to cope.
"They just have to look at where we were in November, rock bottom of the league, and where we ended up, finishing sixth. It was a great achievement.
"If we had started better last year who knows where we would have finished? The team was clicking that bit better as the season went on."
Another top six Premiership finish is in the record books and sights are set high again with a new season hopefully starting early next month.
"We have lost one or two players but compared to others in the league we will be much the same," said May.
"That should be a big benefit.
"The hunger is certainly there to really push on.
"It was frustrating the way last season ended but at the same time we should take real confidence from the form we were showing.
"Everyone in the squad can't wait to get started again. There's even more enthusiasm than normal because of the lay-off.
"I was playing a lot of War Zone, reading and doing plenty of walks when the football stopped.
"But it is great to think we will be back playing again soon.
"The big thing will be getting fans back involved. They take it to another level.
"You can see the difference watching the English games on TV. It's just not the same.
"Safety is the most important thing but hopefully it won't be too long before fans get into grounds."
St Johnstone boss Callum Davidson preparing the ground for transfer business