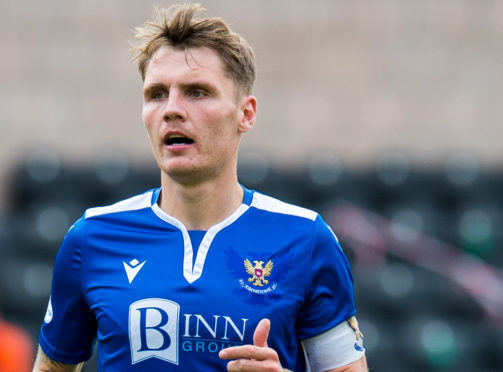 Chris Wilder's overlapping Sheffield United centre-backs became the big tactical talking point of last season's English Premier League.
In the Scottish Premiership this year it could end up being Callum Davidson's underlapping ones.
The buccaneering role the new St Johnstone manager has identified for Jason Kerr and honed on the training ground has yet to produce a defining moment. But everything points to the when rather than the if.
Occasionally under Tommy Wright, the midfielder natural instincts of Kerr – he played there for most of his youth career – were given free rein. The stand-out highlight was his run down the right that resulted in Chris Kane's late winner against Motherwell in February.
But such excursions were exceptions rather than the norm.
Davidson, by contrast, has embedded the former Scotland under-21 international into his attacking game-plan. Moving up the pitch to supplement, and even go beyond, the middle two is now systematic for Kerr as opposed to off-the-cuff.
Encapsulating the general feeling of Saints being so close but yet so far to turning promising offensive positions and phases of play into goals, there were three instances involving Kerr within the space of around 15 second half minutes against Hibs that spelt out his growing importance in breaking down an opponent.
As frustrating as the 'if onlys' were at the time, they will encourage Davidson when he assesses the bigger picture.
Kerr's licence to push forward and the parts of the field he'll do that in are no secret and Jack Ross is a sharp-minded coach who will have done his homework and tried to negate it. But when a centre-back is as at ease with the ball as the 23-year-old, he is a hard man to shut out of the game.
How do you set your team up up to combat the sort of run and exchange of passes he embarked upon three minutes after the re-start?
The fact that Kerr picked up the ball from a turnover of possession and that he was the deepest-lying outfield man on the pitch when he did so, made it next to impossible.
Teams are at their most vulnerable when a quick-thinking player gets on the front foot after a transition even when they are as far back as Kerr was – eight yards short of the centre-circle.
Few central defenders would even think about committing themselves to a drive forward in this situation but Kerr has clearly been tasked to do so.
As soon as he took a couple of steps up the pitch, Ali McCann got out of his way and created a 2v1 to by-pass Joe Newell. Instead of stopping there, retreating back into position and leaving the move to the perceived creative players, Kerr took the ball back and then played his second one-two, with Danny McNamara, this time taking the Hibs left-back (Josh Doig) and holding midfielder (Alex Gogic) out of the game.
Virtually at the byeline by this point, the first-time pass across the face of goal was exactly the one you would want him to choose. That Craig Conway couldn't get to the near post in time and that Michael O'Halloran didn't show a striker's instinct to gamble at the back post (Callum Hendry probably did the right thing in floating around the penalty spot) were the reasons this didn't end up a magnificent team goal rather than the quality of the pass, which flashed across the six-yard box without a touch on it.
Three minutes later, Kerr was one slightly sloppy touch away from thrusting into a wide gap that had opened up at the left side of the Hibs defence again.
This time O'Halloran was on the touchline and Kerr was his in-field option around 25 yards from goal.
That his body position was on the half-turn to go immediately forward, rather than square or even half-turned back, would have enabled him to get into the penalty box unchallenged had it not been for his first touch taking the ball waist high. This slight delay in having full control allowed Scott Allan the crucial time to sprint in from a defensive poor starting position, shut the offensive option down and force Kerr into a more conventional backwards pass.
The third near-thing for Kerr in a period of Saints territorial dominance and the skipper seeing a lot of the ball in the Hibs half of the pitch came when Danny McNamara found him with a throw-in.
Again about 25 yards out and unmarked, he got the ball out of his feet and spotted Stevie May, just brought on for Hendry a few seconds earlier, making the sort of outside-to-in run across the face of the right-back and right-sided centre-half Davidson will want much more of. Had the cross matched the sprint of May, the substitute could have buried a glancing header with his first touch of the match.
Instead it didn't get past Ryan Porteous.
Kerr knows how near he and his team came to breaking down the joint league leaders on several occasions. Given Hibs haven't conceded yet from open-play, and Saints found so many holes in their defence in that second half on Sunday, the long-term optimism for the season isn't just hollow talk.
"We played well for large parts of the game and could have moved on to win it," he said. "We got into a lot of positions that really threatened them, especially in the second half.
"You can see that I like going forward and I feel comfortable doing that. If there was a player on the end of a couple of my crosses it could have been a different game."
Saints are only one point better off five fixtures into this season than they were at the same stage of the previous campaign. But Kerr believes it is more relevant to compare and contrast the way they are/were performing than merely looking at numbers on a table.
"Last season we were losing games and playing badly," he said. "But just now I think we're playing well.  We can't worry too much."
The curve of Kerr's attacking influence on Davidson's side is on the rise and won't be going unnoticed in opposition analysis meetings.
If teams identify him as a focal point worthy of closer attention that will open up opportunities and overloads elsewhere on the pitch. And, with a left-sided centre-half in the back three, Jamie McCart, also happy to take a pass in tight spaces, seeing him step into midfield may become a more common occurrence than it has been to date.
https://www.thecourier.co.uk/fp/sport/football/st-johnstone/1530550/murray-davidson-could-be-set-for-weekend-comeback-against-st-mirren/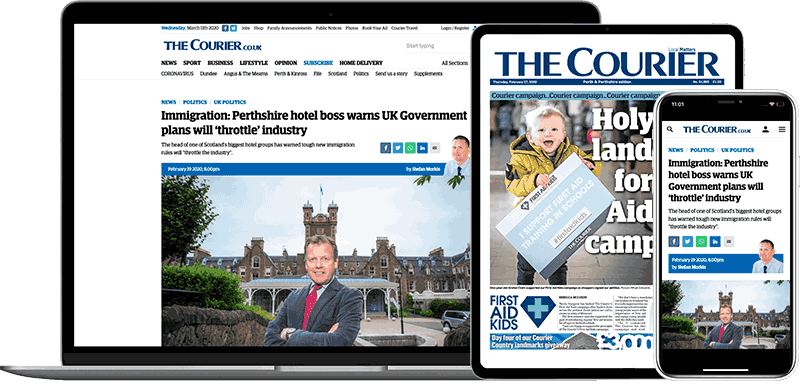 Help support quality local journalism … become a digital subscriber to The Courier
For as little as £5.99 a month you can access all of our content, including Premium articles.
Subscribe