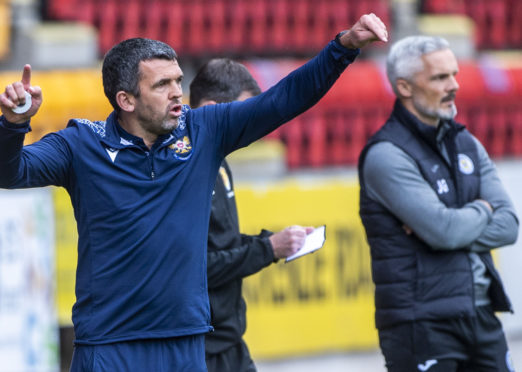 Chris Millar knew Callum Davidson was the perfect choice to replace Tommy Wright.
And the exciting start to St Johnstone's season has proved it.
Davidson has struck the right balance between recognising the quality of his inheritance, while embarking on a style of football in his own image.
And as far as club legend Millar is concerned, it is shaping up to be a powerful combination.
Seeing centre-halves marauding forward in a new-look formation is a significant departure from the Scottish Cup winner's time as a Saints regular.
But the brave tactic is bringing the best out of a backline with a broad skillset, he believes.
"Every manager has his own ideas on how he sees the game," said Millar.
"Callum has looked at the players he's got, particularly at the back, and wants to use the fact that he's got so many who are comfortable on the ball.
"You have to play the shape to suit the players, which is what Tommy did as well.
"In my day, for Ando (Steven Anderson) and Fraz (Frazer Wright) it was about defending, get the ball into midfield and we'll work from there.
"Callum's probably looked at his squad and decided he had the players who could do things differently. That's probably the big change.
"It's the smallest squad in the league, I think, and he'll strengthen as he goes along.
"Callum's his own man. He'll take stuff from Tommy and the other managers he's worked with and played under but he'll do things his way.
"He's a hard worker and he's got a young team that can improve.
"The key is that the boys at the back are so comfortable on the ball.
"You see it with the big teams. If you've got players who are happy to step into midfield and play, then that's a big advantage.
"It was one of the things that really caught my eye watching Saints.
"Defenders and midfielders are stepping in with the strikers and it is helping them build momentum."
Millar was relieved to see Saints avoid what would have been a dispiriting third home defeat on the bounce when Stevie May eventually scored the winner against St Mirren at the weekend.
"It was an important result," said the Morton veteran.
"I was at McDiarmid Park for the Hibs game to help out with the Saints TV commentary and they did more than enough to win that one. They were very unlucky.
"There was a lot of energy in the team and they pressed very well.
"There were so many positives to take from it – Danny McNamara really impressed me.
"If the performance hadn't been so good against Hibs it would have been a bit more worrying but they've taken those positives and put in another strong display to beat St Mirren.
"They really didn't deserve to lose three in a row so that will be a big three points."
The number nine's run and finish of May was a continuation of the direction of travel under Wright last season, according to Millar.
"When I saw Saints in the first half of last season Mayso was doing a lot of his work outside the box but towards the end he was getting more involved in the middle and scoring goals," he said.
"There were so many balls flashing across the box against Hibs that just needed someone on the end of them. I'm sure that's something Callum and Macca (Steven MacLean) will be emphasising. Get in that box.
"Players like Mikey (O'Halloran) and McNamara are going to get to the byeline.
"The strikers should be excited about the chances they're going to get in the six-yard box in this team."
Saints' star man of last season was undoubtedly Ali McCann. Now, with others often surging forward around him, the young midfielder has been showing a different side of his game. And he will be a more rounded player because of it.
"When there are only two in the middle, you've got to have discipline in that role but it will be great for him," said Millar. "He's learning all the time and you can't take away his dynamism and athleticism.
"Everybody has high hopes for him. He'll kick on after last year and fulfil the potential he's got.
"As a young central midfielder you're learning all the time. If he's holding a bit more than maybe he was last year it will do him the world of good in the long run.
"You need to be disciplined in the middle of the pitch when you've got the two wing-backs pushing on. I'm sure this will be another big season for Ali."
Wright was spoilt for choice when he was asked about his best signing as Saints manager. David Wotherspoon got the nod – and he's already proving to be a key man for Davidson even though the campaign is only six games old.
"You can see why he said it," said Millar.
"He's got that versatility managers love. He's good on the ball. Sometimes his tackling isn't the best but he gets about and now he's an experienced leader in the dressing room.
"He's not the most vocal but you always know he's going to put a performance in.
"He played a lot of different positions in my time – even-full-back – and it's the same already under Callum.
"Managers and players trust him which is a massive thing. You need these versatile players, especially if your squad isn't the biggest.
"Easty (Brian Easton) would definitely have been the most gutted when he read that. He always thought he had a special relationship with the gaffer!"
St Johnstone striker Stevie May happy to be the man for the tap-ins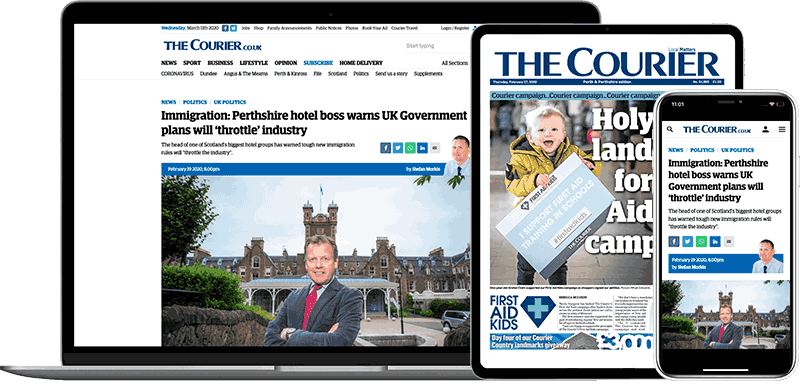 Help support quality local journalism … become a digital subscriber to The Courier
For as little as £5.99 a month you can access all of our content, including Premium articles.
Subscribe