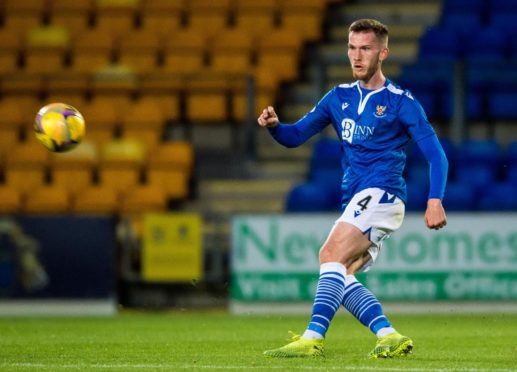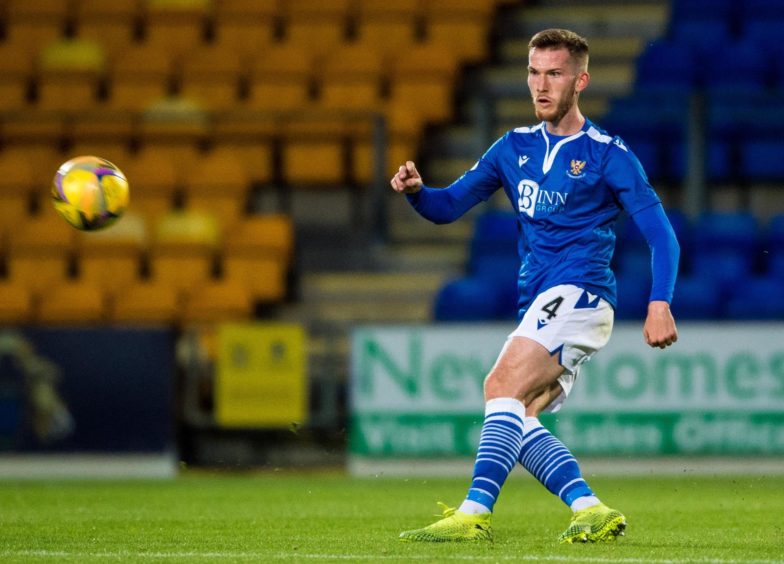 More often than not in football the adoption of a back three is born out of desperation rather than design.
Not at St Johnstone.
Saints are showing that the formation doesn't have to be a last throw of the dice to sort out a porous team. If you have the right combination of skills, it can be first choice fulcrum of a vibrant and dynamic unit.
In Jamie McCart, Jason Kerr and Liam Gordon the backline has a passer, a marauder and an organiser. And according to the former Inverness Caledonian Thistle man, it's a blend that makes personnel and system a perfect fit.
"Some teams play a back three for the opposition you are playing but we are flexible within it," he pointed out.
"Everyone trusts the system. It suits the squad we have. I would say that we've felt confident at the back throughout the season.
"The three of us work well together and are good friends off the park. We have different roles in the system. We are strong and confident as a unit.
"We sometimes played a back three under the old gaffer but this is the first time I've had a run at it in a positive, more attacking set-up.
"It certainly suits me and the boys enjoy playing it.
"It works well both defensively offensively. The more we play it the more comfortable we are with it."
I think the boys are starting to get fed-up with Gordy!
There are plenty of reasons McCart and his Saints team-mates would love to see supporters back in Premiership grounds – one of them being it would drown out the running commentary of the man to his right.
"I think the boys are starting to get fed-up with Gordy!" he joked. "You couldn't hear him when the fans were in.
"It can be annoying sometimes but he organises very well and helps other people out. It is important for the team, whether guys like it or not.
"Communication is a vital part of football and Gordy is really good at it."
For players who have been at the club longer than McCart is brings back memories of another centre-back.
"I never played with Ando but I have heard what he was like!"
Given their dominance of possession and territory last weekend, Saints weren't satisfied with their point against Dundee United. Not conceding in the league for the first time in six matches was an important line drawn in the sand for McCart and the other defenders, though.
"It was massive for us," he admitted. "The Dundee United game was similar to a few others here – Hibs, Ross County and Aberdeen – when we definitely shouldn't have lost.
"Even when you're not scoring, the least you should be coming out of a game with is a 0-0.
"Hopefully getting clean-sheets is a habit we can start getting into."
Saints have got a gap weekend before returning to action against Kilmarnock on Friday night.
"We've had a few days off, not that we can do much with them," said McCart.
"Sometimes it can be good when boys have wee niggles and you can get back to full fitness.
"But we want to keep the momentum going.
"The past few results have been good, although we'd have hoped to beat Dundee United with the performance and the chances we created.
"It was still another point on the board.
"Obviously results are the most important thing. You have to be picking up points so hopefully we are now getting consistency in our game and starting to get more shut-outs."
Based in the west of the country where coronavirus restrictions are at their tightest, McCart is limited in what he can do to fill his time away from McDiarmid Park. He knows, however, that others in the squad face an even tougher home-life challenge.
I don't know how Danny's coping without him.
"Danny (McNamara) has been brilliant for us," he said.
"It can't have been easy for him coming to a different country with all that's going on with Covid. He's kind of stuck in his flat in Perth and can't really get out and socialise.
"And (flat-mate) Tanto's gone back. I don't know how Danny's coping without him.
"Guy (Melamed) is another one who has had it really hard. He had to isolate in a hotel room for a fortnight. I don't know how your mental state will be after that!
"It's a nightmare situation for a lot of people and as footballers, we just have to be thankful that we're still training and playing."
You wouldn't imagine nostalgia and 2020 will go hand in hand for many but in terms of McCart's career path it has turned out to be a defining year when the Celtic academy product found his way back to a Premiership club and established himself there.
Twelve months after being part of a Caley Thistle side losing 3-0 to Dundee United in the Championship, he was part of a St Johnstone side keeping the Tangerines quiet in the top flight.
"Football can change really quickly," said the 23-year-old. "It's constantly moving and you can never just sit back and take stock.
"It's been a really good year for me.
"Nobody could have imagined what would have happened off the pitch in 2020 but on the pitch it's been a great year for me.
"Tommy Wright was eager to get me signed in the January and it gave me a really good platform for this season. I'm enjoying every minute of it."
ANALYSIS: Craig Bryson has taken his chance as St Johnstone midfield battle intensifies