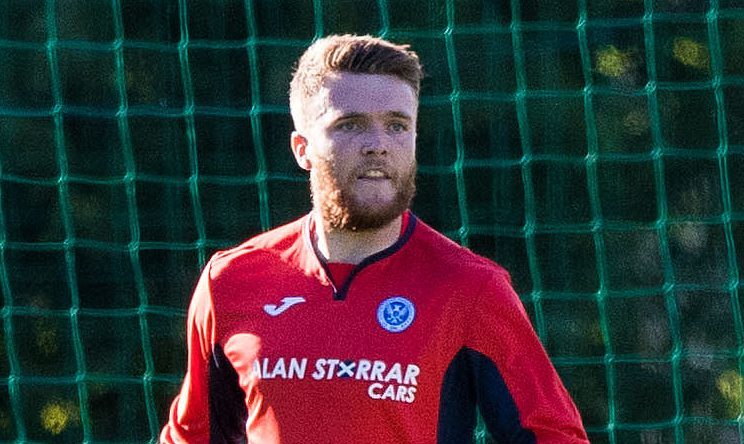 Murray Davidson didn't prove too much of a threat to Zander Clark's hopes of a St Johnstone first team recall.
But the Perth keeper feared that dislodging Alan Mannus would be a long process.
Clark got his first Premiership start of the season against Ross County in midweek, one he admitted he didn't see coming.
And up until that point his only recent action had been sharing game-time with wannabe goalie Davidson in Dave Mackay's testimonial.
"I've not been too worried about Murray, to be honest," Clark said.
"He's gone on for years and years about how easy it must be to be a goalkeeper but I think he's realised now.
"When he played in Dave Mackay's game he came for a few crosses but that was about it.
"I don't think I've ever seen him as nervous as he was that night. He didn't have a clue what he was doing.
"He wasn't even sure how you take a goal-kick properly and was asking me before that game: 'what do you do?'.
"I just told him you put the ball down and kick it!
"He used to think we have an easy life but I think that 20 minutes or whatever it was has made him look at our job completely differently."
As far as Mannus was concerned, Clark realised that Tommy Wright's decision to stick with the former Linfield man was one he couldn't argue against.
He said: "Was there every any temptation to chap the manager's door? No, definitely not because I wouldn't have had a leg to stand on.
"The team were doing well and individually Alan has been doing well, so there was no case I could have made.
"What would you say? There wasn't anything so it was just a case of working hard and waiting on the chance to arrive.
"When you are a goalkeeper there are two of you fighting for the one position so it's just a case of being patient.
"It had been a while. The last time I played a competitive game was away in Europe.
"As a keeper you just have to accept it, I'd played a lot last season then Alan got in, I came back for Europe then he got his chance again.
"You can't let it get to you, all you can do is focus on doing all you can in training, then wait.
"It's obviously always on your mind that when you're not in, it could be a while you're sitting on the bench.
"And when you have someone like Alan in front of you, an international goalkeeper with over 250 games for the club, then you really know it could be a while!"
Clark, who kept a clean-sheet on his return to the side and will be back in goal for today's clash with Partick Thistle, added: "It was a surprise when the manager told me he was picking me the other night because Alan had been doing really well.
"Obviously coming in and keeping a clean sheet does your chances of staying in no harm, but I know I've got to perform because Alan is there to take it back off me.
"There is pressure on the pair of us, whoever has the gloves has to earn the right to keep them."
On his decision to swap keepers, Wright said: "Sometimes as a manager you want to give them a different voice behind them and that was the main reason.
"Alan hasn't done a lot wrong and probably has every right to feel aggrieved, but Zander went in and kept a clean sheet.
"I'm not saying Alan wouldn't have because I think he's played well, but as a manager you have to make big decisions and I just felt it was the right time to freshen it up there.
"Zander kicks the ball a bit further, which gets us up the pitch and takes the pressure off at the back, so it was little things like that as well.
"I've said all along that I have two number ones so when I do leave one out it's not something I take lightly."
Richard Foster and Liam Gordon both return to the squad today, while Michael O'Halloran could also be available.