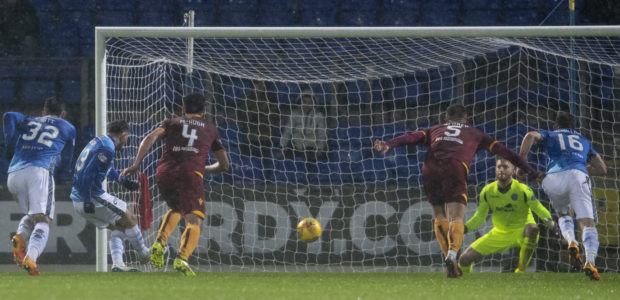 David Wotherspoon insists St Johnstone's players will still volunteer despite the club being under some kind of spotkick spell.
Saints have failed to score with four of their last five penalties, the latest culprit being Matty Kennedy in the 2-1 loss to Motherwell that ended their eight-game unbeaten run.
He saw his strike saved by Well goalie Mark Gillespie on 25 minutes, by which time the Perth men were already two goals down.
Had that gone in, though, it would have given them a lifeline a lot earlier than the one provided by Jason Kerr's header on 83 minutes.
Despite all that disappointment, Wotherspoon insisted there will still be plenty of volunteers for the next kick…himself included.
The midfielder said: "It was another disappointing turn of events for us.
"We just can't seem to get that right penalty taker.
"He (Kennedy) hit it well but the keeper obviously knew which way he was going to go.
"It was just disappointing that we didn't a goal early on and we would have fought back a lot more.
"If that goes in then we are 2-1 behind at half-time and we can come back and maybe even win the game.
"We have all been in that position when you miss and we are all in it together.
"We all feel the pain.
"My name is in for penalties but I think Blair Alston scored one against Rangers at Ibrox and Dave McMillan scored last year.
"Those two are the first pick for our next one.
"I would say everyone wants to take one to get on the scoresheet and help the team."