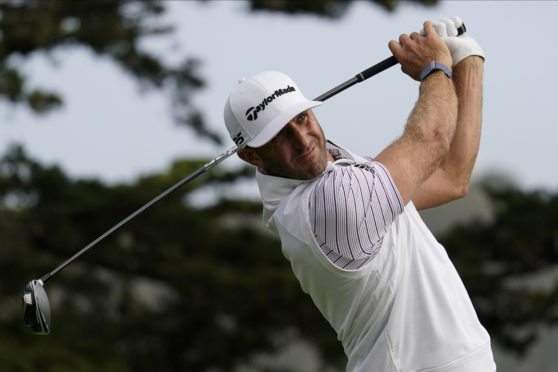 Dustin Johnson, whose sole major does not remotely reflect his ability, leads by a shot going into the final round of the PGA Championship at Harding Park, as America got moving on a blustery moving day in San Francisco.
The cosmopolitan leaderboard of the 36-hole cut turned star-spangled after 54 holes, five of the top six flying the home flag. Johnson leads after a brilliant 65 – which included a double-bogey – on nine-under from Cameron Champ (66) and Scottie Scheffler (65), with the ubiquitous Brooks Koepka (69) and the highly-rated newcomer Colin Morikawa (65) two back. Paul Casey (68) is the sole non-American in the group around the lead.
Tommy Fleetwood just about stayed in the hunt at six-under but had to birdie two of the last three holes to avoid losing more ground. His 70 was matched by Justin Rose and Jason Day, but two more threatening Americans, Tony Finau and Bryson DeChambeau, moved up to the six-under mark.
Johnson is contending again, and but for his sole win at the 2016 Open at Oakmont these major championship Sundays have proved a fraught business for the 36-year-old. He's led three times previously at majors going into the final round – all three at the US Open, in 2010, 2015 and 2018 – and not won any of them. According to US stats agency the Elias Sports Bureau, no player has led four times going the final 18 holes of a major and not converted.
But there's always a first time, and there have been many near-misses for Johnson – at the PGA of 2010, the Open of 2011, and most galling, that US Open in 2015 when he had a makeable putt to win on the final green but three-putted.
"I would feel like I have a chance no matter where I am on the leaderboard starting tomorrow," he said. "I definitely have experience in this situation that definitely will help tomorrow.
"I've been in the hunt a bunch of times in a major. I've got one major, so having that experience is definitely going to be beneficial tomorrow. But I'm still going to have to play good golf, get it done."
Johnson's form has been wildly inconsistent all year, with a couple of 80s as well as a win. His card for his 65 was chequered with squares and circles as well, bogeys at six and the double at nine – easily the toughest hole on the course – offset by eight birdies. He parred just two holes on the front nine.
Koepka, Johnson's close friend and "Bash Brother" is now two behind but won't go away from the top end of these major leaderboards. He was solidity personified through 12 holes, two-under and apparently coasting into pole position.
Then Koepka's cool visibly vanished with three successive bogeys, with one poor chip and a couple of bad lies in the semi rough. He righted the ship quickly, however, with two birdies at 16 and 18 that leaves him just where he wants to be.
"I mean, I like my chances," said the winner of four of the last 10 majors. "When I've been in this position before, I've capitalized. I don't know, (Johnson) has only won one. I'm playing good. We'll see."
While super-confident as always, Koepka thinks that the winner could come all the way from five back.
"On this golf course I feel like anywhere from 4-under has a chance, I think that's realistic," he said. "You can get off to three, four-under very quickly through seven, and then there's (the par five) 10, I mean, you've got a realistic chance right there.
"It all depends what the weather does tomorrow, but any of those guys at four-under I think have a reasonably  good chance."
The PGA certainly has a recent tradition of first-time winners – seven of the last ten champions – which augurs well for Champ, Scheffler and Morikawa, and also for the in-form Daniel Berger, Finau and DeChambeau, all just three back. Koepka's four-under window goes all the way back to 18th place.
It includes the 36-hole leader Haotong Li, whose chances came partly undone by the lack of spectators on the Harding Park site. He was at nine-under and still in sole possession of the lead on the 13th when he blocked a drive into the cypress trees, no-one saw it come down and the ball wasn't found – with galleries present, it almost certainly would have been.
Four shots went on the way home from there and he finished with a 73 for five-over. Playing partner Fleetwood was two-over for the day with three to play but rescued himself with two late birdies to remain in the hunt.
Casey, the sole European amidst a sea of stars and stripes, still insists he's not comfortable without fans present even if he's having his best major since the 2010 Open.
"It's gone through my mind a few times, the gravity of the event we're playing in. But you can't get over the fact it's just you're missing the roars and the excitement and the screaming.
"There's no question the golf course is producing that test for us. It's just the other elements which are usually a big part of what we do (are missing)."
It adds some intriguing tactical questions for the final day, with leaderboard-watching a key to knowing what needs to be done, rather than listening for the crowd roars.
"Sometimes we rely on the TV crews to ask the leader's (score) or something like that," Casey continued. "Obviously there's no roars out there, but you can generally sense a vibe and if the cameras are with you, you're doing pretty well, and if they are not, you probably need to pick it up a little bit.
"That's probably how we will gauge tomorrow."
Tiger Woods' new putter was still stone cold and he toiled to a two-over 72, while Rory McIlroy got nothing going on the blustery day and finished at level par.
Scotland's Robert MacIntyre, in his first major in the US, struggled to a four-over 74 and is four-over for the championship going into the final round.