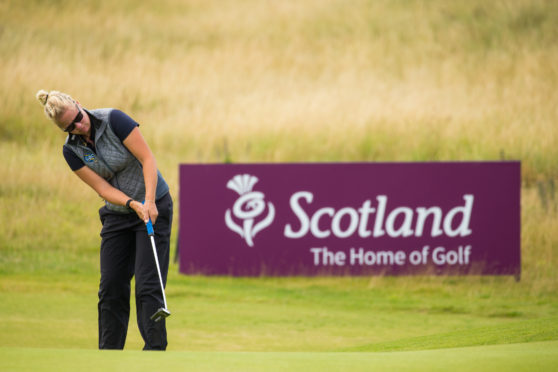 Danes Nicole Broch Larsen and Emily Kristine Pedersen got a boost from their home union to get battle-hardened ahead of the return of elite golf and both capitalised on a windy opening ady of the Aberdeen Standard Investments Ladies Scott Open.
Larsen leads on four-under with Pedersen one shot behind on a day where the re-routed and toughened Renaissance Club course showed some of its teeth, once the players could get going after a two-hour delay for haar.
Pedersen shares second place amongst those finished with four others, two Americans in Amy Olson and Jennifer Song, and the Solheim cup player Azahara Munoz. Scotland's Gemma Dryburgh is sharing eighth two shots off the lead with three others who have completed their first round.
The Danes couldn't get across to join in the Rose Series or the early LPGA event last week, so they were reduced to playing at home, said Larsen.
"We were allowed to play in one of the Amateur events back home, and then we got invited to one of the men's events, which Emily actually won," she said.
"Then they organized another event for us, a mixed event too, where 30 of the best pros in Denmark competed. It's not the same as out here obviously, but it was nice to have a scorecard."
Larsen did her best work in the greens with just 26 in all and one three-putt amongst that.
"I feel like that's kind of the secret to links golf," she continued. "Like you've got to just play the round, keep it in play, and then you make your putt here and there, and suddenly then it's 4-under."
The organisers have used the flexibility of the layout at Renaissance to change the routing of the course from last year, making the tougher holes out towards the Forth Estuary on the back nine. The rough is more penal than it was in 2019, and the same set-up is being kept for the men's Scottish Open in October.
Olson feel she's gaining confidence in links golf after several visits but has been surprised at how strict the health regime is.
"I feel like, they've got us in a bubble as much as they could," she said. "Once we got into the hotel, we were all tested and couldn't really leave our rooms until we got our test results, and even since then, it's just been golf course and hotel.
"So it's definitely been very strict, but I feel very comfortable and safe, which is always a positive."
Munoz who played in the first group of the day and holed out from the fairway for an eagle two on the first hole on her way to her 68, concurs with that view.
"In Scotland, they are being very safe here and that's why they are doing so good, they don't have many cases and they want to keep it that way," she said.
"I think we have to be thankful that we are allowed in the country, and if this what we need to do to do it, it's what we need to do. I just want to play and I'm just thankful for that."