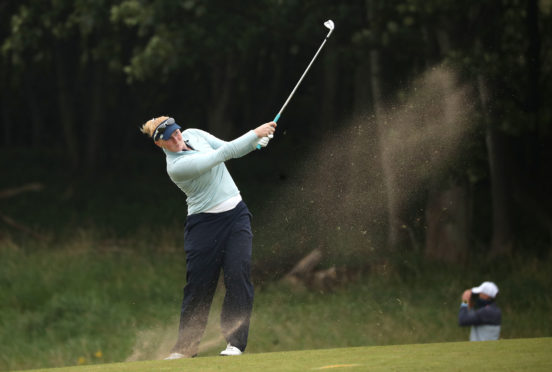 Kylie Henry will be staying in a hotel just ten minutes' drive from her home for the Women's Open at Royal Troon next week, but that's bearable she'd have "done just about anything" to be there.
Henry signed off the Aberdeen Standard Investments Ladies Scottish Open with a three-under-par 68 to finish one-under and in a tie for 11th, the best finisher from any of the home nations at the Renaissance, much less than host one.
She was an impressive five-under for the weekend, illustrating again that the form that led her to her two LET titles is coming back.
The main aim of this weekend was to finally book her place at Royal Troon, and that was assured even before she played Sunday's round.
"I played Royal Troon every year as an amateur because we have the Helen Holm Scottish Championship there every year, but not for the last 11 years and I can't wait to go back," she said.
"I've played six Women's Opens before but I'd have done anything to play in this one so close to home. In fact I'm staying at the tournament bubble hotel even though my house is just a little bit further away and my parents' house is closer to Royal Troon.
"My husband (tour pro Scott Henry) was just moaning to me that I'll be only five minutes away next week but he'll not be able to see me!"
Kylie is most pleased to have picked off from where she left off before lockdown, and admits that the stop was doubly frustrating for her.
"I just felt everything was falling into place for me, I had a couple of good finishes in Australia and everything was looking good for the season before it all came to a halt," she added.
"My parents' house is in the country and when we visited them to bring groceries we were able to hit from their back garden into a farmer's field, and that was about all the practice we got for a few weeks!"
She warmed up for this current stretch – five tournaments in six weeks as the LET gets underway again – by playing against the men in the Tartan Pro Tour event at Carnoustie, playing with host Paul Lawrie and finishing a highly creditable 10th.
"That was such good fun, and so good to get the opportunity to play again," she said. "I played with Paul the first day and it was great to watch the way he played the course where he won the Open.
"We're all so grateful for Paul and also Martin Gilbert at ASI for the opportunities they've given us in Scotland."