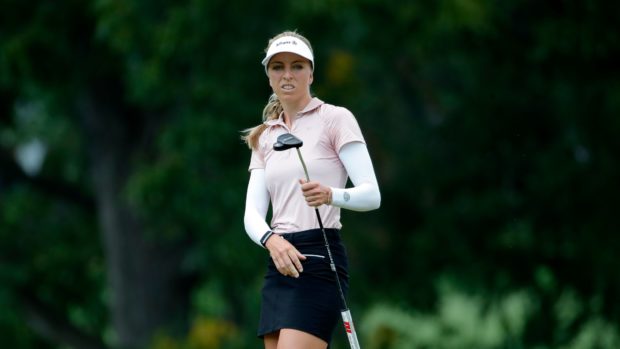 The AIG Women's Open produced a Cinderella story for the second year in a row as Sophia Popov, who almost gave up playing professional golf a year ago, won the title at Royal Troon in imperious and commanding fashion.
The 27-year-old, who was born in the USA but moved to Germany as a child, had never won a ranked tournament before and wasn't even in the Women's Open two weeks ago, and even played on the secondary Symetra Tour in the US just last week.
But despite being a relative novice, she slept on a three-shot lead going into Sunday and never wavered in the final round despite the pressure exerted by a charge from Thailand's Jasmine Suwannapura which reduced her advantage to just a shot at one point.
A bogey at the first – down to a rare missed green in regulation – didn't change Popov's resolve and she had five birdies in the final round before the superfluous bogey at 18, for a three-under 68, a seven-under total of 267 and a two-shot victory.
And all this came after she almost quit pro golf last year after her toils playing on the minor women's tours in the US. She played in the LPGA's Marathon Classic in Toledo three weeks ago, but her tenth place finish was her career best until yesterday.
Popov's key shot of the championship came on Saturday, when lying at even-par and not really considered a factor for the title, she hit a driver off the deck for her second shot at the long fourth and holed a 10-foot putt for eagle to claim a share of the lead she never lost.
From there, she seemed unflappable by the pressure of her own nerves or any of her contemporaries, but the emotions broke through as she clinched victory on the 18th.
"It feels amazing," she said. "There's a lot of hard work behind it, and a lot of struggles that I went through the last six years, especially health-wise, and I'm just glad I was able to overcome everything.
"I knew I was capable. I just had a lot of obstacles thrown in my way, and I'm just glad I stuck with it. I almost quit playing last year, so thank God I didn't!"
She stuck with her plan for the year, even it meant playing the LPGA's satellite tour – she had no LPGA card until now – only last week.
"Everyone said, why are you playing in Phoenix the week before The Open?" she said. "My focus this year was still the Symetra Tour and that was more important to me so I said, I'm going to stick with the schedule that I had.
"The British Open to me was a bonus and I got here on Tuesday, and I said, you know, I know my game is in really good shape, I know anything's possible and I think I took that belief with me to every round.
"But I never expected this. Obviously like I mean, I was uber-nervous this whole round, and I'm just so glad I could get it done, and it was definitely different than winning a Cactus Tour event!"
Her only previous pro victories were in the Cactus Tour, a lockdown-breaking mini-tour of events in Arizona earlier this year where she won twice.
"Previous to this week, I honestly don't know," she said when asked if she thought she could be a major winner. "I think ability or capability-wise, I always believed yes, but it was all about getting it together during the right weeks, and for me honestly my biggest goal was just to win an LPGA event, period.
For it to be a major right off the bat, it was obviously more than I could have hoped for but also something that I did know I was capable of."
She didn't even mind that the walk up the 18th was not to the sound of acclaim and applause from the fans that usually greets a major champion.
"Without crowds, I can see the views, the water, it's such a beautiful walk. And it was really nice because we could really soak it in.
"Of course I would have loved to have the galleries and everything that goes with it, but it was a different kind of nice, I would say. I personally really enjoyed it."
Inbee Park made the biggest move from further back, the 2015 champion shooting 66 but she was never able to repair the damage of her first round 77, even if she was seven-under for her last three rounds.
Lydia Ko's expected challenge never materialised either, and any chance she had of making up ground vanished with a run of four successive bogeys when she turned for home in the final round. The New Zealander finished tied for 14th on four-over, along with Nelly Korda.
Catriona Matthew had a disappointing weekend with rounds of 74 and 76 and the 2009 champion finished on a 13-over total just inside the top 60. Michele Thomson had a 76 yesterday – playing in a touch over 3 hours in the first group out – for a 22-over total in her first major.