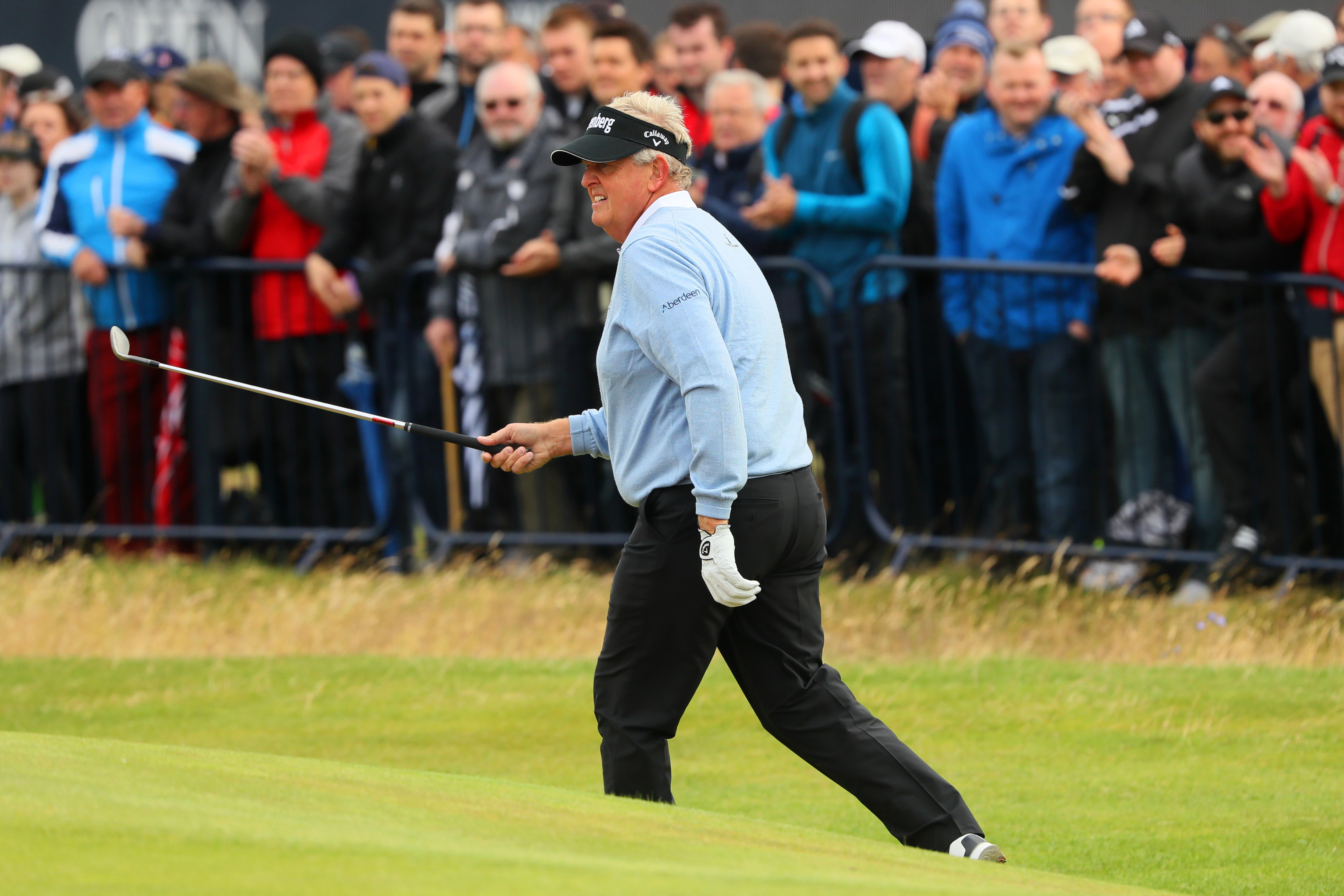 Carnoustie is playing to a mere 7295 yards in the Senior Open, 100 yards shorter than it does for the Open Championship play, but it seems that it's plenty long for some.
Colin Montgomerie's bid for a first Senior Open title in his first attempt on home soil began in ignominious fashion, his four-over 76 finishing with a dunk in the Barry Burn at the last, where a five was a decent score in the circumstances.
It ensured he was not the worst score of the group, as Tom Watson, after a fine run of three birdies in five holes, finished bogey-double bogey, following Monty into the final sweep of the burn with his second shot into the last.
Low man of the group was John Daly with a par round of 72, and that with missing a decent birdie chance at the last which he reduced to a drive and a flick. It wouldn't be a Daly round without one big number, and it came at the ninth, where he chased his approach through the green and beyond the tenth tee, eventually taking six.
Monty never seemed to be entire at ease and had one bark at a cameraman at the 13th, which he three-putted for his third boegy of the day. The sole birdies came at the back nine par fives.
Leasing Scot Robert Arnott once had a card for the Senior Tour, but the Bishopbriggs man found that he hardly got a start due to exemptions and players turning 50 "jumping the queue".
So he'd hardly played an event and came through Monday qualifying to make his Senior Open debut, and was three-under with two to play, only to finish 6-5.
"I'd have grabbed that before I started but it's now almost a case of `call the ambulance'," he joked.
"The 18th was nearly a career four, I hit a three-wood into the burn, hit it on the green and the putt hung over the hole."
The 53-year-old is just looking to enjoy his debut, "and I know it's meant to be fun, but Carnoustie is always hard work.
"This is my favourite course along with Loch Lomond.  You don't get anything for nothing here,   whatever you shoot you've deserved it."
Former PGA champion Andrew Oldcorn, who won for the first time in five years in Germany earlier this month, birdied the 16th on his way to a par round of 72.
Lindsay Mann, another qualifier playing on his home course, finished bogey-bogey for a two-over 74, while Sam Torrance was heading for a respectable 73 when he found all sorts of trouble at the last for a quadruple-bogey eight.