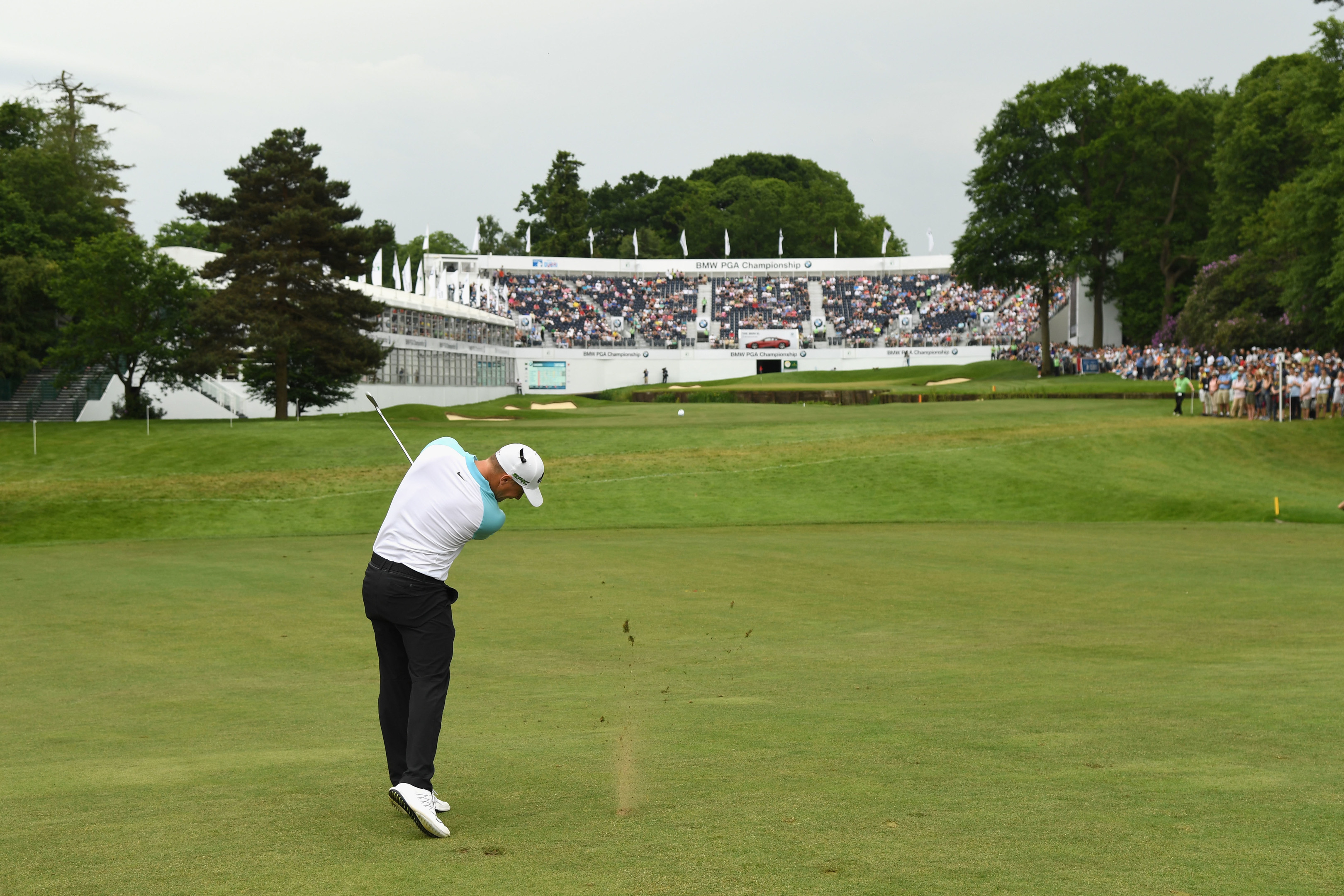 After a week of perfect weather, it had to be the good old British rain that did it.
Alex Noren of Sweden got a sizeable assist from the weather gods at Wentworth and snatched the BMW PGA Championship to win his fifth European Tour title in less than a year.
Admittedly he did a good deal of the hard graft himself; a course record 10-under 62, finished with the glorious flourish of an eagle on the 18th, obliterated the seven shot deficit on overnight leader Andrew Dodt that faced the prolific Swede at the start of play.
Dodt of Australia and South African Branden Grace, probably the favourite to win at the start of Sunday's proceedings, were as far back as the turn when Noren's eagle putt dropped. The Swede had a two hour wait in the players' lounge until the final duo got home but it wasn't exactly as stressful a vigil as it might have been.
Noren's eagle, to finish on an eleven-under total of 277, gave him a two-stroke lead over Dodt, Grace and Ireland's Shane Lowry, but on a West Course which was set up for good scoring it seemed fanciful that it would be enough.
Instead, almost immediately as Noren sat down to wait, the perfect weather enjoyed all week at Wentworth finally broke, the heavens opened, and those still out on the course went into full retreat.
Dodt, with two bogeys and a double, fell away first. Grace found water at the 12th, a crucial double at a hole he's birdied twice and eagled in the previous two rounds and was not a factor from then on.
Lowry was still in range until the 15th but went out of bounds there and then doubled the 17th for good measure.
In the end Noren knew with the final group at the 17th that the win was in the bag. Francesco Molinari (68) was left in second two shots behind Noren, Open champion Henrik Stenson (68) among three players left in third on eight-under.
The 34-year-old is the first Swede to win the BMW PGA, and of course the first player to win one of the European Tour's new lucrative Rolex Series events. But since his Scottish Open triumph at Castle Stuart last July, he's been on an incredible run with five wins in 17 events.
But this, not just because of the cheque for £894,000, is obviously "the best-ever".
"Amazing and just a little crazy, " said afterwards. "I didn't really believe that the score would stand when I came off the course, but I did feel that it would be tough for someone to get to 12-under.
"I usually watch leaderboards but I didn't look at the last hole because I just wanted to hole that putt and set the target."
Having chipped into the water from the back of the 18th on Saturday, he was just looking to redress that as quickly as possible yesterday and take it from there
"At the start I wasn't thinking much of the deficit," he said. "I was just trying to play a good round of golf and get into next week (his home Open in Sweden) on a high.
"I finished the last hole yesterday very bad, and I was pretty angry after the round, so I took a long rest and tried to just have a good day.
"I came out holing birdie putts on the first two, so you know anything can happen from there."
A birdie at the long 12th first got it into his head that he might win, although he picked up another five strokes from there, including the superb five-iron at the last to five feet for his closing eagle.
"It's probably my best ever round," he said. "This is a tough course mentally coming down the stretch.
"It's not super narrow, but if you hit it a little bit wayward, it can cost you. And I putted probably the best I've ever putted."
Noren moves into the world's top 10 as a result of his win, which surely makes him a live contender at major championships.
"This has the feel of a major," he said. "At least to me it feels like that. It gives me confidence for those coming up."