 It was almost a given; of the seven Scots in the field at the RICOH Women's British Open, the only one to make the cut at Kingbarns is the one giving up professional golf.
Largely by virtue of a 65-foot putt for eagle at the 11th, Elie's Sally Watson shot a 69 to comfortably make the weekend at three-under in what is almost certainly her final event as a professional golfer before taking a complete change of path, enrolling at one of America's foremost business schools.
The 26-year-old's decision has long been made, and even if she were to have am amazing weekend, there's to be no going back.
In fact, she's going out doing exactly what she wanted to do, justifying her place in the field to the large group of family and friends that have turned out to watch, and enjoying "everything, the good shots, the bad shots and everything inbetween".
"Who knows, this might be the last time I feel this, the thrill of competition," she said. "I'm not sure that I'll get the same feeling in business. It's nice to enjoy the nerves, to savour it one last time, and obviously I'm thrilled to make the weekend.
"I played nicely, I putted really well, which of course you'd say when you make a 65 foot putt for eagle."
She'll miss that competitive feeling and she has actually enjoyed most of the travel and visiting different places, but she definitely won't miss living out of a suitcase and the hotel rooms.
"I've made a huge commitment to being a professional golfer, really since I was 13 years old," she pointed out. "I'm really looking forward to the intellectual challenge of university again and maybe living a more normal life for a 26-year-old."
Catriona Matthew's eight successive appearances as a Team Europe player in the Solheim Cup may be about to end. The 2009 WBO champion was unable to produce the kind of performance that might have nudged Annika Sorenstam to pick her as a wildcard to play as well as be a vice captain in two weeks at Des Moines.
A second round two-under 70 was certainly better than Thursday, but she finished three shots short of the cut line and admitted frustration at being unable to recover from her poor start in the first round.
Pamela Pretswell, solidly placed after the first round on level par, effectively lost out with a run of four shots dropped in three holes, including a double at the short 12th, eventually shooting a 76 to miss by five.
Vikki Laing had an eagle at the 11th but had immediately preceded it with a treble and a double. Like Matthew, Comrie's Carly Booth was unable to repair the damage of an opening 76 in her second round.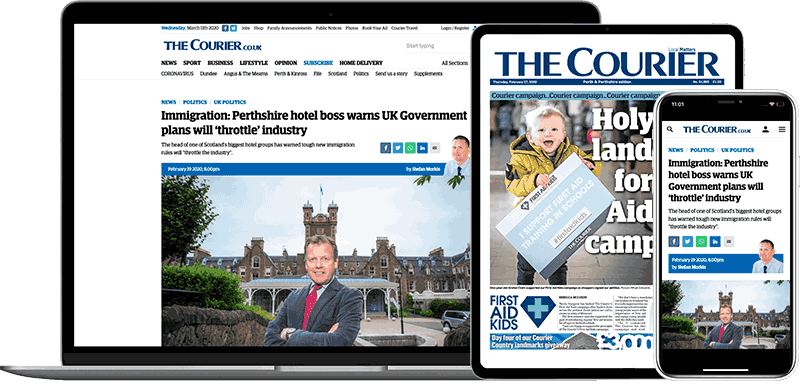 Help support quality local journalism … become a digital subscriber to The Courier
For as little as £5.99 a month you can access all of our content, including Premium articles.
Subscribe