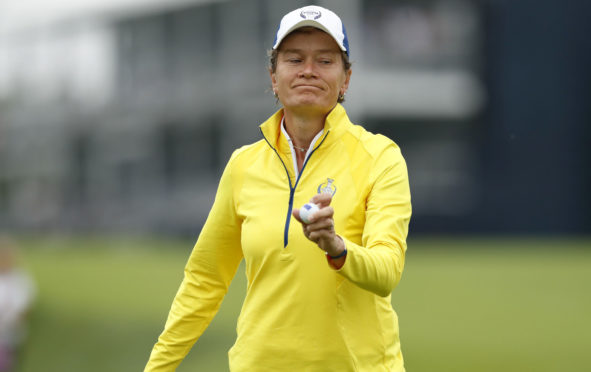 The raft of Solheim Cup records are within tantalising reach, but Catriona Matthew knew as she came back to win her final singles point at Des Moines that this was her playing swansong.
The 47-year-old, the oldest player in Team Europe history, closed out her illustrious career with three points from four games, amazingly after an eleventh hour call into the team as cover for Suzann Pettersen.
But even though Dame Laura Davies' all-time record of 25 Solheim Cup points is just three points away, Catriona will seek the captaincy of Europe at Gleneagles in 2019 rather than a tenth playing appearance.
"Yes, I think I should go out on a high," she said after announcing she was retiring from Solheim play. "I know that I am now just three points behind Laura, but two years is a long time.
"When I was three down to Stacy (Lewis, in their singles match) I knew I had to come back and win the point because this was going to be my final match. It's unfortunate we didn't win, but it was a nice way to finish."
Matthew does hold a number of Solheim records – she's ranked third in total points won on either team, behind Dame Laura and outgoing captain Annika Sorenstam. Her six singles wins is equal best on either team with Juli Inkster.
But, with Sorenstam making it clear she was to be a once-only captain,  the path is clear for Matthew to be captain of Europe on home soil at Gleneagles in 2019, and there doesn't seem to be a single rival candidate.
"It is tough to think about that right now, but I have said before I'd like to do it," she said. "I think it would be a tremendous honour, especially to get to do it in your home country.
"I've not thought about the details at all. There's plenty of time for that.
"But I will defintely still be playing on the LPGA Tour. I will know when the time is right to stop there."
Other than taking the trophy back as well, it could hardly have been a better experience for Matthew in the circumstances, only knowing she would be playing two days before the event began.
"This has been an amazing week for mem" she said. "Initially I was disappointed not to be playing, then excited about being vice-captain, and then I did get in. I'm just pleased that I played so well.
"It was difficult coming in as a last-minute replacement, but I certainly felt that I did my part for the team."
Although her form hasn't been as she'd hoped this year, the signs are that the Solheim could be a catalyst for the remainder of her season.
"Let's hope this will be that," he continued. "It's given me a lot of confidence as I played some good golf on all three days, though especially in the singles.
"I played really well on the back nine against Stacy under real pressure and hopefully I can take that into the end of the season.
"The standard on the LPGA gets higher every year. It gets tougher and tougher all the time to compete out there. You've got the players here and then the Asian and rest of the world players. So it is tough, but no-one has ever said it was easy."
Catriona is confident for the future of the Solheim and the Ladies European Tour, whether she is involved at Gleneagles or not.
"Hopefully a lot of people have watched it at home on TV and from what I've read, it has been a fantastic spectacle on television.
"The bigger the crowds the better at Gleneagles. As players, we thrive on having lots of people out watching.
"There's been problems with the LET but they don't anything to do with the standard of the players. There's a lot of good young European players coming through, including some good Scandinavians and French ones.
"I think the talent is there. They just need to get the tournaments for them to play in."