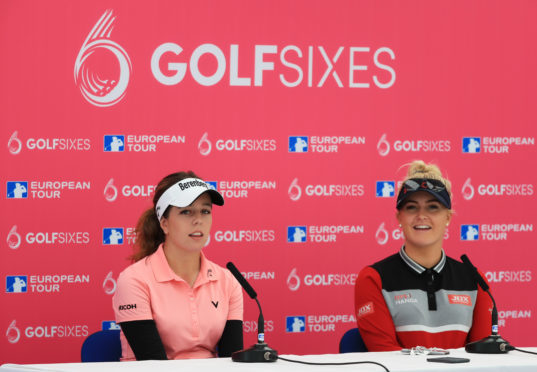 There's nothing like a good old battle of the sexes, and golf simply hasn't had anything like one…until today.
The European Tour's GolfSixes event, a trimmed down,two-day,  fast-paced (forcibly fast paced, in fact, with a shot clock) version of regular golf events, got off to a reasonably successful start at the Centurion club near St Albans a year ago.
And for the difficult second album this week, the organisers – at the behest of Tour committee reps David Howell and Eddie Pepperell, it seems  – have unleashed history's oldest conflict, including all-women teams from the Ladies European Tour and pairing Team Europe captains Thomas Bjorn and Catriona Matthew playing against the men.
GolfSixes, played over six holes between two-person teams in greensomes, is the European Tour's latest attempt to find a golfing equivalent 20-20 cricket or Rugby Sevens, a shortened, simpler version of the main course aimed at the unfeasibly short attention spans of the 21st Century.
What you get is three groups of teams playing a total 24 matches over the first day
Last year's inaugural event did pretty well at the box office and in general reviews, although European Tour chief Keith Pelley quite cheerfully admitted they winged most of it, chucking as many ideas and seeing which ones stuck.
Some have returned for the second staging, again at Centurion, some have been quietly dropped. The one new idea that grabs the imagination, however, is today's opening clash between England's men, Pepperell and Matt Wallace, and the women's team of Solheim Cup players Charley Hull and Georgia Hall.
And there's no question whatsoever who is relishing the contest more.
"When we knew we were going to be part to this, it's been the No 1 event on our mind," said Hall. "It's a real chance to show off our golf to the men and to other people.
"Is the pressure on them? 100 per cent, I'd say," she grinned. "I think it's a great chance to show what we can do."
The English duo both won on the men's tour this year – Wallace in India and Pepperell in Qatar – but they seem to be a lot more nervous than the girls.
"I'm worried about the ladies to be honest – I played once with Charley at Queenwood and she beat me off the long tees," said Pepperell. "They've got a few tees forward, 50 yards on some holes and as I only hit 3-wood 99% of the time…we can use that as an excuse, it's the only one we've got."
Pepperell was elected to the Tour committee this year and suggested widening the scope of teams involved in GolfSixes.
"It's either my fault or a great idea," he joked. "Seriously, we all think it's brilliant for the event that the ladies are here and although I imagine we'll take some stick if we lose, it's all good fun."
He has an idea that GolfSixes could yet be bigger and more encompassing as it progresses, and the excellent weather forecast for this weekend here will help.
"If I was to have a vision for this event moving forward, it would be that it could become a festival of golf, not just guys and women pros playing, but juniors, girls and boys, seniors and amateurs," he said.
"Obviously that's going to require sponsorship which is a separate challenge but from the Tour's perspective, I think that's what we're trying to do."
Catriona Matthew thinks that different tees is definitely the way to play, although with her specific partner it might be slightly to her advantage.
"We'll never say we can compete with them length wise, we're just not built the same," she pointed out. "But the beauty of golf is you can set up a course where you can have us hitting the same clubs into the greens. We can set it up to be a level playing field.
"If a Ladies team won this, it would be great, but if the mixed team won it would be especially great! But yes for Ladies golf and for the LET is great exposure to have our players in this with the men.
"I think most people who've been to women's events know how good we are. But this is the chance to play in front of a new audience."
Nobody's pretending this event should replace the staple 72-hole tournament golf where the sexes play separately, but like 20-20 cricket and 7s rugby it would be interesting to see what can seep into the "regular" form of the game.
Certainly the 30-second shot clock is one, a feature that will go into another format late on tour in Austria later this year. It will be particularly interesting to see how it affects the in-form Irishman Paul Dunne, whose reputation as not one of the quickest is already bordering on notorious.
Italy's super-quick pairing of Renato Paratore and Edoardo Molinari should have no such issues. Denmark's Luca Bjerregaard and Thorbjorn Olesen are defending their title, but the Thai duo of Thongchai Jaidee and Kiradech Aphibarnrat are definitely worth watching.