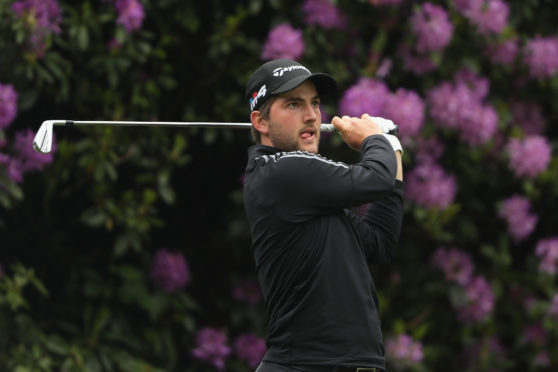 Bradley Neil announced himself to BMW PGA Championship at Wentworth with something of a fanfare, but it "quietened down a bit for me" after that, he admitted.
The rookie European Tour pro from Blairgowrie rolled in a 20 footer for eagle on the fourth to go to three-under, and came off the short fifth green 15 minutes later to see his name going up on one of the Wentworth leaderboards.
Heady stuff, not that it fazed him – "for a lot of today I felt like I did when I was playing junior golf" – but the putter went a bit cold after that.
The course playing long and soft after an overnight thunderstorm allowed Bradley to open his shoulders and he was rarely in anything but the peak position off the tee although his two misses all day – at the par five 12th and 18th – ended up missed birdie opportunities.
Bogeys at seven and 15, both after perfect tee shots but slightly misjudged second blows, brought him back to a one-under 71, still highly acceptable for a first competitive look at the West Course.
"The eagle was like I played all day, hitting in to get chances around 20 to 30 feet, sometimes you hole them and sometimes you don't." he said. "I thought if I could get to the turn at three-under I could attack the par fives on the back nine and make a score, but it didn't quite happen."
But after a tough initiation into the big tour, this was a significant confidence booster for the 22-year-old, coming just as the big moneys event begin and what he considers to be his peak spell for form in the year.
"Looking back on the season, it's not too dissimilar to what I was going through on the Challenge Tour a year ago," he pointed out. "This time last season I was inconsistent and my best finish at this point was 11th.
"There were missed cuts and poor finishes and then suddenly, I think the week after Spey Valley, I went tied second, tied second.  All of a sudden I was in a completely different position.
"I can't look back in disappointment on this season (so far). I can only look back and analyse what went wrong."
Meeting up with coach Kevin Hale for the first time since March has helped with that.
"The preparation has been better for most events, the swing hasn't been consistent but Kevin spotted a few things and we worked on some things with Mark Bull, who does some work with Justin Rose," he continued.
"We have done that really well. We both know I tend to peak in the summer time. You have to take confidence from the good stuff and forget about the bad scores."
And the extra money at the Rolex Series events can be the making of his rookie season.
"I'm in (Italy) next week, so it's two big weeks," he continued. "I didn't think I would be straight into this so that was a surprise.
"Hopefully I can look forward to France, Ireland and the Scottish. They are so big but you can't take them for granted.
"Gullane would be fantastic. Seeing the support the English guys get here makes me more excited to get on that tee and see what support we get from the home crowd."