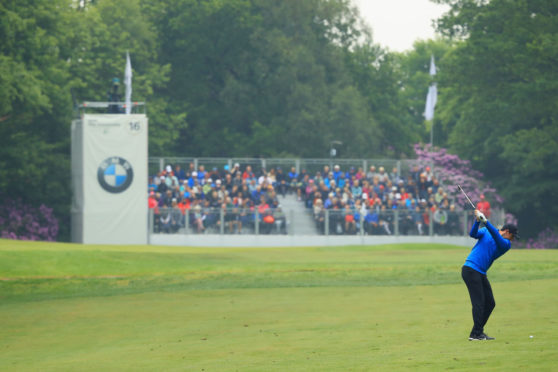 The clap of thunder and rattle of the rain around the Surrey/Berkshire border in the early hours of yesterday morning woke up all but the heaviest sleepers, and you could imagine Rory McIlroy rubbing his hands with anticipation.
So it was that the former World No 1 found the West Course completely to his liking yesterday, wet and soft and vulnerable. Enough for him to return one of his best starts to the BMW PGA Championship with a five-under 67 to lie in a tie for fourth after the first 18 holes.
It might have been better but for an errant camera clatter in his backswing on a second shot to the 18th, when going for the green in two. Distracted, he carved the shot towards out of bounds on the right and only a tree branch diverted him from that fate.
But from there he played a superlative 30 yard pitch that nearly went in, settling for a par and two strokes behind leader Lucas Bjerregaard, one behind the South African duo of Dean Burmester and Darren Fichardt.
"It's a tough enough shot without something going off at the top of your backswing, but it happens," he said. "I sure (the cameraman) didn't mean to do it.
"I played better, a lot better, than I have the last couple of weeks. My wedge play was really good and that is something I have tried to work on continuously for last 12 months. Any time I had a wedge in my hand I thought I had a realistic chance of birdie."
He'd earlier rattled off seven birdies to counter dropped shots at the third and ninth, including a rare two at the 14th and a birdie every other hole on the back nine until he stalled at the final two par fives.
"It was close today but it's not quite there," he still admitted. "I'm not quite as comfortable with my game as I was when I won here in 2014.
"I wasn't that comfortable with my game then but I kicked on from that and improved and went on to do what I did that summer (which was to win the final two majors).
"I'm trying to get back to what I used to do. I used to attack from inside with driver and hit a nice draw but I have not been able to turn ball over this year.
"I'm just trying to get back to familiar feelings. What's been great (about this year) is I have been able to play 18 holes and go to range and hit balls, which I could not do last year."
Rory feels comfortable now on the West Course and that wasn't always the case, but he's also aware of the lurking dangers.
"There are courses you feel you can chase on and be okay but if you start to chase here it can bite you pretty quickly," he said.
"It's similar to Sawgrass if you get out of position. But they've made the course more fair. The moisture and the overnight rain made the golf course a little bit easier, as well.
"You can be a little more aggressive off the tee if you want to be, and they have even taken some of the deep bunkers around the greens and some of the run-offs, so you can get it closer to the pin."
Bjerregard put behind him a litany of poor performances on the West Course for an opening 65 that seemed to surprise the Dane as much as anyone.
"I haven't had much success around this place, so I don't really know what happened today," he said. "It's important to hit the fairways and the greens, with it being a bit wet, as the rough is quite – well, it's no fun to be there.
"It's quite important to hit it straight, and I felt like I did that. I put myself in a lot of good spots and left myself with a few short irons and took advantage of that."
Fichardt agreed with the need to hit fairways as the key, and admitted he'd taken time off to prepare for this week and those that follow.
"I took a few week off to prepare for this stretch," he said. "With the Rolex Series Events now, you have to keep yourself fresh for these next two months, and I've managed to do that and I'm feeling quite excited for what's ahead."
Matt Fitzpatrick is well placed alongside McIlroy on five-under, while Tommy Fleetwood shot a 70, wistfully remembering what life was like here before he became Europe's No 1.
"This is  always going to be that kind of place which is where I had my lowest point in golf," he said, speaking of the 81-76 nightmare over the weekend two years ago. "I'll always remember it for that, but in a good way because that it is where I left it.
"It was like a turning point more than anything.  Now it's nice coming back with confidence and feeling like  you have a good chance in the tournament."
"Golf is a very difficult sport, and so easy to just fall off a little bit. It happens all the time.  I'd have thought it would take more than two years to get anywhere near where I am.  It just happened very quickly."