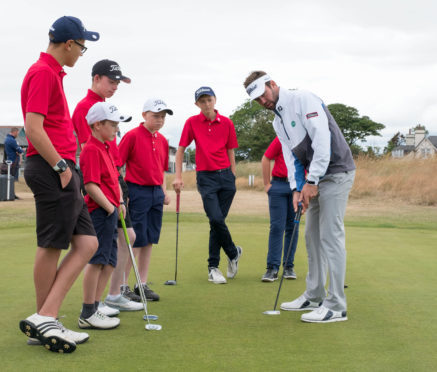 Scott Jamieson and Russell Knox don't live much further apart in Florida than the distance of a long par five.
But the only time the two Scots have been able to catch up has been on this side of the Atlantic during Knox's hugely successful trip back to Europe.
Jamieson is starting to think he might be a lucky charm for the recently-crowned Irish Open champion.
And he's hoping it will start to work both ways in Open week.
"I've known Russell a long time," said the 34-year-old. "We actually live near each other in Florida now. Mind you, I don't think we've been there at the same time, though.
"I've seen him over the last few weeks, while he's been playing across in Europe, and he's done brilliantly. Russell is a phenomenal golfer.
"We've had a couple of dinners and I've maybe brought him some good luck in France and Ireland. Now it's my turn!"
Jamieson hasn't spent much time in America since relocating there with his family. A good championship this week could open up doors for playing his golf in the States next year, though.
He said: "We moved out there in December but we didn't get into our house until March. It's been really hectic. I've not had a winter of practice yet, which was one of the main reasons for moving out there.
"It will probably be a couple of years before I really feel the benefit.
"I know that a top 10 here can have a huge impact on my season. I would jump up the world rankings and the Race to Dubai. It would also get me a foot in the door to play the Web.com play-offs in America. That's basically a tour school there.
"I've set my goals high and I feel as though I can do it if I play well."
Jamieson's Open history isn't one to get too excited about – three starts and three missed cuts.
"For my first one I qualified at Castle Stuart in the last group and then the Open was at St George's so you couldn't get further away," he recalled.
"I was on such a high after finishing third in the Scottish Open and growing up as a kid you have an image in your head about what an Open will be like.
"The weather wasn't great on my first day, I was off really late and nobody was following us round. I was thinking, 'this isn't what it was supposed to be like'. It was so flat. And after the energy I'd put into getting there, I had nothing left to give.
"So I didn't really enjoy my first Open, which was disappointing.
"Muirfield was my next one. The greens got really baked that year. I can remember being in the middle of the green on the 16th and taking double bogey after thinking I'd hit four good putts!
"Again, that was a bit of an empty feeling.
"Hoylake was good, and there was a real buzz that year, but I just didn't play particularly well.
"Hopefully this will be the most enjoyable one.
"I've known since November that I would be playing in it so everything has been planned to try and peak for this week.
"My results have been a bit up and down but I feel that my game is in a good place. It's just a case of putting it all together.
"Maybe missing the cut at Gullane and getting a round in early on Sunday will prove to be a blessing in disguise.
"The week of the Scottish Open can take a lot out of you, especially if you're in contention."
Jamieson is happy that the number of Scots in the field has grown from two to five in the last few weeks.
He said: "For a while it was possible that it could have been just me and Sandy (Lyle)!
"That wouldn't have been ideal for Scottish golf and it wouldn't have been ideal for me and Sandy either. All the focus would have been on us.
"I'm obviously glad there are a few of us and hopefully we can all do well.
"We were spoiled for so many years with Sam Torrance, Sandy Lyle and Colin Montgomerie. We've lacked a figurehead recently.
"I'm happy to have a go at being the next one."
* Jamieson spent yesterday morning playing golf with youngsters at Montrose Golf Links as part of his role as ambassador for digital currency LIFElabs.io. Six children were nominated by the charity Winning Scotland Foundation.