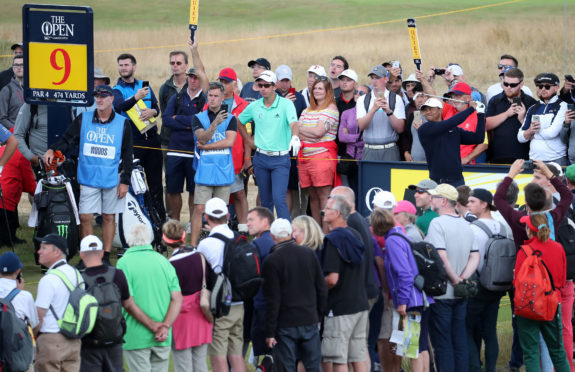 This time last year Tiger Woods was considering the possibility that he'd never return to the Open Championship, far less being actively considered for a fourth Claret Jug.
"A blessing" is how he describes the recovery from the fusion surgery that finally sorted his ailing back. But to win an Open at Carnoustie, 12 years after his last victory? He poured a little cold water – much needed around here after two months of near drought – on the idea that he was a favourite, as some have suggested.
In general terms, the Open maybe does give him a better chance to win another major championship as he ages, he conceded. He knows how to "strategise" the fast, fiery tracks as he did at St Andrews in 2000 and Hoylake in 2006, he agreed.
But he's wary of weather changes, referring to the light shower that was falling as he spoke wondering whether it would change playing conditions – probably not much, to be honest – and he doesn't agree that slower greens are going to help him through one of his significant weaknesses so far this year.
But he's just happy to be here, because there was a good chance 12 months ago he wouldn't be.
"Yeah, there were definitely points that I certainly thought I'd never play in this championship again," he said. "It's great seeing it on TV, but it's even better in person.
"I remember how it feels to come down to the last hole with a chance to win it, and knowing that I may never have that opportunity again…
"To have the opportunity to come back to Carnoustie and play here in Scotland again, I've said this before throughout this year, it's been a blessing. There were some times where I didn't think I'd ever be able to do this again, and lo and behold, here I am playing my third major of the year."
Woods admitted that he and caddie Joe LaCava had been "a little surprised" by the speed of the fairways – "much quicker than the greens" – and were changing their plans all the time.
"We started talking about the spots where we want to hit the golf ball, and I would have to say every hole but one, that we're on the same page," he said.
"So now it's about getting feel for the rounds of golf. Now we've got rain coming in right now, that's definitely going to change a few things, and we might have to alter some of the clubs, but I think the areas that we're playing to should be about the same."
Winds as well have to be factored in, he added. On his two "fast-track" wins at St Andrews and Royal Liverpool the wind rarely got above a whisper, and of course he's struggled in windy conditions at the Open before, 2002 at Muirfield of course but also 2009 at Turnberry, when he first missed the cut, springs to mind.
The other aspect for Tiger is on the greens, one of just a couple of weaknesses in his otherwise startling comeback to competitive play this year. The other, the driver, might stay in the bag this week as it did at Hoylake.
He's switched putters – as he did in 2010 at St Andrews where he couldn't hole a thing – to a mallet.
"To be honest with you, I've struggled on slower greens throughout my entire career," he admitted. "It's one of the reasons why I think I really like the fact that this putter is a little bit hotter.
"Virtually almost every single Open I've played in, I would put lead tape on my putter to try to lead it up and get it a little bit heavier and get the ball rolling.
"When I putted with the Nike putter (the one he switched to in 2010) I didn't have to put lead tape on the putter to get a little more weight to it. I could leave it just the way it was. And this is the same type."
It all seems a marked change from the "I've come for the W" Tiger that we got so accustomed to in his prime. Lowering expectations is understandable, but he does admit that he feels the Open in the longer term gives him a good chance at additional major wins.
"I would say yes, because of the fact that you don't have to be long to play on a links style golf course," he said. "Look what Tom (Watson) did at Turnberry at 59. Greg (Norman) led at Birkdale (in 2008), I think about he was 53 or 54. It certainly can be done.
"Places like Augusta National, the golf course outgrows you, unfortunately. That's just the way it goes.
"Distance becomes a moot point on a links style golf course. Creativity plays such an important role, and that's why you've got guys like Tom doing well. There's a reason why he won five of these; very creative and hit all the shots."