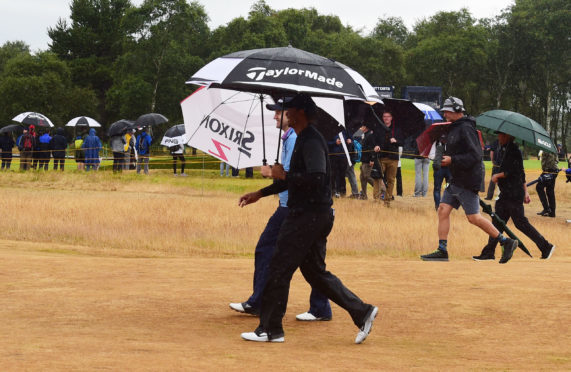 Russell Knox has got the Tiger love out of his system.
And that will be no bad thing if the two golfers go head to head in the Ryder Cup later this year.
The Inverness man missed the Open cut at four over after two successive 73s.
But after putting himself through a gruelling (and rewarding) schedule pre-Carnoustie, he half-expected as much and getting to partner his boyhood idol was a career box ticked.
Knox's Irish Open victory, French Open second place spot and 12th at the US Open have given him a strong chance of forcing his way into Thomas Bjorn's Ryder Cup team in Paris and he is glad that the hero worship is over and done with.
"I think so," he said.
"You're only going to ever get to play the first time with him once, and that was mine.
"So, yeah, I think it's important. And next time I'll bury him!"
The desire was there for Knox to extend his run of form for one more week but that didn't prove to be enough.
"I battled as hard as I could," he said. "I was useless, though. I think the previous eight weeks caught up with me the last few days, and I just ran out of gas. My swing just disappeared.
"I mean, I can count on two hands how many shots I mis-hit in a week at most tournaments. I think in the last two days I can count on one hand how many really good shots I hit.
"So I just didn't have it. I battled away. I dug as deep as I could in my short game, and putting was incredible, and that kept me with a fighting chance. But my long game was hopeless.
"It has been an amazing run. I qualified for the US Open by finishing birdie, birdie, birdie, par, birdie. So that all kick-started it.
"And then, of course, winning (in Ireland) is so difficult. I've played in, I guess, 200 events as a pro probably, and I've won three times. So you have to allow those moments to soak in because you just never know when they're coming.
"So I'll leave this trip not disappointed about this week but remembering how good I was the last few weeks."
Getting the right balance between rest and play could be crucial over the next couple of months.
"I've got this weekend off, so that's a start," he joked. "I'm going back to the States. It will be nice to go home. I'm fed up wearing the same clothes for the last six weeks packed in my bag.
"I set my schedule this way for a reason to try to play myself into form, which was great. So that was encouraging.
"I'll have a week off, probably play two weeks, have a week off, and then probably three weeks. So there's a lot more golf there."
Knox won't let the Ryder Cup points race consume him.
"It's important to me but it's not a goal of mine as such," he said. "It's a reward.
"My goal was to play good this week to try and have my best major finish. Ryder Cup is a reward for good play.
"Of course it's on my goal list, but I'm not focusing on it. I'm focusing on each event and trying to finish off the season in America.
"The Ryder Cup is like a little diamond hanging there at the end, but I've got to take care of a lot of business before that."
Knox was by some distance the best Scottish hope at this year's Open.
The 33-year-old insisted that expectation wasn't a burden, though.
He said: "I felt no pressure. I put enough pressure on myself just playing normally. I felt like I was just enjoying it, and I did.
"I can say 100 percent I enjoyed my two days. I tried 100% on every single shot. I just wasn't good enough this week, unfortunately. I wish I could have been a little fresher but I did get a trophy while I was over here, so that was nice."