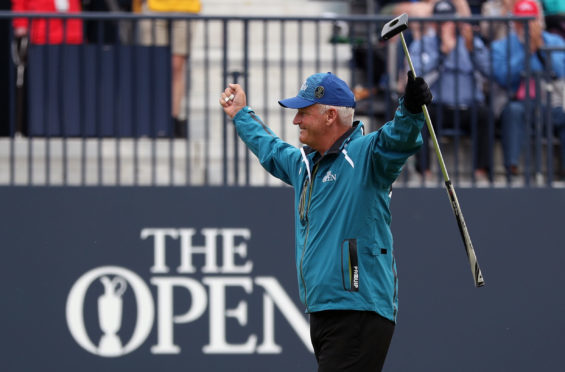 The Open hasn't given much back to Sandy Lyle since he won the thing in 1985.
So a birdie on the last hole of almost certainly his final championship is the very least that the greatest Scottish golfer of the modern era deserved.
The putter he was using certainly wasn't a thing of beauty and the 60-year-old limbs don't have an 18th green jig in them as they did when he clinched his second major at Augusta. But there was no hiding the emotion when a 25-footer sneaked in the side of the cup for his three at Carnoustie.
"That's a great way to finish," said Lyle, who pulled a handkerchief out of his pocket and waved it to the grandstands before pretending to dab away a tear. "I was on cloud nine walking down the 18th.
"It was not an easy second shot from the right-hand side of the fairway. There's not much to land the ball on. Coming in from the right-hand side like I was, it was quite a challenge. But to make birdie was extra special.
"I managed to stay away from crying, but definitely a lump in the throat, yeah. Definitely."
Lyle has cursed the last three holes of the championship links at Carnoustie over the years so it was ironic that yesterday they at last yielded the sort of score this weekend's contenders would gladly take.
He said: "One under (par, par, birdie) was a great way to finish the last three holes. For 20 years I don't believe I finished below par on them.
"It's been a nice experience this week. I've played in the tournament 40-plus years and to have the pleasure of doing the opening tee shot was quite special to me. It shows that they care, and they appreciate what I've done over the years."
Lyle would have to win the Seniors Open or go through qualifying to extend his Open innings to 44 starts. He hasn't ruled out either.
"If I win next week (at St Andrews) then I'll be back again," he said. "More punishment.
"You want to leave the gates open. There's always a chance I could play my way back into the tournament. I will try. I won't totally, totally give up.
"In theory, it seems like it's the last Open for me. I'll have to work to get back in again. I have no regrets. I've had a good run. I'd like to beat Gary Player (who has made 46 appearances) one time but he had the 65 rule. I didn't have that."
As for qualifying?
"If it's up here in Scotland and I'm living up here, I might just give it a run in the next few years," he said. "That would be it."
There is no sign of a new Sandy Lyle for Scottish golf and this year's leaderboard didn't make for pleasant reading.