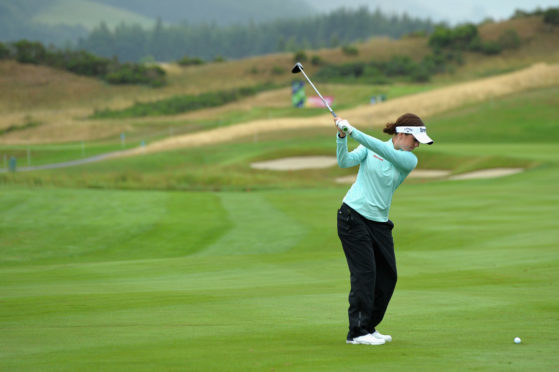 Georgia Hall's one concession to escaping her new found status as the golden girl of British golf was to turn her phone off for a couple of hours for some respite from the beeps and buzzes of congratulations and goodwill messages.
But genuinely thrilled and touched with so many people wanting to tell her how proud they were of her for her victory on Sunday in the Women's British Open – people close and those she has never met alike – the 22-year-old turned it back on again.
"And it was buzz and beep again," she related, laughing. "I can't believe the number of messages I've received on Sunday via social media and WhatsApp and whatever.
"It's been lovely to get so many congratulation messages from not only my friends but loads of other fellow golfers. What I liked is that when they were offering their congratulations they said, 'you are a lovely person' and that meant a lot to me."
And she'd reply to all of them if it were humanly possible, but that's Georgia, typified by her puzzlement with those who think she might have been perfectly justified with taking this week off rather than hotfoot it up, with just a few hours of sleep, to Gleneagles to play in the European Golf Team Championship.
"I don't understand that," she said. "I was asked that after I won but I had committed to this event.
"I know the British Open is massive but just because I won it, it doesn't mean I should change my whole plans. I should still stick to the events I was going to play.
"I have an opportunity to play for Great Britain in a European Championships and to play in Scotland. I love coming here. I didn't think about pulling out for a minute.
"I'll try and get a couple of weeks break in before the Asia swing but other than that, there's going to be no big change of plan."
It's maybe even a relief and fun to get  back on to the course again, playing with Dame Laura Davies in a matchplay tie against Sain's Noemi Jimenez and Sylvia Banon at 8 am.
"I think it is going to be fun playing with Laura. She's a great person and also has a good sense of humour. I'm just going to go out tomorrow and enjoy the round with her.
"It sounds funny but I was holding my putter today and said to myself 'the last time I held this was when I won the British Open'. That was a nice feeling."
It gives Georgia the chance to change the profile of women's golf in the UK, and that's something she absolutely relishes.
"I just couldn't believe after I left the media centre at Lytham how many girls and boys were waiting wanting my picture and cheering my name," she continued. "It was lovely to see and hopefully I can be a good role model for the little ones. Hopefully they'll take up golf because of it.
"The extra attention and profile are all a good thing because it means I've done something great. I don't mind, it's easy questions for me because they're about what I love and what I do."
Dame Laura – back at Gleneagles where she's won twice in four visits – is impressed by the new young star's reaction to her victory.
"I was in the office with her registering, she's just won the British Open but is cool as a cucumber," she said. "Just the normal Georgia.
"She's got a good team around her so she doesn't need to hear anything from me. The main thing is not to say 'yes' to everything , she needs to keep some energy and manage her time to keep playing good golf because eyes will be on her now.
"That's the only thing she needs to do. The rest of it is easy. You just love talking about how good you've just been in press conferences!".
As for this week, the Dame will just lean on her partner.
"It's all fourball so I'll just be hanging on to her coat-tails," she said. "I won't need to do anything. I might contribute the odd birdie when she needs me, but I'll just watch her go."