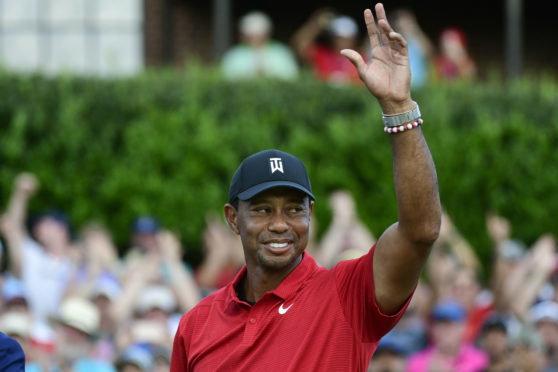 Tiger Woods arrived in the US team room at their transit hotel to a hero's welcome from his Ryder Cup colleagues after his long-awaited comeback victory, but captain Jim Furyk said he'd "flipped the page" already.
Furyk was met by his opposite number Thomas Bjorn at Golf National near Paris as the US team flew in on their charter to defend the cup this week, complete with Woods having taken his 80th tournament win and first in five years at the PGA Tour Championship in Atlanta on Sunday.
But the US captain mischievously suggested that the joyful reception the gathered team had for the victor was for someone else entirely.
"We were waiting yesterday, we had a major victory for the team and we had a whole group of guys waiting in the team room, and then a giant roar when Steve Stricker walked in the room after his (Champions Tour) victory last night," said the US skipper. laughing
"It was fun to see (vice-captain) Strick play well in the Champions Tour and obviously Tiger played so well to grab a hold of the Tour Championship early and fend everyone off. There was a good buzz in the team room last night."
However, he added, Tiger was fully invested in the US team and had put aside individual achievement, no matter how big a personal milestone it was for him.
"I think you could see the emotion in him talking about fighting back tears," continued Furyk. "But comparing past Ryder Cups to this one, I think what's so special is Tiger has ingrained himself in our team atmosphere in being a vice-captain, so I think it's special for him now to kind of join these younger players as a teammate.
"He won yesterday as an individual and I know how much that means to him, but he's flipped that page pretty quickly and is really excited to join his teammates and move forward in that process."
While thrilled with Woods' win, Furyk is sanguine about the lack of form of several other members of his team, like Phil Mickelson, Bubba Watson and recent talisman Patrick Reed.
"In my career, I've played very well in practise and had rough tournaments," he pointed out. "I've had bad practise in some events and went on to win those same events.
"Last week is already behind us. Of course I would like everyone to be in good form and feel good about their game, but it's a different golf course, different venue, totally different type of tournament.
"I think both Thomas and I will pretty much try to get a feel in practise for how our teams are playing, and early on in these matches, you'll get a really good idea of whose game looks like they are in top form, and we'll try to work our pairings accordingly."
Furyk doesn't expect as hostile a reception for his players as Europeans now customarily expect in the USA, but fully expects the European crowd to be pulling for their team.
"There were some fans that were unruly at Hazeltine and we did the best we could to remove them," he continued.
"But the majority of the fans were there cheering for their side, and that's what I would expect to see here.
"I've always admired the European crowd in the support of their team. They always seem very unified and together.
"When you tip your cap to them, they acknowledge you and I've always felt there's a mutual respect."