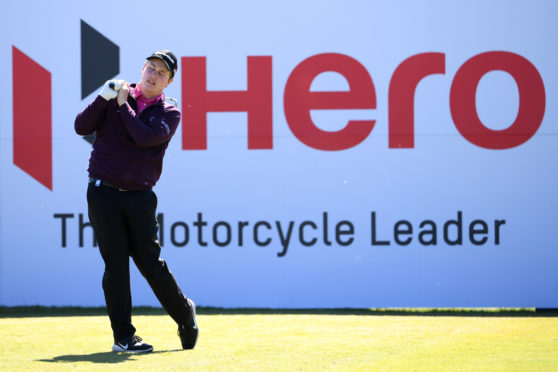 Sweden's Marcus Kinhult responded to Robert MacIntyre's fabulous finish at Hillside with his own to snatch away the Betfred British Masters title from the young Scot in a thrilling finale at Hillside.
The 22-year-old led for much a tension-packed final day in glorious sunshine on the West Lancashire coast but seemed to be flailing under pressure as he hit the home stretch, with back-to-back bogeys at the 15th and 16th holes.
The Swede then hit a wild approach to the 17th just after MacIntyre had left the par five hole having hit a magnificent five-wood 231 yards to two and a half feet for eagle. That was good enough to get within one of the lead, also shared by defending champion Eddie Pepperell and another Englishman, Matt Wallace.
Pepperell was already in the clubhouse on 15-under after a best of the day six-under 66 and seemed to be in place for at least a play-off to defend the title he won last year at Walton Heath.
However MacIntyre produced a brilliant birdie down the last to tie him, only for Kinhult to get up and down from his errant approach to 17 for birdie and follow it with another at the 18th to grab the title, holing a nerve-wracking 10 foot putt for his three to take the trophy.
MacIntyre, also 22, was ultimately forced to settle for a share of second with Pepperell and Wallace but it is surely the big breakthrough for Oban left-hander, who won £224,000 in only his 14th event of his rookie European Tour season and shot up into the top 40 in the Race to Dubai.
Richie Ramsay, who had been in the final group with Kinhult and Wallace, finished alone in fifth after a par round of 72, his first top 10 finish in well over a year.
But it was the youngsters who impressed most, especially down the final stretch where both produced the late heroics with the pressure on.
"That was good. It was really good, in fact," said MacIntyre. ""To finish that way was fantastic. I had to go for it in the end – it was all or nothing."
Mum Carol, who has been down with Robert's extended family in Southport this week, can expect two gifts – a new kitchen promised by her son for the family home in Oban and a £20,000 diamond necklace he won for recording the most birdies in the field over the weekend – 24 in total.
"I said to my mum that she could order the kitchen but she's not done that yet," he laughed. "I'm sure she'll be in with both feet now and the price has probably just doubled. She can get what she wants.
"Having the family down here and my young brothers Tom and Dan has kept me on my toes. Last night I wasn't even thinking about winning a golf tournament, I was playing `knock, knock' with them before they went to bed.
"I was standing over the eagle putt on 17, my eyes closed, just thinking `knock, knock'. It helps with everything to have them here."
The five-wood to 17 was the shot of his career so far, but the six-iron cut into six feet the 18th was pretty decent too.
"Tommy Fleetwood's caddie said to me on the tee that if there was ever a pin for me to make birdie it was a back left one like that at 18," he said. "I had been there or thereabouts a few times but never managed to get in the thick of it and I was disappointed about that.
"Today couldn't have been a better day to change that, playing with Tommy and in front of those big crowds. It was brilliant."
Kinhult was seemingly more nervous than MacIntyre following in the group behind, especially after he held a lead for much of the final round only to falter with a couple of poor approaches to the 15th and 16th.
Now one behind Pepperell, Wallace and eventually MacIntyre, he hit his approach to the 17th wildly right.
"I did not feel so good when that ball was in the air," he admitted. "To get up and down for a birdie and then to get another at the 18th – I don't know how I managed it but I'm grateful I did.
"Over the final putt my hands were shaking, my knees were shaking, everything was shaking. There were so many nerves but also so much willpower.
"It's a special feeling. I've been dreaming of this for a long time and to achieve it is amazing."
Pepperell gave it a good shout with his final round, but came up just short.
"I kind of set myself a target of 17 after the turn, I expected those guys to get to 17 and it was 16 in the end," he said. "Pins weren't easy today and the pressure at the end playing with those guys, you can never be too sure. But fair play to Marcus, he's been a good player for a while, so good to see him win."
Ramsay's chances of victory were left hamstrung by falling to three-over for the day after the first five holes, but he ground out a par 72 and was happy with his week – his first top 10 on tour since January 2018.
"It was one of those where I showed grit and determination," he said. "I didn't have my best game but it was all heart.
"The last two weeks have made a massive difference to way I feel about my game. Sometimes the game can get on top of you and things snowball and the confidence can dip.
"The good thing coming away from this week is that I feel I could win that tournament, and that feeling of believing you could win a big tournament like this is massive.
"Fair play to Marcus, I played with him the last couple of days and he holed a lot of crucial putts from 10 feet and in. He deserved it."
Connor Syme, returning to the big tour for the first time in 2019, had a final round 71 for a share of 42nd with his close friend Liam Johnston. Fellow Scots David Law, Scott Jamieson and Grant Forrest also played all four rounds for some precious Race to Dubai points.