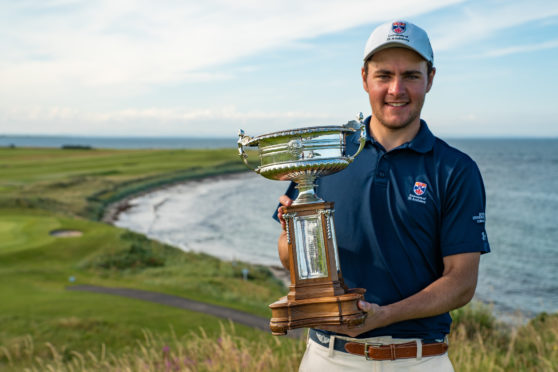 George Burns still isn't sure if he wants to follow Robert MacIntyre and others he grew up with, but as the new Scottish Amateur champion he's certainly heading in the right direction.
Crail's Burns eventually prevailed on the first extra hole of a fluctuating final against Kirkhill's Lewis Irvine on Crail's Craighead Links on Saturday, and became the first player from a host course to win the title since Jim Milligan at Kilmarnock Barassie in 1988.
George has only been a member of the Craig Golfing Society for 10 months, and his original club is Williamwood in Glasgow. But as a St Andrews University student for four years he has more than qualified for his Fife passport.
He became the first player representing the Kingdom to take the premier national title since another George, the former tour player Murray from just down the coast at Earlsferry, back in 2004.
Crail was the ideal base for George after he graduated from St Andrews with his first class honours in economics, but while he's got a fairly decent career path using that or a fairly promising one in golf, he's still hedging his bets for now.
"Moving through here has been amazing for me," he said. "The practice facilities I get access to on a daily basis are second to none. That's part of the reason why I wanted to stay through here rather than moving back to the west and it's paying off.
"At the moment, I was giving myself a chance to work part-time, practice a lot and play a bunch of amateur stuff. And, if I found myself in a position where I felt I had a shot at turning pro, I'd have a look at it.
"Obviously this is a step in the right direction, but I won't be making any snap judgements."
The 22-year-old, who still works with the golf programme at the University, played junior golf with the likes of MacIntyre, Grant Forrest, Liam Johnson and Connor Syme, all of whom are tour professionals now.
"I've always felt that ability was there," he said. "It's just never materialised sometimes, which has been quite frustrating the last few years. I always knew I was capable of getting up to that next step, but it hasn't really happened.
"It's mental and technical. When I was playing well, my swing was really well grooved. But, when I wasn't playing well, all of a sudden I didn't have any control.
"I have definitely improved the technical side and I am also trying to stay calm to improve the mental side. I have wised up the last couple of years, knowing when to attack and when not to.
"We'll see where we go from here. I'm playing the Leven Gold Medal next week and the Scottish Strokeplay later in the month, that's all I'm thinking about right now."
Even if the traditionalists (this one included) were still a little perturbed at the new 18-hole final – the only other one in the Scottish Amateur's long history was weather-enforced – the contest proved that drama and nerves can have an effect just as much in the shortened format as a 36-hole contest.
Both players, having defeated more fancied players in the morning semi-finals, started in fiery fashion with matching birdies for halves on each of the first three holes.
Irvine blinked first with a five on the fourth to give Burns the lead with a par, and the home hope went on to be seven-under for the first 13 holes.
Irvine was only two-down for that stretch but had he made a number of reasonably makeable putts within 12 feet – at the short fifth and seventh for birdie and the long eighth for eagle in particular – the 19-year-old from Glasgow would have been actually leading at the turn.
Burns was however in charge until a three-putt at the 14th after Irvine had been in the gorse up the right cost him what would surely have been a decisive three-up lead. Suddenly nerves took hold and a series of short putt misses allowed Irvine back to all square playing the last.
Irvine again tangled with the gorse on 18 but bounced clear and recovered for his par, while Burns missed an eight-footer to clinch the title.
It was a shame after such brilliant play especially early on that the final ended messily on the first extra hole, Irvine struggling to a six to hand Burns the title he probably deserved over the piece.