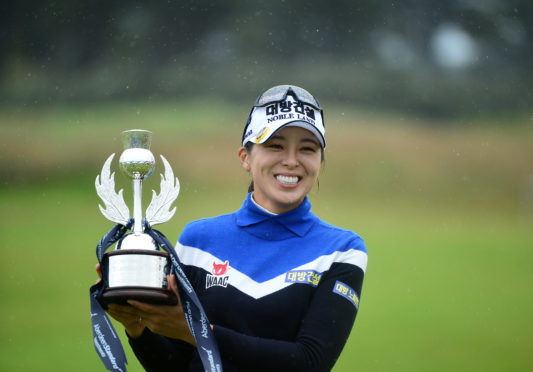 The Koreans who dominate the LPGA and the world of women's golf are pretty much unflappable in any conditions and Mi Jung Hur proved it conquering the Scottish weather and terrain on her way to the Aberdeen Standard Management Scottish Open title at a sodden Renaissance yesterday.
The 29-year-old was one of four players tied on -15 with nine holes to play in an incessant downpour in East Lothian yesterday afternoon, with her compatriots Mi Hyang Lee, who beat her into second place at Dundonald two years and Jeongeon Lee6, the US Women's Open champion, as well as Thailand's Moriya Jutanugarn.
But the other trio couldn't live with Mi Jung on the back nine in the worsening conditions, the two-time LPGA winner coming home in a startling five under 31 and eventually finishing four ahead of the pack.
She eventually completed a 66 for a 20-under aggregate of 264 for the £188,000 winners' cheque, four ahead of Jeongeon and Jutanugarn sharing second back on 16-under, with Mi Hyang alone in fourth on 15-under and defending champion Ariya Jutanugarn in fifth on 13-under.
The greens were being weegied all the way down the back nine for the last group but despite the torrents of rain over Friday and again yesterday, they got through with just one three hour delay to get the championship finished on time.
The champion, however, thought her round to finish second two years ago was probably better than even yesterday's to win.
"That was raining like today but also a wind blowing 25 to 30 mph," she said. "I don't think of myself as a good player in bad weather but everybody says I must be.
"I didn't grow up in a windy place in Korea but now I live in Texas and it's always windy there, every day."
Mi Jung, visible for probably miles away even through the rain in a bright lime green rainsuit, didn't even look at the scoreboards so was unaware she was tied with three others at the turn.
When she started with three birdies on the way back, however, she knew she was in control.
"I was always confident, I just wanted to joy my round and stay dry if I could," she said. "But the 12th I knew I could win, I didn't hit a great approach really close and had a long putt over a mound but I made it for birdie.
"I didn't want to look at the scoreboards, even though there are so many on the course it's hard not to see them. But I had a three-shot lead and felt very comfortable."
Two birdies in the last three holes, with Scots caddie Gary Marshall helping keep her focused, confirmed the victory.
"Gary was very good on Thursday when I bogeyed two holes in a row, he kept telling me I could win," she said. "He was the same today when I three-putted the third hole."
This was my first time felt really comfortable on 18, three-stroke leading, my goal was to enjoy my golf and stay dry. 12 par five didn't hit it close ball hung a little left behind a mound, putt wasn't that short, nine yards to the hole but I made it and after that I felt I could win the tournament.
None of the other challengers could manage better than one-under figures on the back nine, leaving her home if not entirely dry by the time she was on the 18th fairway.
Further back Carly Booth went from a four-putt on Friday to 51 holes without a bogey, and even a couple in the last three holes to end that run didn't stop her from her best finish – a tie for ninth – in a LPGA-sanctioned event.
"It's a little different tournament now to what it was when I won," she said of her 2012 victory, which won her just a couple of thousand euro more in prizemoney than her tied ninth-place finish yesterday. "The field is so much bigger and there's many of the top players here this week.
"It's really all positives from the week and I'd have taken this at the start if it was offered to me, although I can't help but be a little disappointed by two bogeys in the last three holes," said the 27-year-old, who did win the Douglas Lowe Memorial trophy for highest-finishing Scot in both men's and women's versions of the Scottish Open.
"I missed the cut at the British Open last week and changed my putter back to an old one, and you saw the results," she said. "I was really steady tee-to-green all weekend."
As expected, the Netherlands' Anne van Dam and Anna Nordqvist, the Swede who played so well at Des Moines last time, ensured Team Europe captain Catriona Matthew could strike them off her wildcard list by making the team to play at Gleneagles next month.
Nordqvist will be playing in her sixth successive Solheim, and this is very nearly home ground these days for the 32-year-old, who is engaged to former Scottish Amateur champion Kevin McAlpine, son of Dundee United legend Hamish and a full-time caddie on the LPGA.
"I imagine there will be a lot of support – I've been over here quite a lot and actually played "Royal" Alyth last Monday," she joked.
"I've spent quite a bit of time outside the golfing world in Scotland which has been good and it's a great country. We are getting married in Scotland next summer. I'm praying for better weather than this!
"I'm well aware of his dad's footballing career. Hamish is quite a good golfer but Kevin and himself were the losers last Monday!"
This afternoon at Gleneagles Matthew will name her four wildcards for the matches against the USA.