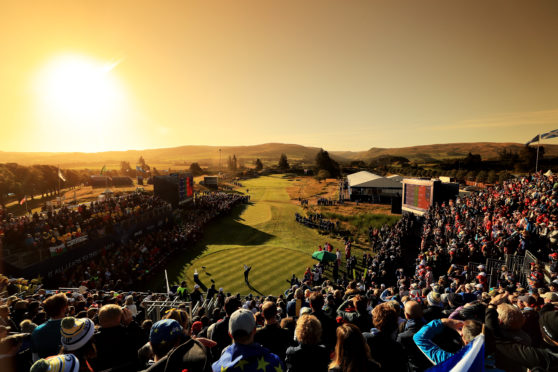 Team Europe captain Catriona Matthew stressed her team would have taken a point lead after one day of the 16th Solheim Cup at Gleneagles, but conceded that she would have preferred it to be more.
Late rallies by the Americans in the afternoon fourballs – with two key birdie putts for half points on the final green as darkness loomed – halved the session at 2-2 leaving Europe holding just the one-point they'd built from the morning foursomes session.
US skipper Juli Inkster was in her usual ebullient form crediting her team for "staying in the rear view mirror" and Matthew's customarily more downbeat style made one wonder who was actually leading the contest.
However the Scot said they would have been happy with any advantage if offered prior to the day's play and were satisfied with this one.
"Our objective was to win every session, and although we haven't done that, we're still in a good spot," said the European captain.
"I'd be lying if I said (the last hour of play) was what we were looking for. But I think you have to take the positives and we're still leading, we're a point up. If we're leading at the end of each day, that would be great.
"Obviously everyone's a little disappointed (by not getting the full point in the final match), but Charley (Hull) had a great putt in the last, just a little firm.
"Brittany Altomare holed up and made a great birdie. It's not as if they lost the lead with bad play; the others birdied the last two holes. We're pleased with going into tomorrow with a one-point lead."
US captain Juli Inkster said the two half points saved at the very end of a long and gruelling day were huge for her team.
"For rookies to be four down with five holes left and to come back and tie, you can't teach that," she said of Nelly Korda and Brittany Altomare. "It's just in your belly. I'm just so impressed with them.
"You look at Bronte Law and Carlota, Bronte makes a great putt on 15. Carlota hits two great shots on 16 and then birdies 17, and sometimes you just got to tip your hat and say that's good golf. But then Lexi just poured it in on 18.
"Two huge half points there, and a huge point by one rookie and a second time player in Ally (McDonald) and Angel (Yin)."
The US were still behind, of course, but it was a better situation than it could have been with a three-point deficit being possible at one point late in the afternoon.
"We just have to keep in the Europeans' rearview mirror, it was looking like we could be two and a half points or three points down," she continued.
"That's not insurmountable, but you keep gnawing a half a point here and point there and it adds up. You look at all the golf played today and we're only a point down. I'm very pleased with where we're at right now."
Bronte Law, whose two matches both went the distance and ended in halves, disputed the idea that the US had snatched the momentum with their 18th hole "saves".
"I don't think that they have the momentum shift right now. Ultimately in our game they're two up with four holes to play and they got away with a half.
"I mean, to me that just shows you that towards the end we're fighting and we're right there. And even though we're ahead we're going to act like we're behind, and we're going to go and get every point we can tomorrow."