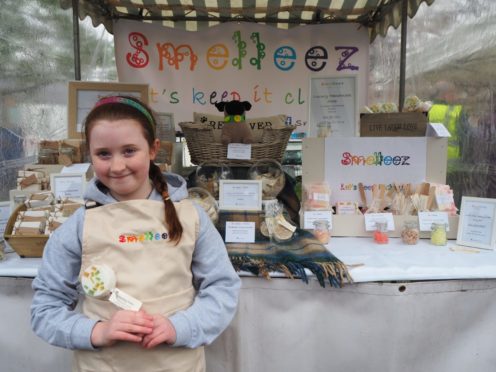 Smelleez: Young entrepreneur Amelia Milton from Bridge of Cally started her company Smelleez Soap when she was aged seven.
How and why did you start in business?
There was a competition at school for young entrepreneurs and the prize was a place at a Christmas fair.
We had to come up with an idea for a business and a business plan and I came up with the idea of Smelleez and selling handmade Christmas-scented soap.
I won the competition and the fair was great and I was invited to another Christmas fair by one of my mum's colleagues.
I didn't really do much with the soap until the next April when I thought I might do the community market in Blairgowrie and it has grown from there.
2018 was the Year of Young People and Perth and Kinross Council were looking for young entrepreneurs between the age of 16 and 25 years-old to take part in an event.
I emailed to see if I could be involved and they said yes – and then changed all their marketing material to include eight-year-olds!
How did you get where you are today?
Listening to feedback from customers, talking to other traders and other business owners – even if the other business is different to mine I still learn things, like how to take card payments for example. When I'm at markets I also look at other stalls and how they display their goods.
Who has helped you along the way?
Community enterprise support organisation GrowBiz and other traders. I have got lots of tips and advice.
What was your biggest mistake?
Going to the wrong market was probably my biggest mistake but it wasn't all bad, I still made some money and got more likes on the Smelleez Facebook page.
And soap-making itself has involved some trial and error.
What is your greatest achievement to date?
Winning the Rising Star award at the Courier Business Awards last year. I was really happy to win that.
Hopes for the future?
I would like to supply some big stores. Smelleez Soaps are going to be stocked in the Dundee Design Project by the summer and hopefully in a zero-waste shop too.
I'm also hoping to move out of the kitchen and into an outbuilding with more space. But I have to grow slowly, I don't want it taking over my life.
Do you want to recruit in the future?
Yes. I'm already thinking about it because of the markets and events I am attending clash.
What is the hardest thing about running your own business?
Balancing social life and business life. I go to Cubs and try to fit everything in. It's the same as any other business owner really, whether they are nine or 49.
Any advice to wannabe entrepreneurs?
Keep calm and carry on!