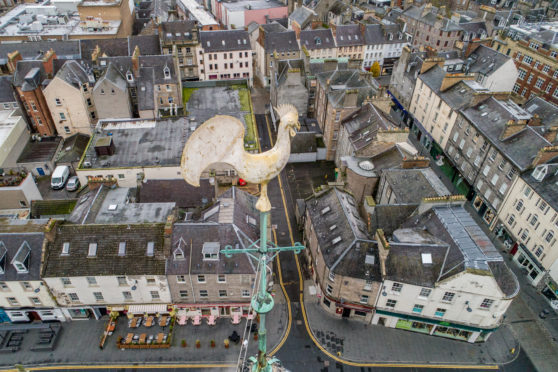 A Perth city centre Kirk's ancient weathercock is set to temporarily take flight over the coming days in anticipation of upcoming restoration work.
The St John's Kirk weathervane, which has been in place since at least the 1500s, will be temporarily removed from the building's peak before the works begin.
It has overseen historically significant visitors such as John Knox, Bonnie Prince Charlie and Queen Elizabeth II.
Steeplejacks have already begun preparatory works on the ancient spire before the crucial repairs, to stem leaks in the lead-clad structure.
An inspection carried out last summer found water ingress in the tower beneath the spire.
St John's Kirk Session Clerk Bill Wilson said: "Steeplejacks are preparing to take down the finial on the top of the spire in order to assess what repair is needed to make the weathercock and the rest of the spire secure for the future.
"It was felt that a close photographic record of the whole tower was needed."
While the 250 year old lead cladding on the spire appeared to be in good condition, there was found to be a small leak around the top, where the finial rod enters the spire.
This has led to deterioration of the fixings, making the finial insecure, meaning it will need to come down as soon as possible.
Mr Wilson said: "Once the weathercock has been safely brought down it will be brought into the Kirk so that it can be assessed for repair by experts.
"It can also be viewed by St John's many visitors over the summer."
A temporary cap will be placed on the spire to ensure it remains watertight and the business of the Kirk will continue as usual.
St John's Kirk Minister, the Rev John Murdoch said: "The Kirk will, of course, continue to hold its regular services on Sundays at 9.30am and on Wednesdays at 1pm, when everyone is welcome.
"We will be glad to give people a closer view of our weathercock than has been possible for many years."