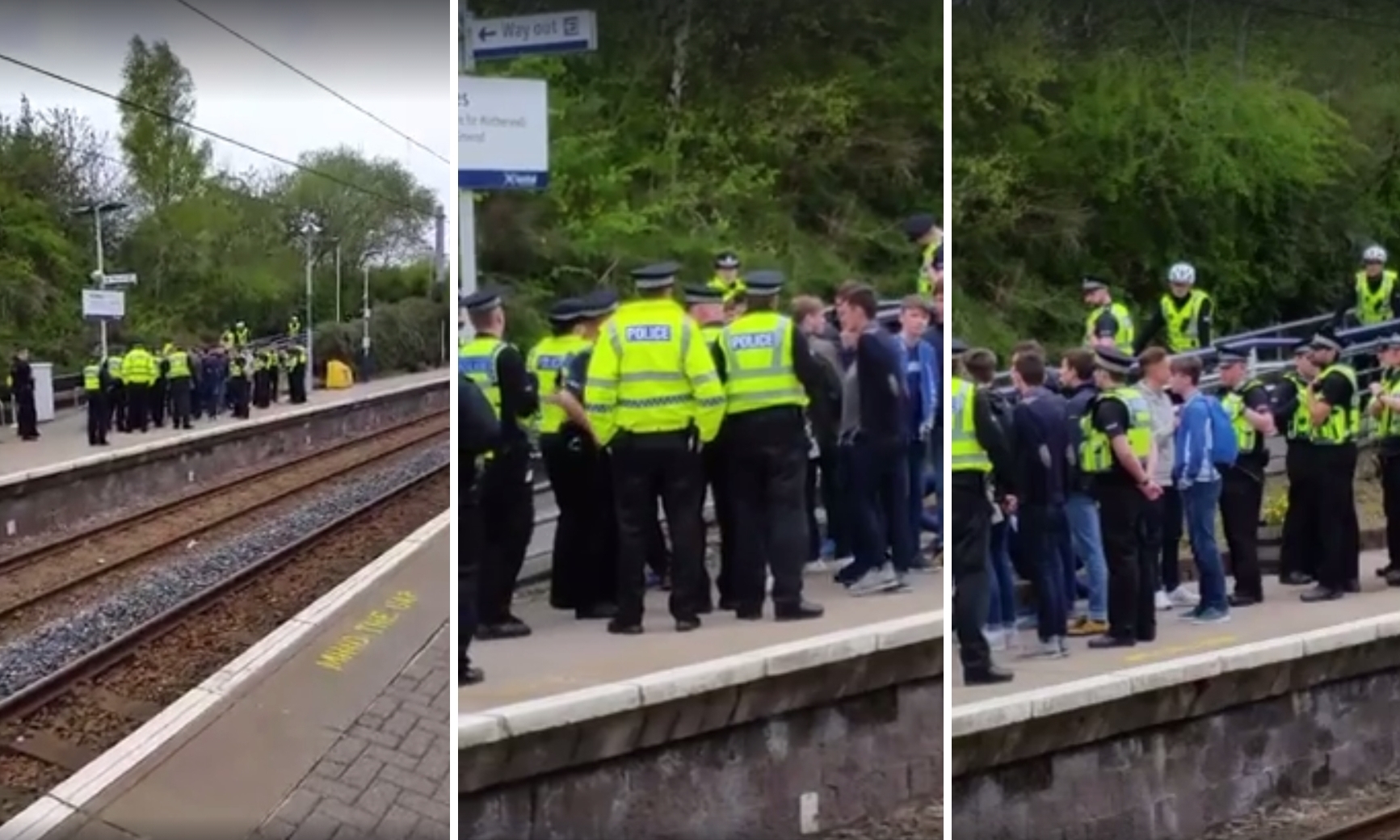 A major police response to a handful of St Johnstone fans has come under fire as "over the top".
Supporters reacted with incredulity after footage of the youngsters on the platform at Airbles station on their way to the Motherwell game was shared on social media.
The ten or so St Johnstone fans, who appear to be in the early teens, can hardly be seen for a phalanx of more than 20 officers who have the group surrounded.
Jamie Beatson, editor of St Johnstone fans' forum WeArePerth, said: "The police appear to outnumber these young lads two to one in this video – it is patently over the top.
"There is no history of trouble between St Johnstone and Motherwell fans and no reason to suspect there would be any at the weekend's fixture.
"This wildly over the top response was coupled with bizarre scenes at the match itself, with 200 stewards lining the pitch to stop a pitch invasion that was never on the cards.
"Football fans are the most over policed group in Scotland despite there generally being no good reason for such a response in most situations.
"The age of drunken hooliganism is long in the past but the police generally act as if anyone wearing a football scarf is only moments away from turning to violence.
"It has to stop before even more people are driven away from our national game."
Policing & Stewarding at Motherwell v @St_Johnstone_FC was an expensive disgrace. Over reaction in/ out of ground https://t.co/lRFbZgAkX2

— Stuart Cosgrove (@Detroit67Book) May 10, 2016
On social media one fan posted "What you pay your taxes for. I thought there had been a major incident."
Keith Condie said: "Unbelievable, I reckon there are more officers than kids, is this amount of policing necessary?" while Lynn Grace commented: "All that manpower and waste of money for six kids to be escorted out of a train station".
A spokesperson for pressure group Fans Against Criminalisation accused the police of "bully-boy tactics".
"This kind of treatment of (mainly) young fans is typical of the policing approach which the Offensive Behaviour Act has engendered and which we have warned politicians about," they said. "With an anti-Offensive Behaviour Act majority now in the Scottish Parliament, hopefully we will soon see an end to the act and an end to this kind of treatment of young citizens going about their lawful business."
A British Transport Police spokesman denied that the response was in anyway heavy handed or out of proportion.
"The safety of the traveling public and rail staff remains our absolute priority," they said.
"We take a pro-active approach to football policing, with officers escorting trains before and after matches, and patrolling stations where large numbers of fans are expected.
"The vast majority of football fans who use the railways do so without causing any problems and we work closely with Police Scotland to ensure everyone can have a safe and pleasant journey."
St Johnstone won the game at Motherwell on Saturday 2-1, helping the Perth club to more or less secure a second consecutive fourth place finish..