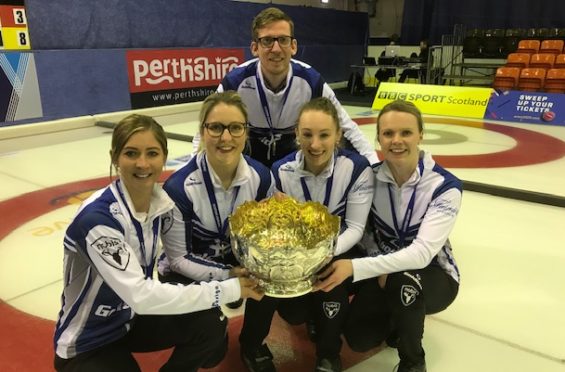 I'll leave it until after my career is finished before I start putting my achievements into context.
For the moment, though, getting Scottish title number eight feels pretty good.
The pressure is probably greater in that week than any other purely because for as long as I can remember we've been the pre-championship favourites.
That means other teams have less to lose.
We lost our first match but after that the week went as well as we could have hoped.
We raised our game when we needed to and got stronger and stronger.
Physical fitness definitely plays a part over a long format. So does being full-time athletes.
That probably came into play in the men's as well.
I was gutted Glen and Thomas couldn't make it a Muirhead double but Team Mouat are a very strong unit these days and have managed to edge it against my brothers in big games in recent years. That's the last two Scottish finals and the European play-offs.
Team Mouat are out on tour far more often than them. They have better funding and Thomas, Glen and the Smith brothers all have jobs on the farm.
They are as physically fit and they are dedicated to their curling when it comes to training and games.
But you can't replicate regular tournaments against the top teams in the world.
This is probably the most competitive men's curling has been in Scotland for a long time and what I would say is that Glen's team have put down a marker to remind everybody that they are still world class players who have the potential to make Olympic selection far from a formality.
* Next up for me is the Scottish mixed championship.
That version of the sport is still relatively new to everyone and far more unpredictable.
You tend to see some big scores getting thrown around.
I'd like to think myself and Bobby Lammie have as good a chance as anyone.
British Curling's selection policy for the Olympics has yet to be announced and I haven't had any big conversations with the bosses about it but I can't see a reason not to go for both.
The women's and the mixed won't run at the same time. The way I look at it, you would either be coming off one feeling brilliant after winning a medal or you'll be doubly determined to make up for missing out on one.
In the short-term, it would be great to win because my dad's team are playing the Scottish Seniors this weekend (my turn to cheer him on for a change!) and the winners will be at the World Seniors at the same time and place as the World Mixed.
* Rory McIlroy definitely seems to be taking on a more statesman-like role in world golf these days.
He has given his opinions on a few issues recently – the latest being a proposed Premier League.
What I would say, though, is there was a bit of a mixed message when in one breath he said "I'm out" and then in the next "there may come a day that I can't be against it".