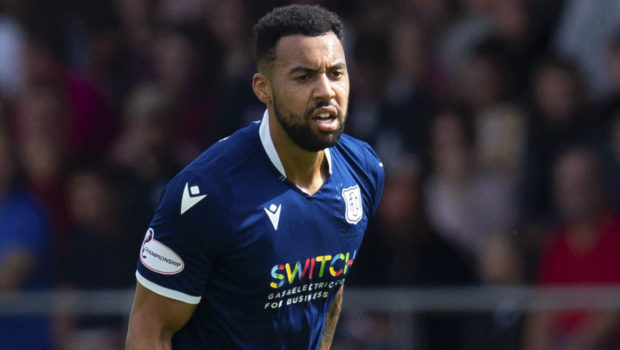 It's been a dramatic couple of days on the striker front at Dens Park.
The day after Danny Mullen's arrival at Dens Park is announced, news gets out that Kane Hemmings is leaving the club and then his replacement is unveiled a few hours later.
As far as Hemmings is concerned, if this had happened a few weeks ago when the wage-cut talks were taking place not many people would have been shocked but there's no disguising that it is a big blow for Dundee.
I know that it took a while for the goals to start coming for Hemmings last season but Alex Jakubiak, who is filling his boots, has it all to prove still.
The fact that St Mirren wanted to keep him is a good sign but don't underestimate how good Hemmings is.
Nobody was going to come out of a comparison with goal machine Lawrence Shankland well but Dundee United were functioning better than Dundee as a team last season so it's not a fair one.
He would have been one of the last players Jame McPake would have wanted to lose.
Off the pitch, former chief executive Harry MacLean has spoken out about the lack of communication from the top of the club and called on John Nelms to confirm whether he had taken a wage cut like the playing squad.
Harry was part of the Calum Melville era so that affects how some fans view him but nobody can deny what he did to help the club through administration and the fact that he is Dundee through and through.
The points he makes are hard to argue with.
Nelms also has to get the timing right for the players' return to training.
There's the furlough situation in the background but there needs to be footballing common sense applied.
Hearts are already back and Dundee need a fast start to have a chance of a title bid.
I think at Arbroath we're returning on August 15 and you would think Dundee will be around the same time.
---
* There was only one contender for the stand-out individual performance of the first weekend.
Odsonne Edouard was a class act and his hat-trick against Hamilton was so deserved.
It's starting to look as if he is going to be a better player than Moussa Dembele, which is high praise indeed.
He's got everything a striker needs to go right to the top.
Dembele was maybe a bit more physical but Edouard doesn't get pushed about by anybody and his composure and movement are outstanding.
He won't make Celtic as much money when they sell him because they paid the best part of £10 million compared to £500,000 for Dembele.
But there's no way the club will be accepting any less than £20 million, which was the fee Lyon paid for Dembele.
The scouts will be flocking to Celtic games and the exposure our league is getting just now won't exactly help keep Edouard a secret.
Also, a longer than normal transfer window is the last thing Neil Lennon would have wanted.
He'll have a plan B if Celtic get an out-of-this world offer but Lenny will be praying that he doesn't have to use it.