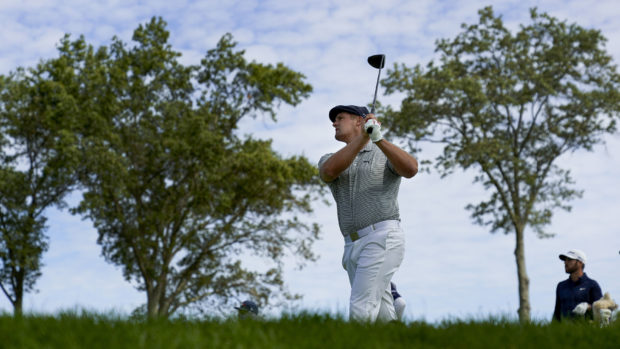 We can safely say that Bryson DeChambeau has divided opinion.
There are those who think he's a breath of fresh air, those who don't like him because of his brash American personality, those who don't like him because he's taking golf to an uncomfortable place with the 'bomb and gouge' game plan…..and those who don't like him for both those last two reasons!
I can't say that he's the type of guy who I'd be rooting for – and I can't wait to see him in a Ryder Cup over here – but I do appreciate when somebody has changed their technique and their physique with a specific plan in mind. And, crucially, make it work so spectacularly as DeChambeau did in last week's US Open.
Golf has been heading in a power over skill direction long before he arrived. This is just a continuation of it.
And this is only his first Major remember, not his 21st.
Everybody was set the same test and he's passed it better than all the rest by some margin.
I wonder what so many of his critics would have been saying if it had been one of our own who had redefined the game like this?
To be able to say you've changed your sport, even in a small way, will ensure he'll never be forgotten.
And with all sports battling for attention, to have such a polarising 'Marmite' character can only be a positive for golf.
* We've had our return to competition this week….well, sort of.
The programme teams are all playing each other in the nearest thing we can get to a tournament. It's been so far, so good with three wins out of three.
It's impossible to replicate the real thing but when you're playing the other best teams in the country you always want to come out on top.
And it's been good to put some of the training work with our coach into practice.
More than anything, I'm just grateful for anything at the moment because if this had been in England the curling centre would have been shut down.
Who knows how long it will last, mind you!
* I think the interest in the big sporting events that have gone ahead with no crowds has justified the decision taken not to cancel.
The viewing product has obviously been different but the buzz in the build-up and during them has been pretty similar.
And I've yet to see a winner – or loser – treat it as if it doesn't matter.
The two golf Majors have captured the public imagination as they would usually – maybe even a bit more – and the same goes for the Champions League final, the World Snooker Championships and the US Open tennis.
It's the turn of the French Open next and with Novak Djokovic back on court after his disqualification in New York and the intrigue of how Rafa Nadal will do on his favourite surface of clay but at a different time of year, the organisers will be keeping their fingers crossed they both make the final.
I've yet to switch channels because something I usually always watch hasn't grabbed me and, with no sign of big crowds coming back anytime soon, that's just as well!