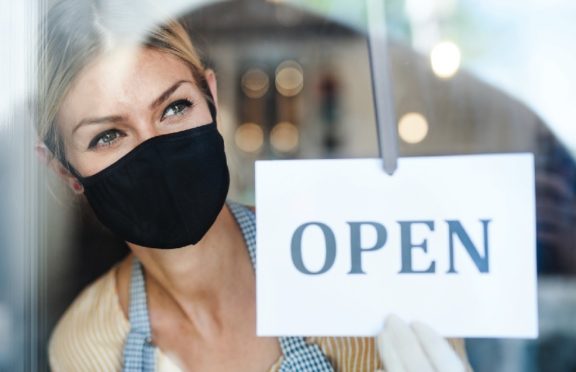 We're taking a closer look at what makes our working relationship with local and national advertisers so special.
Our advertisers have always been important to us, but it's a relationship that we've cherished even more than usual over the past few months.
With the pandemic throwing all workplaces and businesses across Scotland into turmoil – ours included – we've concentrated on supporting our advertisers through the transitional period as best we can, adopting an 'all in this together' mindset from the start.
We've been working hard to boost our local economy throughout, but our new support schemes were another step up in our efforts.
This includes our Back to Business growth fund – designed to help companies not currently advertising with DC Thomson Media get started with subsidised ad campaigns – and the Food and Drink Fund, targeted specifically to the hospitality industry.
Another part of our focus on boosting and supporting advertisers was the innovative Scottish Agricultural Show Online in July.
Launched to fill the gap that threatened the agriculture industry as shows got cancelled across the country during lockdown, DC Thomson Media teams pulled together to create and run this online alternative.
It proved successful beyond expectations, drawing in 11,172 unique visitors during the course of the weekend.
Alison Lowson, marketing manager at Bell Ingram which sponsored the goat category during the show, said: "Bell Ingram was delighted to support the "virtual" Scottish Agricultural Show.
"With Scotland's rural events calendar cancelled by the COVID-19 pandemic, it was a fun, imaginative and innovative way of uniting and showcasing the sector during these challenging times.
"The event generated good brand awareness for Bell Ingram and I can't praise Katy Gordon, Allhan Rice and Claire McPhillimy enough for making the whole process seamless from start to finish.
"Well done to everyone at DC Thomson Media for coming up with such a great idea."
Seeing the benefits
We've been thrilled to hear just how much advertisers have benefitted from and appreciated our continued support during this time.
Our advertisers often form close relationships with their sales consultant as they work together on marketing campaigns.
This has proved helpful to the likes of Graham Calley at Stewarts Leisure Parks, who said: "Over the past few months the service from the advertising team has been a crucial part of our continued success at Stewart's Resort, St Andrews and The Meadows, Forfar. Sales continue to be generated and I am delighted with all the help from Pauline and the team."
For our sales consultants, providing backup and driving results for advertisers has been the focus.
"Customer service has always been a priority for our team, we genuinely care about the businesses we work with and this has never been more important than the last few months," said sales consultant Pauline Nicolson, who is based in Dundee.
"It's so important for local businesses to know that we are here for them through good times and bad, and to know that we have been able to help is such fantastic news."
Working together
Our 'all in this together' approach to the pandemic and resulting lockdown isn't really anything new, though – it's how we work at all times.
Advertising with us is never just a case of popping an ad in a paper. Behind the scenes is where all the magic happens, with our sales consultants and advertising team putting in the work and effort to maximise marketing campaigns for our clients.
From one-off or seasonal campaigns to year-round brand-building adverts, we work on all levels and scales. Regardless, our approach is always to build, maintain and grow our relationships with advertisers, so that we can get to know you and offer tailored solutions.
Over the years, we've worked with many different types of businesses, in lots of different industries – we're able to do this because we have varied print, radio, digital and social opportunities across our established newspaper and magazine titles to utilise.
"We're committed to supporting local businesses through quality, targeted advertising solutions designed to boost your marketing efforts," adds Michael Barclay, head of advertising for DC Thomson Media newspapers.
"Our experienced team are always on hand to offer friendly guidance and advice, for both existing clients and businesses new to advertising with us."
---
FIND OUT MORE
To find out more about working with the DC Thomson Media advertising team, please contact Linda Ruxton on lruxton@dctmedia.co.uk.