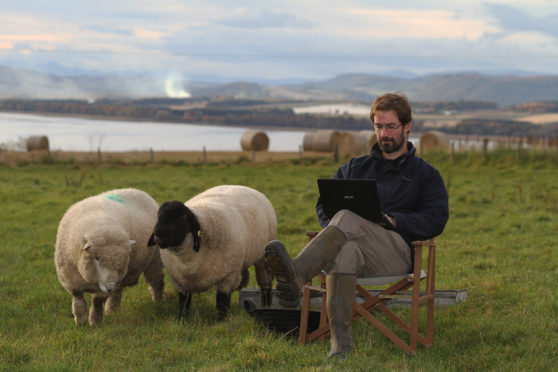 James Oswald combines being a farmer with writing best sellers, discovers Caroline Lindsay
I had the pleasure of meeting Fife farmer and author James Oswald back in 2013 on his farm near Newburgh. His debut novel Natural Causes, introducing Edinburgh-based cop Inspector Tony McLean, had just been published and became a best-selling sensation.
With 16 published novels under his belt now, James is as modest as ever about his writing success.
"I've been reading comics pretty much since before I could actually read, and so I gravitated towards fantasy and science fiction more than crime when I first started to try to write stories myself," he explains. "Natural Causes began as a short story featuring a detective I'd used in a contemporary urban fantasy setting beforehand, and initially publishers weren't keen on my blending of crime fiction with elements of the supernatural. Readers seem to be much more open to such genre mashups though," he smiles.
Although he began writing comic scripts while at university in Aberdeen, he failed to make much headway in that market and ended up working as an agricultural consultant in Wales.
"Returning to take over the family farm in Fife, there wasn't much time to write, so I self-published two crime novels I'd written a few years earlier, not expecting much to happen with them," he recalls.
"In the space of eight months, they'd been downloaded over 350,000 times."
James' latest book Nothing to Hide is the second in a new series featuring Detective Constable Constance 'Con' Fairchild.
"I read an article many years ago about the African bush magic called Muti, and how examples of the practice had begun popping up in the UK," says James. "In its purest form, Muti is herbal medicine, but there is a dark side to it involving human sacrifice, the ritual slaying of people to take their strength or health for yourself.
"Nothing to Hide opens with Con Fairchild stumbling upon a young man's badly-mutilated body. He is still alive, barely, but others have not been so fortunate."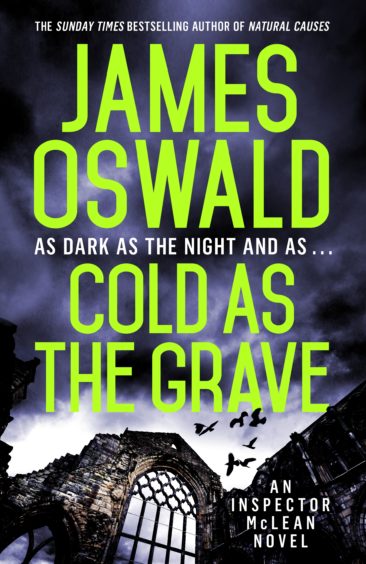 His latest Inspector McLean novel, Cold As The Grave, publishes on June 27. The book opens with Tony McLean discovering the body of a young girl, who turns out to be the child of a refugee. The pathologist is baffled as to how the girl died, but as the investigation proceeds and more bodies turn up, McLean is forced to ask whether the refugees didn't brings something older and more evil with them when they fled the middle east.
"Like most people, I am appalled at the way we treat refugees in this country," says James. "I was inspired by the plight of so many, fleeing war and persecution, trafficked for modern day slavery and prostitution, put to work in horrendous conditions, always terrified of being caught and sent back to something even worse."
So which authors inspire James?
"When I first started writing crime fiction, I took most of my direction from the works of Ian Rankin, R D Wingfield and Stuart MacBride, mostly because those were the only books in the modern genre I'd read," he explains. "The writers who inspired me to try writing are more in the fantasy and SF side of things, authors like Terry Pratchett, Neil Gaiman and Iain (M) Banks."
Admitting to being quite shy and retiring, he was surprised to find attending book events a lot less stressful than he had imagined.
"I'm delighted to meet fellow readers, especially those who have enjoyed my books," he smiles. "I particularly enjoy visiting libraries and reading groups, as they are generally smaller scale. I suffer from anxiety in the run-up to big festival appearances, but imagination is always more visceral than fact, and I tend to be fine once I've got there. Especially if there is a bar."
Between writing the books and running the farm, James doesn't get much down time. Currently working on the 10th book in the Inspector McLean series, Bury Them Deep, he muses: "It's an odd little tale that I don't think I can describe without giving too much away.
"Tony McLean is investigating the disappearance of a police support officer, and uncovers some unusual secrets about a person he's worked alongside for years without ever really knowing. A fire on moorland to the south of the city reveals a hidden cache of human bones. Not the missing person they are looking for, but something far older and more sinister…
"I can write pretty much anywhere – even outside in a field, surrounded by sheep – but mostly I write in an office I have built in my house, above the garage. The room has two views: one looking west over the Tay and towards the Grampian Mountains, the other out over the grey farm buildings towards Dundee. I'll let you guess which way my desk faces…"
Cold As The Grave is published by Wildfire on June 27, £7.99.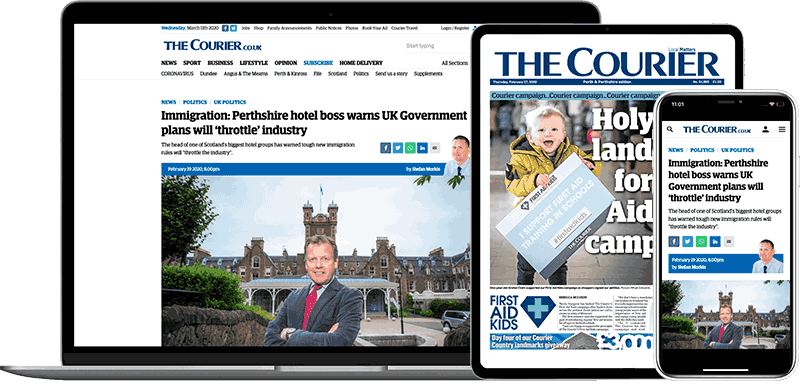 Help support quality local journalism … become a digital subscriber to The Courier
For as little as £5.99 a month you can access all of our content, including Premium articles.
Subscribe