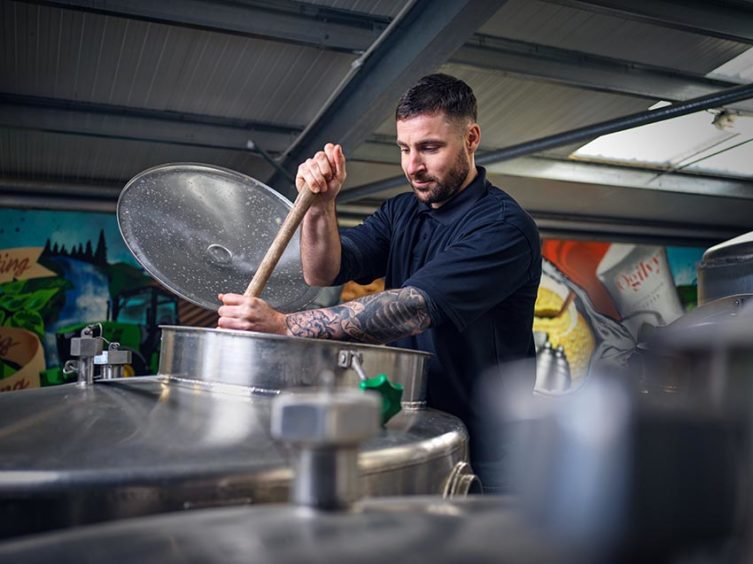 It has long been one of the biggest on-trade spirits, but there's more to vodka than the big brands as artisan producers shows it's all about provenance – and the flavour.
There's something about vodka that, while it most certainly isn't the underdog of spirits, it just doesn't seem to get the love and appreciation the complex spirit deserves.
The distilled product comes in a range of varieties and can boast incredibly unique flavours.
One of the fundamental spirits in every bar's speed rail, vodka has generated sales in Scottish pubs and bars which topped £204 million in the past year, making it one of the industry's most valuable offerings.
In 2019, the top three mainstream brands sold in Scotland were Diageo's Smirnoff, Pernod Ricard's Absolut and Loch Lomond Group's Glen's.
So what is it about this spirit that has made so many artisan drinks firms specialise in it? It's the idea of being different and bringing something delicately unique to the market.
One firm which has put vodka on the map in Scotland is Ogilvy Spirits based in Hatton of Ogilvie near Forfar. Better still, the potato farmers use their own tattie crops to do so.
Caroline Bruce-Jarron and her husband Graham are the duo behind the popular brand which has grown from strength to strength over the years.
Inspired by Graham's travels down under, it wasn't until many years later an idea from Australia became a reality on his family farm.
Caroline said: "Graham and I both drank vodka and he had spent a year in Australia, long before I met him, working on a farm who grew their own grapes and produced their own wine from it. They took it to local farmers markets and events and he liked that they had the full story of the product's journey from start to finish.
"He came back wanting to do something like that and he had seen Chase Vodka in England do something similar with potatoes. We didn't want to mask the flavour of the vodka with botanicals and we wanted to do something a little bit different to whisky. Our distiller Abhi Banik wanted to put his own slant on vodka and make it something you could sip – similar to how you would drink a whisky.
"Like others, we haven't moved away from vodka and it makes us quite unique. Graham and I never really follow the crowd and we didn't have a drinks background so we had a lot to prove. It's something unique and totally different."
Using a 500 litre still to create their vodka, the firm's field to bottle ethos is extremely important to them and every process from growing, to making and bottling the product is carried out on-site.
The best potatoes to make vodka
Growing a variety of potatoes, Caroline and Graham worked with Heriot-Watt University to find the perfect potato to use in their recipe.
She added: "We grow, distil, hand label and bottle at the farm. We have quality control at every step. It's a single variety vodka and we tested all of the varieties we grow. We met Abhi through working with Heriot-Watt University and did a lot of experimentation there.
"To be able to make alcohol form potato it needs to have a high dry matter content. We didn't know if our potatoes would work as the climate in Scotland produces wetter potatoes. The variety we use is Maris Piper and we managed to make it work to get the flavour we wanted."
Adapting to the market, the duo have kept their ears to the ground in being one step ahead and have developed a whole cocktail range to target a new group of drinkers.
"The cocktail range came off the back of doing all these events and markets. We had made cocktail samples at one using local fruit juices and people wanted to buy it. We came away thinking there was a market for it and cocktails in general, and we wanted to make something that was easy for people to make at home," said Caroline.
"They are similar to a liqueur but don't have all the sugars a liqueur has – and they are lower in ABV at around 20%. You can add whatever mixer you like and put your own twist on it. A lot of pre-mixed cocktails on the market at the time had lots of sugar and artificial flavours and colourings, so I think we've been ahead of the curve. We blend or infuse the fresh fruit juice into it.
"Our Creme de Cassis came off the back of the farm up the road having a surplus of blackcurrants and they didn't know what to do with them. We took a tonne and looked into Cassis and it's generally made with vodka, so it was a nice way to combine the both. We macerated the fruit in vodka for two months and added some sugar to it and launched it last year. It was so popular we took three tonnes of blackcurrants that year."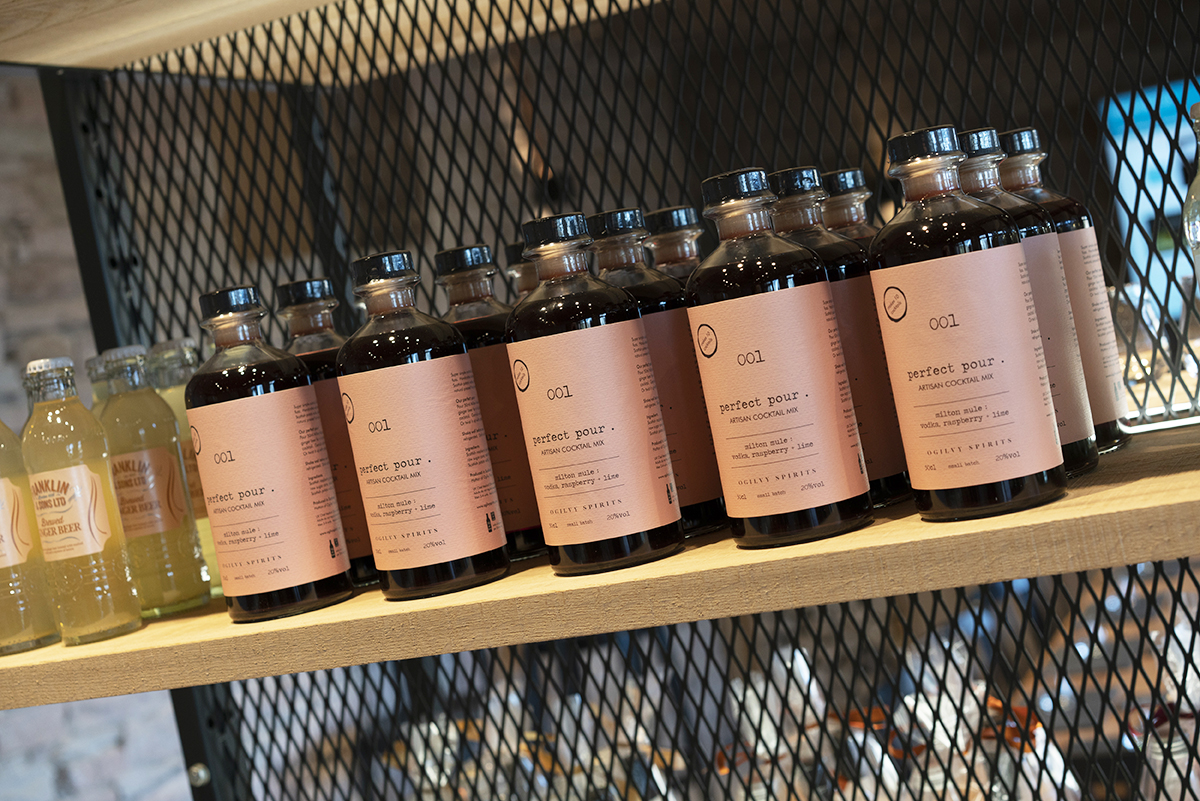 With eyes on exporting last year, Covid-19 has halted some of the plans the distillers had managed to set up. However, with markets beginning to reopen again, Caroline is confident they will see these promising clients return to get their Ogilvy Spirits fix.
She said: "The online sales have been great. Our wholesale business fell off the edge of a cliff when lockdown kicked in so it's been really challenging for everyone, and the supply chain.
"Our export sales we had lined up just before lockdown are on hold just now. We had one order for our cocktail range for the Middle East come back to us so we shipped our first order out there two weeks ago. We're working on the vodka going into the new Bahrain Airport when it opens, too.
"We've had some products go to Japan and Singapore previously and we have a distributor in France. Last year we were actively growing our export markets and we're looking to America, too. They are big vodka drinkers and its a challenging market to get into, but we're working on it. South Africa and other places are also on the radar."
Prepared for what should have been a busy summer season with tours, tasting and events galore, the team are looking into ways to adapt the popular on-site vodka tours to ensure the same high quality experience can still be achieved – albeit slightly different to the pre-Covid-19 version.
She added: "Our main concern is to make sure everyone's safe and that we can give a good experience. With the distance restrictions, it will be quite challenging, but we will reopen when the time is right. We've also been doing some virtual tours and have done a Facebook Live with Go Rural.
"We sent out sample packs before hand for the virtual tour and it worked really well. I showed them around the distillery and did a tasting experience at the end, so I think we'll do more of that kind of thing.
"We're hoping to come back stronger then ever from this and there's things in the pipeline which could potentially be a game changer for us. Vodka, as a category, I can see there has been definite positive change. I think people are looking at what's next and the more vodka comes on the scene the better. I think there's a bit more interest in it and a lot of the early gin producers are now looking to vodka which is very exciting and will help the industry so it can have its moment. It can have a bit of a bad reputation, but there's a lot of us that have set out to make it really enjoyable."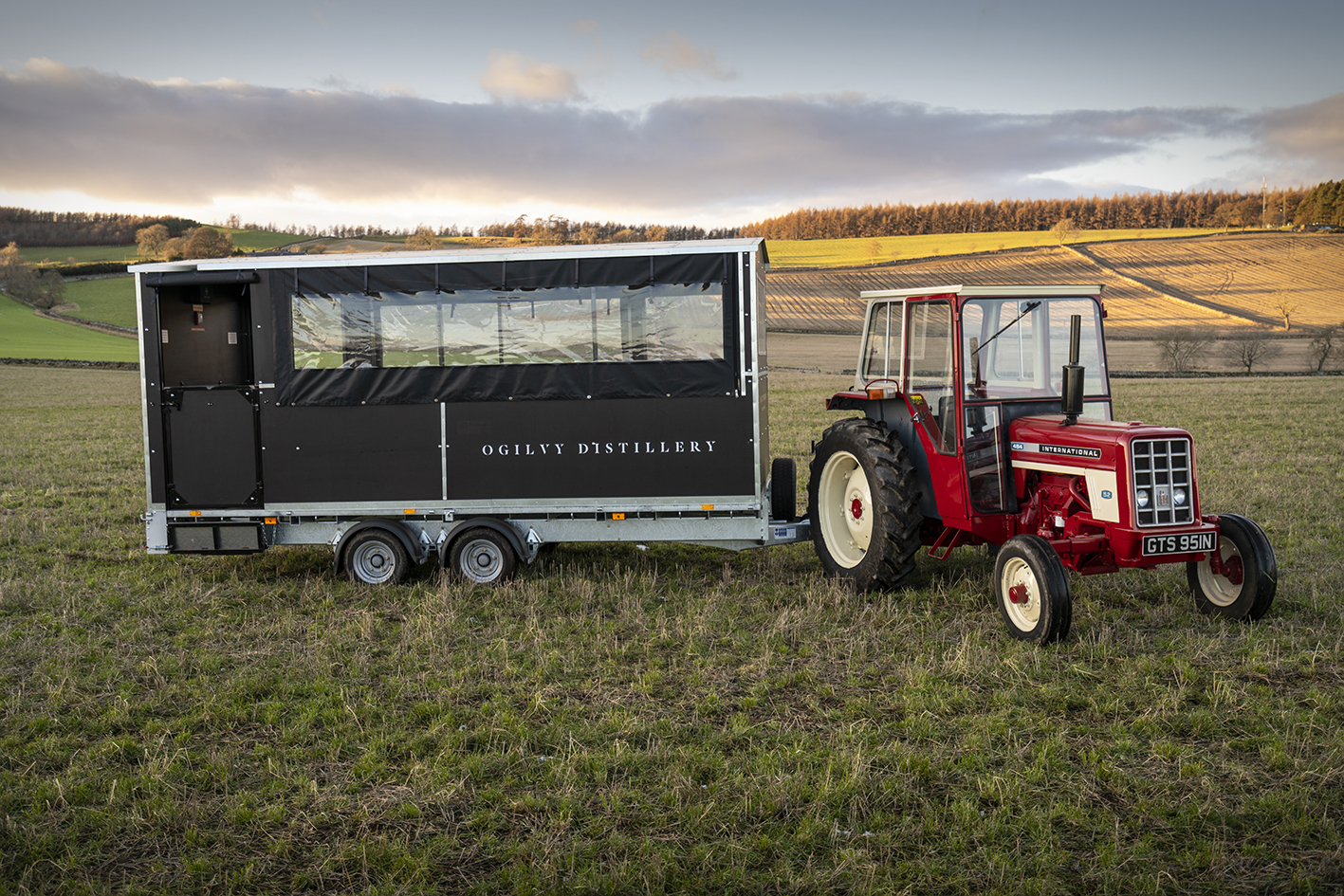 Elgin businessman Leon Chessor, director of The Speyside Vodka Co., the firm behind spirits brand Snawstorm is in his first year of making Scottish craft vodka.
Set up in 2016 when the gin boom was trickling its way into the market, Leon decided to set up his business in the background, rehearsing and learning more and more as he worked away in the oil and gas industry.
Going on sale for the first time this time last year, Leon is optimistic about the future of Scottish vodka.
He said: "I have worked in the offshore industry for the past 13 years and I'm still partly involved in it. I work from home most of the time now and I was working on rotation when I stared it up in 2016. Gin was really taking off and I've never been one to do the same as everyone else.
"Having grown up in Elgin and being interested in distilling with so many distilleries around me, I wanted to give it a go. Vodka, on a global scale is primarily made up of bland, large brands and I wanted to showcase a piece of Speyside. I wanted to make it different and with the gin market, there's been some weird and wonderful creations.
"Vodka still has to be neutral enough so it doesn't effect the flavour profile of a classic cocktail but I wanted it to have its own unique character. I sourced some of the single malt barley spirit from a local distillery and used some of it. Single malt barley spirit is a clear and unaged and is used to make whisky – it's the spirit that goes into the casks and is called new make spirit. I tested it and got some good results."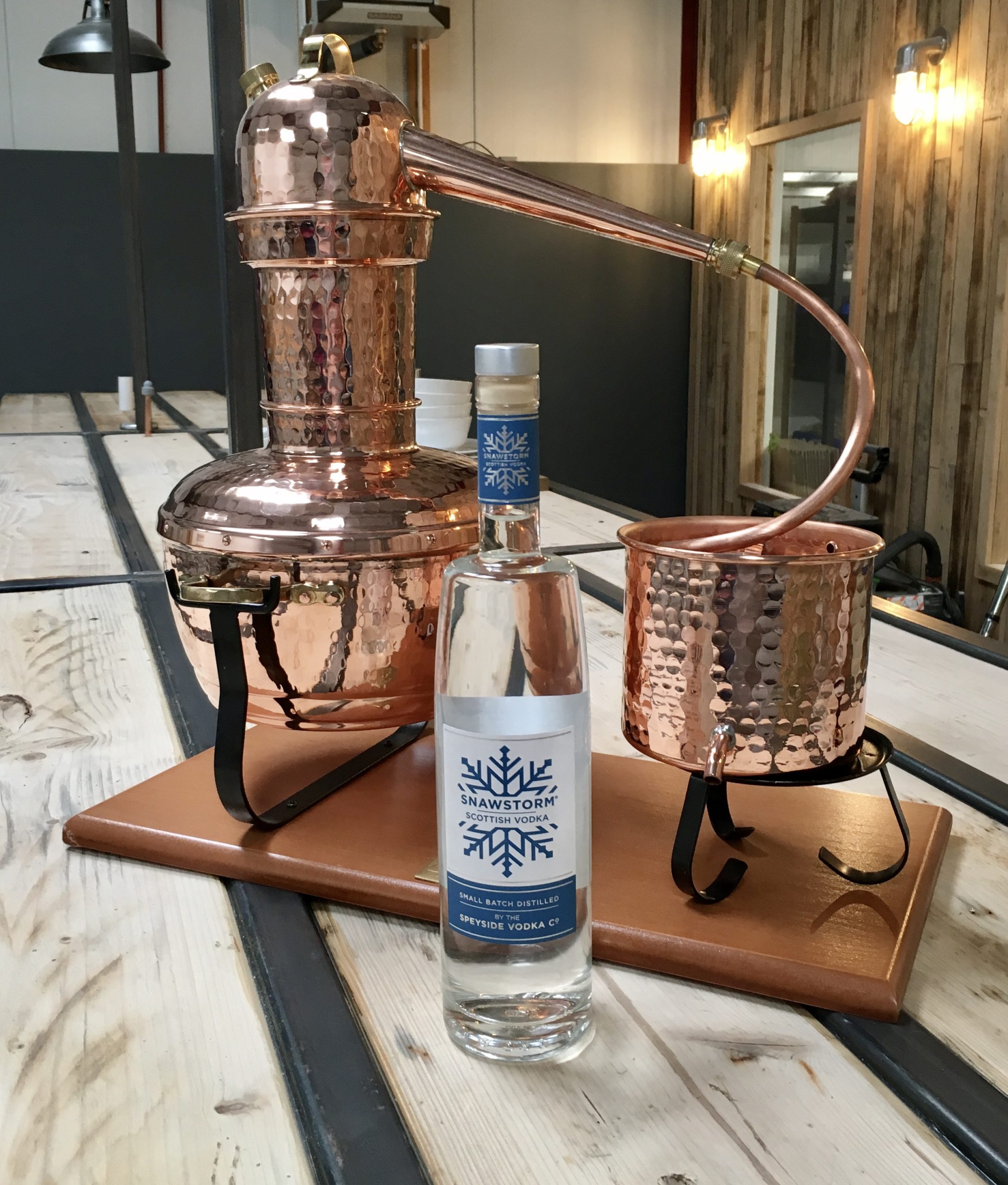 Contracting his distilling process to Aberdeenshire distillery Lost Loch Spirits, Leon is keen to bring the production back to Elgin when he can.
"I'm based in Elgin but I make the spirit at Lost Loch Spirits in Aboyne. Pete Dignan (the owner) and I actually met working offshore years ago so it's quite weird how I hadn't seen him for 10 years and then spoke to them about contract distilling. It allowed me to get the vodka off the ground without the commitment of stills etc, but the plan is to bring the production back home eventually.
"Each batch is no more than 350 bottles. We started off retailing to small independent retailers and bottle shops and we have gotten on board with some smaller distributors, too. We're in a few nice restaurants and bars across the country, but the plan is to grow our network and get into bigger markets and export.
"Globally, in terms of spirits, I know that vodka is still one of the biggest categories in the drinks market. The bulk of it is made up of supermarket and big brands. Consumers are paying more attention to where they are getting their products from where and how they are made.
Turning to gin
Mastering vodka, Leon will launch his first gin due to increased demand from his distribution customers.
"I have actually made gin now which I'll be selling in the next six to seven weeks. I did this as most of our suppliers were asking for gin too, and I didn't make any, and they kept asking when I would be making it, so I decided to after getting good results again.
"Gin is such a buoyant market just now and it will help give us some exposure that way. Vodka is still a bit of the unknown and people sometimes don't give it as much attention. We're still very much a vodka brand and the initial plan was to do a mainstream vodka and follow it up with vodka-based products so that's something we'll look at."
Christine Stamper of Black Thistle Distilleries in Brechin has added a sparkling touch to her products to get them noticed.
Setting up her business in 2018, she didn't start producing until 2019.
Shimmering crowd-pleaser
She said: "We started the business in 2018 but it took us around a year to get the stills over from Germany. My husband thought it would be a good idea for me to do something, and he thought it would be a great thing for me to get involved in. It's been tough, but it is doing ever so well.
"We have two distillers and one has 35 years' experience in the whisky trade. He was the one who had the idea of the coloured and sparkling vodka. The red one has really caught on and there's the black sparkly one, too. They aren't flavoured – it is purely for show.
"The vodka is really high class and it can be mixed with any mixer you like. The distiller added the shimmer to some of the products to make it look nice and very different. It goes down really well in cocktails and it creates this amazing drink. It shines when you're drinking it – it's very unique and lots of people comment on it."
Boasting two 850 litre stills, one for the vodka production, and one for the gin, every Black Thistle product has thistle used as a botanical throughout.
She added: "We started to grow our own thistles at the distillery and once we had found the thistle the distiller wanted to use, we ordered more seeds for it. We don't have the facility to grow them all, but the distiller does cultivate the thistle to get the flavours of it. Every product has thistle in it.
"We'd love to eventually open up as a visitor centre. It's a while down the line, but that is the hopes and dreams.
"We've had great interest from people living in America, but it is quite a hard market to export to. We're just available in the UK just now for the moment where it is selling well."
---
Deerness Distillery's Into The Wild Vodka – Orkney
Inspired by the Orkney landscape, this small-batch vodka is made by husband and wife team Stuart and Adelle Brown who opened the first distillery on the island in more than 130 years.
---
BrewDog Distilling Co.'s Rogue Wave Vodka – Ellon, Aberdeenshire
This single malt vodka is distilled over seven days and the vapour passes through the world's first tripe-bubble copper pot still. A tribute to BrewDog founder James Watt's cousin who lost an arm in a freak fishing accident, its smooth and crisp with vanilla notes.
---
Valt Single Malt Vodka, Strathleven Distillers – Dunbarton
Made using a quintuple micro-distillation unique to the brand, this vodka is created with malted barley and Scottish mountain water, and boasts a creamy mouthfeel.
---
Dunnett Bay Distiller's Holy Grass Vodka – Dunnet
Infused with holy grass – also known as bison grass – Dunnett Bay Distiller's launched their first vodka in December 2015.
Distilled in a still named Elizabeth, the vodka varies ever so slightly from year to year, depending on the grass harvest which makes it rather unique. They have now launched a range of vodkas for customer to enjoy, including a coffee-infused version.
---
Arbikie Distillery's Haar Wheat Vodka – Lunan Bay
Named after the chilly coastal for that frequently engulfs the distillery, this craft vodka boasts notes of vanilla, spice and caramel. With hints of apple and caramel on the nose, it's bound to go down a treat.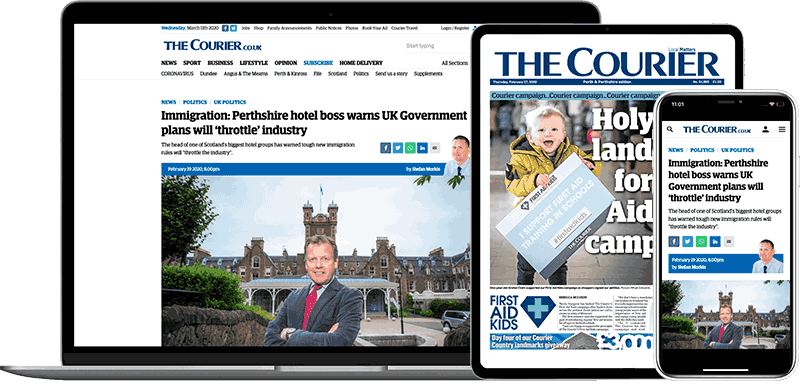 Help support quality local journalism … become a digital subscriber to The Courier
For as little as £5.99 a month you can access all of our content, including Premium articles.
Subscribe