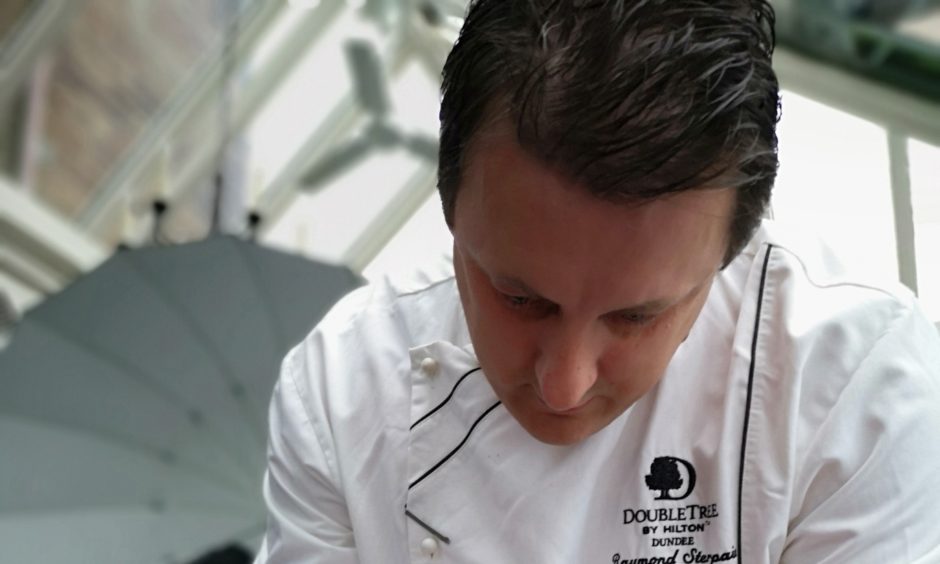 Raymond Sterpaio, head chef at Double Tree by Hilton in Dundee,  is crazy about kale but picky when it comes to pepper, discovers Caroline Lindsay
Q Desert island food?
A Lamb, I love the flavour from lamb weather in a stew or simply a rack for lamb it's my favourite meat.
Q Favourite TV chef?
A Hugh Fearnley Whittingstall.
Q Favourite cook book?
A Hugh FW's River Cottage. A great book if you want to learn about meats and how to cook them.
Q Favourite ingredient?
A Maldon salt. Light salt flakes finish any dish off nicely without being over salty.
Q Most hated ingredient?
A Pepper. I never use it unless on a steak in a peppercorn sauce. I've just never liked the flavour of it.
Q Perfect dinner guest?
A Someone who enjoys and appreciates a good meal.
Q Favourite kitchen gadget?
A Pacojet Machine. It makes the most perfect ice creams and smoothest parfaits.
Q Favourite music to cook to?
A Sometimes I prefer to listen to no music, I enjoy working in silence. However, in a kitchen there's always a radio on.
Q Perfect menu?
A I like taster menus or small choice menus, to me they normally mean that a chef has put a lot of effort into a few dishes and got them right, rather than a menu which tried to cover too many food groups.
Q Favourite country for food?
A Italy. Who doesn't like pizzas or pasta. Whether you are vegetarian or not there is something for everyone.
Q Favourite chef, alive or dead?
A Craig Millar @ 16 West End in St Monans is one of the best chefs in the country. Amazing palate and great to work with. His restaurant and food are very special and you would never be disappointed with his food.
Q Favourite culinary season?
A Spring time is the best time of the year for ingredients. After winter's dark and hearty food it's springtime with light fresh fish and salads and of course, lamb!
Q Salt or pepper?
A Salt, you can season anything perfectly well using salt only, but you can't with pepper.
Q Favourite herb?
A Thyme. I love the flavour of thyme and garlic together.
Q Favourite way to cook the humble potato?
A Bake a skin on potato then scoop out the inside and mash it with a little cream and seasoning. Perfect mash every time.
Q Favourite go-to recipe if you're in a hurry?
A Chicken fajitas, you can rattle them up in just 15-20 minutes.
Q Favourite health food?
A Kale as a superfood. Kale is very good for you and if cooked in a little stock can be a very tasty vegetable.
Q Ideal picnic dish?
A Panini or a filled ciabatta is great for picnics.
Q Ideal BBQ food?
A It's got to be burgers, chicken thighs and sweetcorn with a side of coleslaw.
Q Are you critical of the food when you're dining out?
A Never.
Q Do you tip in restaurants?
A Always.
Q Top tip for failsafe cooking?
A Season, taste, re-season, then taste again. Food seasoned correctly is always enjoyable.
Q Worst cooking sin in your opinion?
A Frozen ready meals.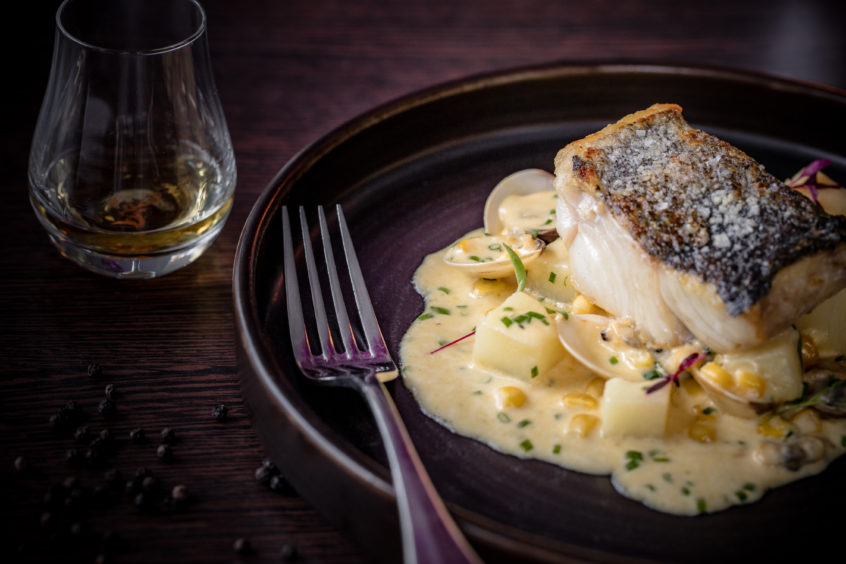 Fillet of hake, surf clam and corn chowder
Ingredients
200g hake, skin on
30g chopped shallots
30g sweetcorn
200g diced Red Rooster potatoes
150g fresh surf clams
150 ml double cream
100 ml white wine
15g chopped chives
Maldon salt
30ml Pomace olive oil
25g butter
10g garlic puree
Directions
Saute the garlic and 15g of shallot in 10ml of pomace oil, add the clams and pour in all the white wine. Place a tight-fitting lid on top and leave for 2-3 minutes or until all the clams have opened.
Pour the clams and liquid into a sieve keeping the liquid for the sauce. Cook the potatoes in salted water until just cooked then cool under cold water, drain off and lay on a tray with a clean cloth to dry the potatoes.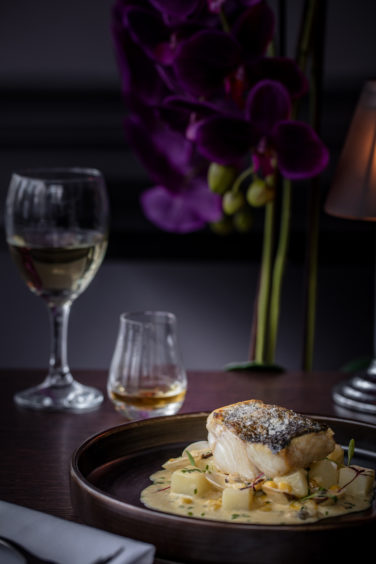 To make the sauce: saute the remaining shallots lightly making sure not to colour them. Add the clam stock and clams to the shallots and reduce by half. Now add the cream and again reduce until the cream begins to thicken. Add the potatoes and sweetcorn to the sauce boil for 1-2 minutes. Season to taste.
To cook the hake: have a non-stick pan nice and hot and add 20ml of olive oil, then place the hake skinside down first and season lightly with the Maldon salt. Leave in the pan for about 3-4 mins and then carefully turn the hake over skin side up, and season again with Maldon salt. Again, leave in the pan for around 3-4 minutes over a medium heat.
To serve: pour the clam mixture in to a bowl, then sprinkle with chopped chives, and sit the hake on top skin side up.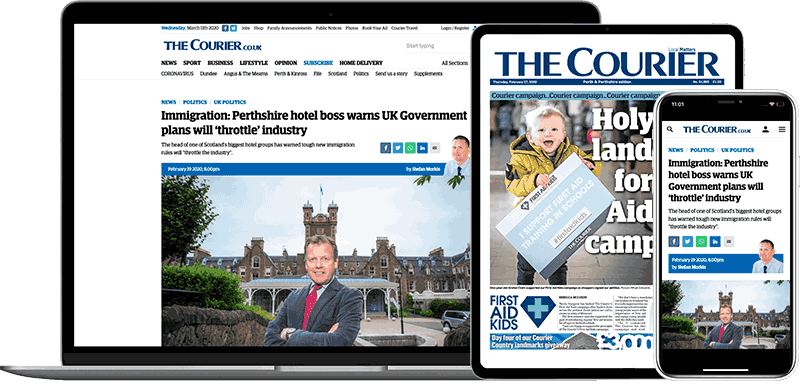 Help support quality local journalism … become a digital subscriber to The Courier
For as little as £5.99 a month you can access all of our content, including Premium articles.
Subscribe