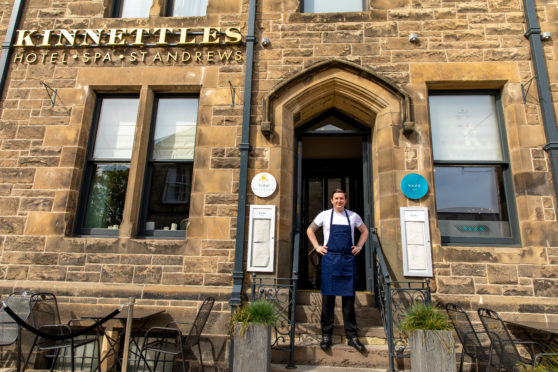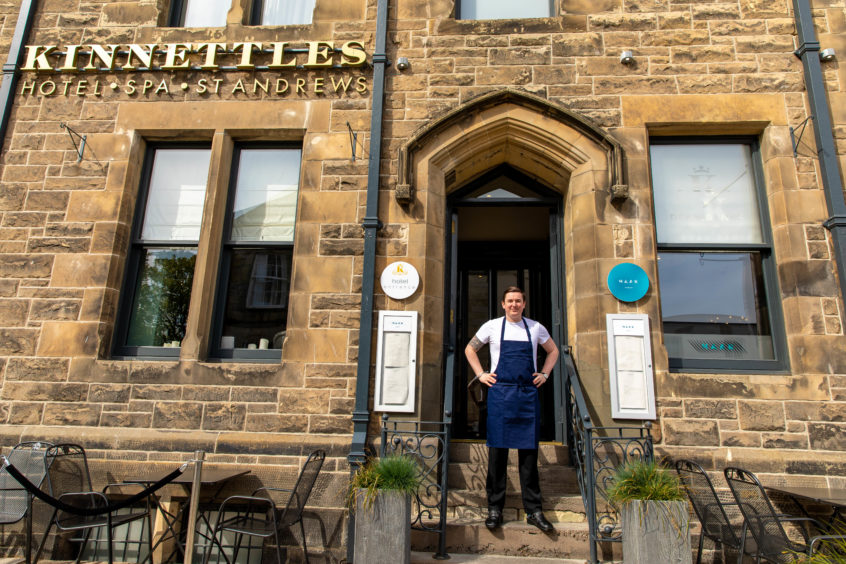 I'm kicking myself for not watching the recent series of MasterChef: The Professionals. Although it did mean that I experienced finalist Dean Banks's new venture, Haar, without expectation or preconception. And, after meeting Dean, the concept makes perfect sense. Riding the tide of MasterChef success, everything about Haar is fresh-faced and brimming with his contagious enthusiasm.
The name, evocative of the cold coastal fog prevalent in these parts, conjures images of glistening seaweed and slippery sea creatures shrouded in sea mist before being whisked away to Dean's table.
Many of the dishes suggest Nordic influences (not surprising since he used to live in Scandinavia) rooted in the best ingredients Scottish farms, waters and wilderness can provide, with a fusion of Asian flavours from his years spent travelling, clever spicing and incredible depth of flavour. The vehicles for such a bounty are both tasting menu and a menu of small plates and larger plates designed for sharing.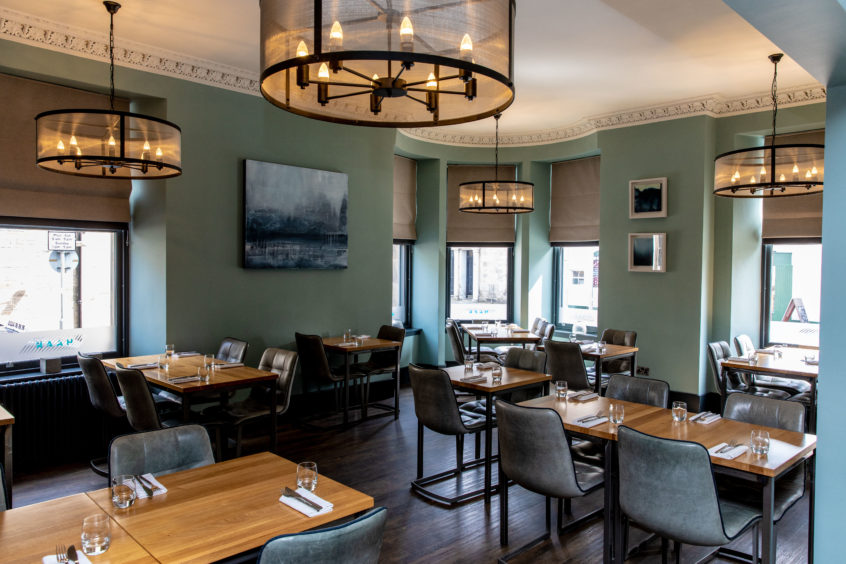 This style of eating – with pared-back menu descriptions, our elbows propped on bare wooden tables adorned with just a fork, knife and candle, eyes resting on the calming colour palette of blue, grey and abstract seascapes – forms a blank canvas for the outstanding flavours.  I felt all my senses sharpening as I watched a tantalising glass cloche carried to the next table, theatrically unveiling a clever take on Cullen skink, shrouded in smoke infused with whisky barrels, which drifted through the restaurant and scented the air.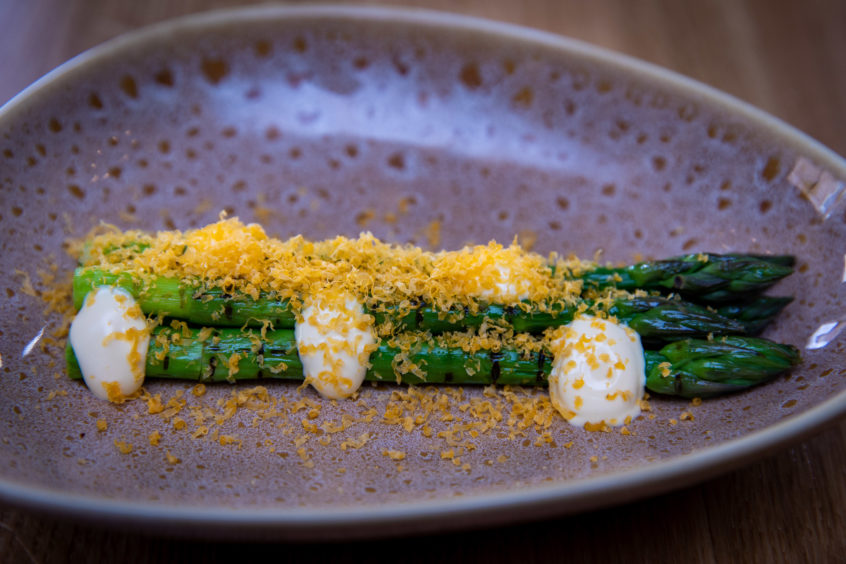 The fact the chefs have eschewed traditional chef whites and wear simple T-shirts and dark blue aprons says a lot about the tone the restaurant is striving for. Nor does Dean seem to be referred to as 'chef'; he's just Dean and he's at the centre of everything. Visible at the pass and finishing every plate that leaves the kitchen, if anyone wants to meet him they won't be disappointed. We watched him talk to every table with such an honest passion; this is a chef riding high on an intoxicating journey and clearly loving the adrenaline (just as well, since with a four-month-old-baby and a new restaurant I suspect sleep is in short supply).
Every supplier seems to have a personal connection to Dean, from the friend who brings him fresh sea trout on a Sunday, to the seaweed foragers turning up at his door, to the small family farm that make butter for Dean and nobody else. There is a plain wooden table in front of the pass, where Dean describes morning meetings observing the haul from foragers, fishermen and local farmers before deciding what to do with it. Apparently they only serve what can be delivered fresh to the restaurant on the same day (oysters excepted), meaning the only fish on Sunday's menu was sea trout. An admirable conviction, if they can sustain it.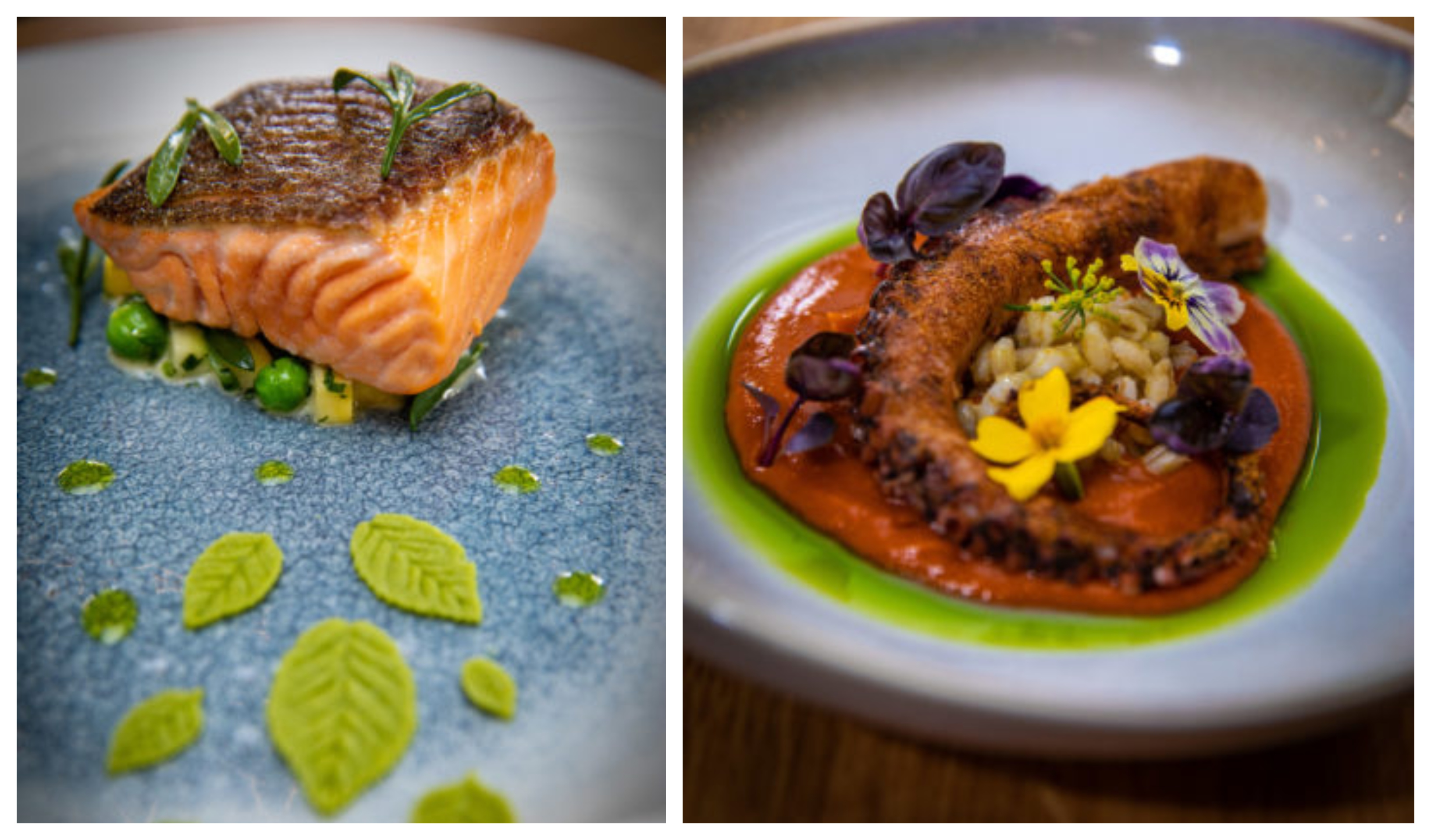 When we arrived, in the atrium of Kinnettles Hotel on North Street, we were told that Haar has been open only a few weeks, with the official launch later this month. It's an airy space but small and intimate, with 28 covers.  Apparently the front of house team is still a work in progress, so the subtext was 'please be gentle'. If there had been teething problems I would have forgiven them but in fact Dean's spirit for the new venture seems to have captured his staff, who were all incredibly knowledgeable and keen to talk about all of the dishes. There are no airs and graces here, just a genuine warmth and passion.
Would a menu based on small plates and sharing plates be my first choice? Probably not, but that is a question of personal preference (which I put down to my ingrained reluctance to share). I could niggle that because the dishes simply arrive when they are ready, and in no particular order, there's the nagging worry that perhaps I'm combining the wrong flavours or eating things in the wrong order. There's also the fact that with small plates ranging from £11-£14 and larger plates £18-£29, plus sides from £5-£7, it could easily stretch the budget to order a large selection. However, after much deliberation we embraced the concept and dusted off our credit cards. Then the first dish arrived and blew all those worries clean out of the water.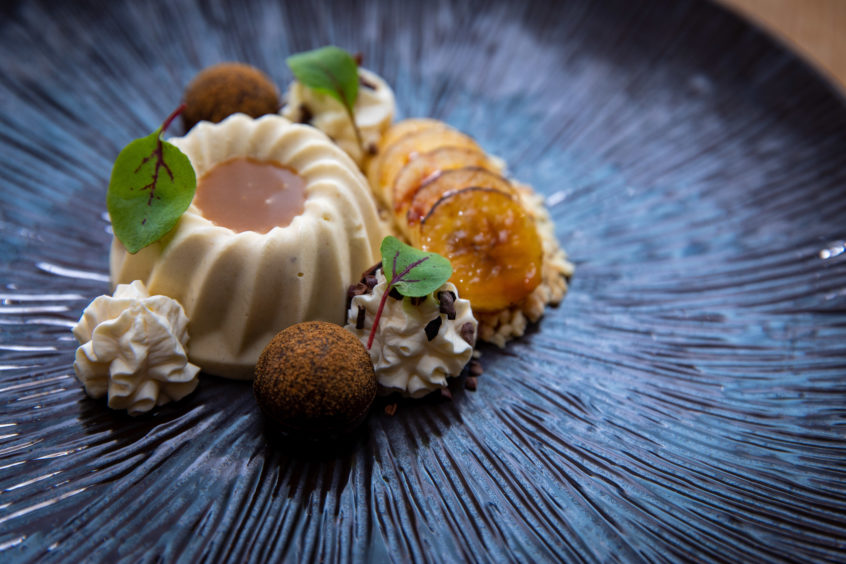 You know something is seriously good when you wake up the next morning and the first thing you can think about is what you ate the night before. My Monday morning was all about Dean's spiced octopus (apparently the best octopus dish Marcus Wareing has ever had). With a richly smoky, perfectly pitched heat in the burnt tomato sauce, the delicately spiced curling tentacle – charred on the Japanese grill – was exquisitely tender and incredibly moreish with a lemony heap of citrus barley. Hot on the heels of this came the crab brioche. The glazed warm brioche was pretty as a picture, split hot-dog style and stuffed with white crab meat and chipotle chilli, gracefully finished with viola petals and dianthus. If I could do it all again I would eat the crab first, since the intensity of the octopus dish spoiled my tastebuds a little for the more subtle crab, but that is my only regret.
The beauty of the menu, once I had warmed to it, is you can mix and match to your heart's content. It's left on the table and you can order as you go along, depending on what takes your fancy. We added a side dish of gorgeously green Lunan Bay asparagus, unable to resist this trademark of spring, with smoked mayonnaise and shavings of cured egg yolk. And let's not forget the bread, three generous slabs of soft coriander focaccia toasted on one side and drizzled with coriander oil, served with butter seasoned with seaweed and sea salt. Such a generous portion I almost contemplated taking it home in my handbag before reluctantly admitting defeat and relinquishing the last piece before dessert.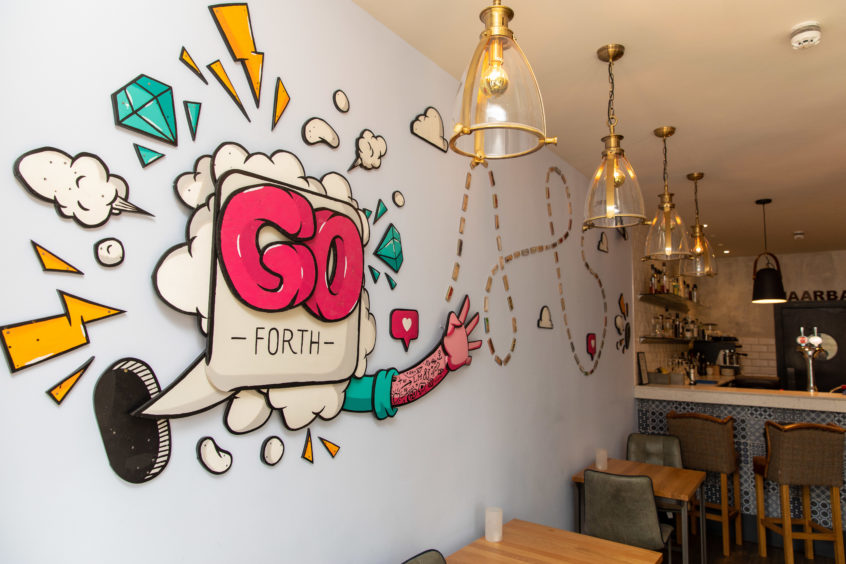 The larger plates were a masterclass in the perfection of a beautifully cooked piece of protein and an incredible sauce. The sea trout, delicate flakes just yielding to the fork under a moreish crispy skin, rested in a bowl of sauce that seemed to be based on the classic foundation of fish stock, butter and cream with a twist of citrus. Delightfully fresh, with lovely nuggets of broad bean and broccoli lifting it into spring. At first glance there were leaves dressing the side of the bowl but on closer inspection they were imprints made with pea puree. A pretty trick for the eye, adding a dash of delicacy. I'd learned my lesson from the crab and made sure to finish with the fish before turning my attention to the rump of Scottish beef.
The pave was caramelised to perfection and layered in eight mouth-watering pink slices, deeply flavoursome and incredibly tender. It was served on a deep bowlful of Café de Paris sauce: a feast of flavours involving ginger, orange, a hint of mustard, base notes of curry and others that I couldn't put my finger on but couldn't get enough of. The only accompaniment necessary was the little pile of salty fried potato, as fine as vermicelli, but we manfully struggled through the lemony seaweed potatoes we had ordered on the side. These were very generous portions – as you would hope, at £28 for the rump – and the stars of the show were the sauces. There are no smears or dots of this or that here but proper bowlfuls to get stuck into. This is dangerously close to drink-from-the-bowl territory, although somehow I don't think Dean would mind.
The desserts won't please everyone because there is only a choice of two, plus a Scottish cheese board, although the intention is to change them every couple of days. We ordered both. A take on his nana's banoffee pie, the combination of tonka bean parfait, oozing salted caramel sauce, wafer thin caramelised banana and a banana liqueur chocolate was a heavenly concoction. One crack of dark chocolate and the mouth was flooded with liqueur, instantly taking the dish to the next level. My dining companion was a little less wowed by the rhubarb dish, craving a few more sticks of poached rhubarb, but for me the lemon thyme custard was subtle and moreish, like a very grown up angel delight, with pink rhubarb powder sprinkled over like fairy dust.
Haar is just what is needed to shake up the St Andrews culinary scene. Make no mistake, Haar is a hot ticket. Exciting times for Dean Banks too, with the ambitious trajectory of two or more Haars planned before the end of the year. Joining the ranks of the stunningly successful Newport, also launched in the wake of MasterChef success and currently AA Restaurant of the Year, the launch of Haar can only increase the draw of this part of the east coast as an established foodie destination.
Haar Restaurant
127 North St
St Andrews
KY16 9AG
t: 01334 473387
Prices: Snacks from £4; large dishes from £18; desserts from £8.50
Food: 10/10
Menu: 9/10
Value: 10/10
Service: 10/10
Atmosphere: 10/10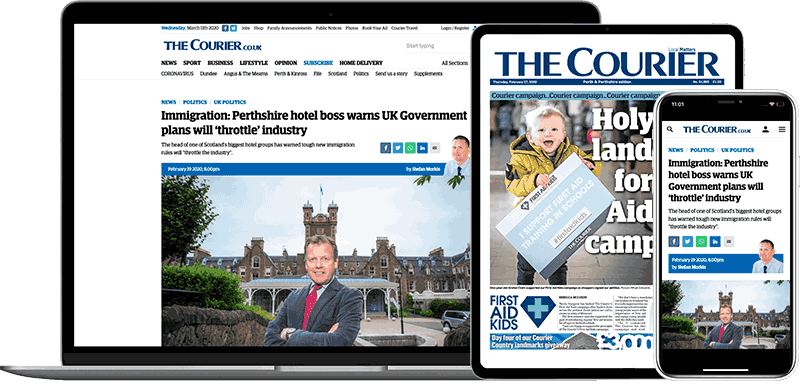 Help support quality local journalism … become a digital subscriber to The Courier
For as little as £5.99 a month you can access all of our content, including Premium articles.
Subscribe