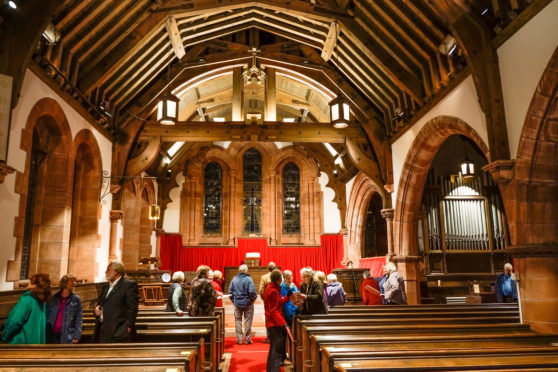 A historic Angus church is paving the way forward for an exciting future by preserving its history for generations.
Gardner Memorial Church in Brechin has completed a major renovation programme thanks to an initial grant of £25,000 from the Heritage Lottery Fund and a further £220,000 split equally by Heritage Lottery and Historic Environmental Scotland.
Work began in September last year as the congregation drives forward its vision to convert the A listed building into an all-encompassing community facility.
Repairs have been made to the 120-year-old building's stonework, timber, slates and lead work.
The weather vane has been replaced, work has been carried out on the tower and new lightning conductors and lighting have been installed.
The renovations works have also provided the foundation for promoting many historic items on a new website.
Church treasurer and former session clerk Peter George has managed the project.
He said: "We are just about done with the physical work.
"In order to justify the grant we have to promote the building's heritage.
"This involves a new website which is currently under construction."
The building contains a number of unique features illustrated by artist Steve Pardue from Hexham and a number of ornate Tynecastle Tapestry doors recently restored by the Scottish Conservation Studio, all of which are to be highlighted digitally on the website and on a leaflet.
A completion exhibition displaying various aspects of the church's architecture, repairs, history and heritage will run from October 22 to November 1 to celebrate the completion of the work.
Mr George confirmed talks are still ongoing regarding a possible union with Brechin Cathedral, which would see the Gardner Memorial used as a single building.
There are other plans in the pipeline which are dependant on funding.
Pews would be removed to create a multi-purpose activity space where events from carpet bowls to yoga can take place.
He said: "We would like to have a café with a bakery which would hopefully involve people with learning difficulties.
"These are the kind of far reaching things we would like to do but we need to get the funding in place – that's the long-term plan.
The Rev. Malcolm Rooney, locum minister, added: "The restoration works have laid a great foundation for the continued development of the congregation.
"In the 18 months I have been locum minister I have found a congregation in good heart with committed, hardworking members.
"The congregation is welcoming and caring and very keen for Gardner to be at the centre of the Brechin community."
The church was designed in the American Romanesque-Arts and Crafts style by Sir John James Burnet, a contemporary of Charles Rennie Mackintosh.
Niall Murphy, Deputy Director of the Glasgow Heritage Trust, will give a talk on the architect and his work at 6pm on October 23.