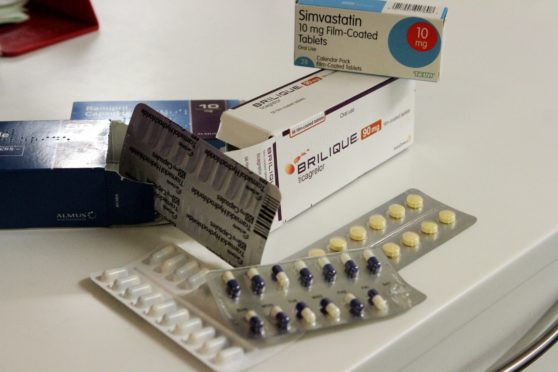 The UK's leading pharmacy has been slammed for introducing a £5 delivery charge for prescriptions which is proving a bitter pill to swallow for elderly and disabled people in Tayside and Fife.
There are fears the £5-a-time charge imposed by Boots, is forcing vulnerable patients to choose between "eat, heat or treat."
Age Scotland, the national charity for older people, warned many will struggle.
It called for the high street giant to review the charge and provide more clarity on how customers qualify for an exemption.
Brian Sloan, Age Scotland chief executive, said: "For huge numbers of pensioners in Scotland on very low and fixed incomes, where this service is their only option, the cost will be hard to meet.
"It will be particularly difficult if they live with multiple health conditions.
"For many, this charge will essentially negate the benefits of free prescriptions in Scotland.
"We know health and social care is under immense pressure and more resources are required to support older people's health and well-being.
"For those on low incomes and for people who find it difficult to access a local pharmacy, this charge is going to hit the most vulnerable hard."
Gary Dow, 52, who lives near Kirriemuir, is registered as disabled and has used the free delivery service with Boots for six years.
He said: "I suffer from chronic disabilities and rely on strong opiates such as morphine for pain relief.
"Boots, in its infinite wisdom, is to charge me £5 to deliver this crucial medicine.
"This is a cruel tax on the disabled, pensioners or house-bound. People will have to decide to either eat, heat or treat."
He is now getting his prescriptions delivered, free-of-charge, by another chemist.
A Boots spokesman confirmed delivery charges were introduced for new customers in July and applied for existing customers from September 30.
The company recently launched an online repeat prescription service, which includes free postal delivery for all patients.
For patients who wish to have their prescriptions delivered from a store, rather than from the online service, delivery charges are applied.
Patients can pay a one-off fee of £5 for delivery or subscribe to 12 months of deliveries for £55.
Boots will continue to provide a free delivery service from store where there is a clinical need, or an emergency delivery is needed, including those who are receiving end of life or palliative care.
Richard Bradley of Boots said: "Community pharmacy is unquestionably facing challenges and we need to adapt our offer to respond.
"As a result, we have invested heavily in digital technologies to offer a free, easy-to-use service for delivery of repeat prescriptions ordered online."