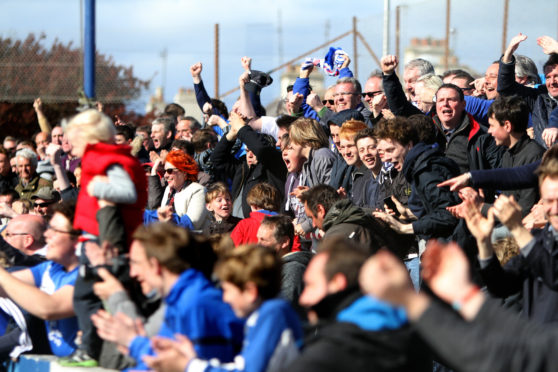 Montrose FC fans have rallied to raised staggering five-figure sum in the lockdown effort to secure a future for the Gable Endies.
The determination of supports to see the Links Park outfit through the financial crisis swamping Scottish football has seen almost £15,000 raised since the shutters were put up on the game in mid-March.
Within days of the March 13 suspension of football across the country, MFC Supporters Club stepped forward with a £1,000 donation.
Fans then took it upon themselves to continue to buy tickets for the Mighty Mo's four remaining home games, despite little chance of the fixtures ever being played, raising more than £2,200.
They then quickly mounted a fundraising campaign under the banner of 'Whatever it Takes!', consisting of an online donation page, auction and raffle which has netted just shy of £11,000.
Supporters club chairman, Graham Christieson said: "The response from both within the Supporters Club and beyond has been unbelievable.
"We initially set our sights on raising £5,000, so to be nearly three times that now, and to have done it within six weeks speaks volumes for the commitment of everyone who loves Montrose FC.
"Naming the campaign, 'Whatever it Takes!' was simply a reflection of our determination to ensure that whenever football resumes, after this horrific global crisis is over, Montrose FC and its proud history will still be around, ready to continue our journey of adventure under Manager Stewart Petrie."
Links Park chairman, John Crawford said: "The reaction of our fans and supporters has been extremely humbling and completely overwhelming.
"At such an uncertain and anxious time, when people have so much going on in their personal lives, you would have expected, quite rightly, football to take a back seat.
"So for everyone to have rallied in the way they have is unbelievable and on behalf of the rest of the Board I would like to extend a massive thank you to all those who have contributed to this fund and also to all those who have joined our new Club 500 lottery scheme.
"I am confident, that together, we will come through this difficult time and be stronger as a result."
The supporters' club success follows hot on the heels of recognition from the SPFL Trust for work being done by Montrose FC Community Trust to help those in the community hardest hit by the Covid-19 crisis.
The Montrose trust is among those helping others through the delivery of food packages, taking people to appointments, offering befriending sessions for those in isolation or suffering poor mental health.
The support has seen furloughed Montrose FC staff including manager Stewart Petrie and several players taking on volunteering roles including phone calls and Zoom meetups for those who need someone to talk to.