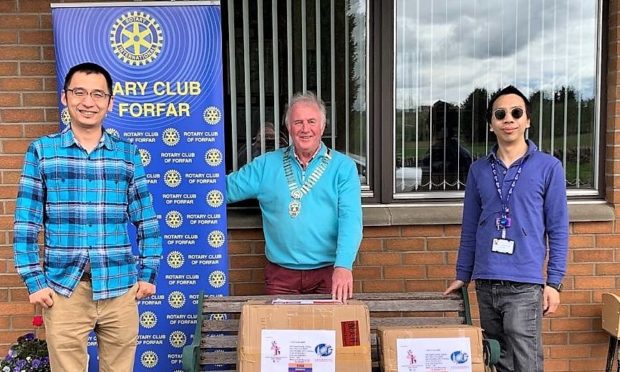 Forfar Rotary Club's PPE appeal has received another boost following a visit by senior representatives of Chinese medical practitioners and scientists working in the UK.
Dr Paul Yang, President of the Society of Chinese Medical Practitioners in the UK, and Dr Quan Gu, a Glasgow University researched and an office bearer with the UK Society of Chinese Life Scientists added 4,000 face masks to the massive stock already donated to the club.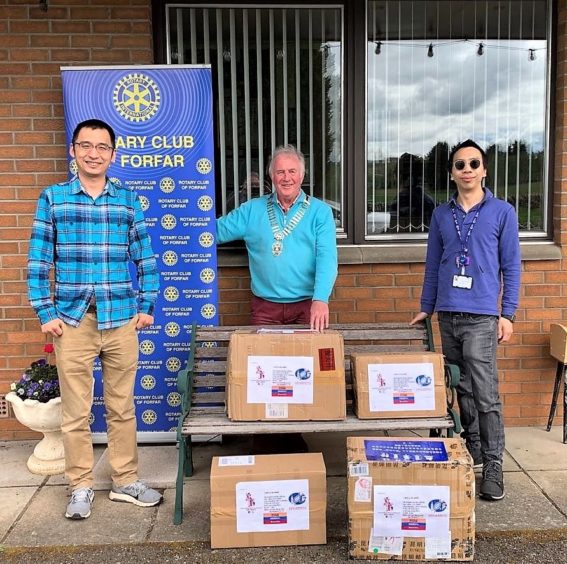 The Society of Chinese Medical Practitioners UK is a professional organisation run by practising doctors with a Chinese background working in the UK.
Since most of its members are frontline NHS clinicians, SCMP-UK said it understands how appropriate PPE is critical in fighting the pandemic, both in clinical settings and the community.
Dr Yang said: "COVID-19 is a disease we are fighting together as human beings. "Donating these masks is a unique way of showing support and gratitude to our
great NHS and society in addition to our clinical work."
The doctors became aware of Forfar club's community efforts through their long-standing friendship with Rotarian Dave Valentine and the publicity being given to the work of the Angus body within Chinese community circles.
Forfar Rotary President Doug McFarlane said: "We are very fortunate in having such valuable connections.
"This generous gift of masks is very much appreciated and will greatly boost our
community efforts"
Montrose Rotary has also been able to source face masks which re available at Hogg's newsagents and Hillside Post Office.
Proceeds will be used to help the club in future Covid-19 related projects
David May of Montrose Rotary said: "These masks were a gift to Angus by Shandong Province in China, where Angus has a longstanding link with Yantai Municipality."