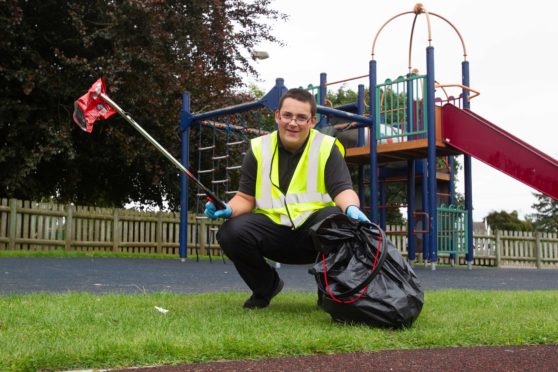 An Angus local litter champion is leading his community's fight against louts spoiling the area.
James Anderson will spearhead a new community litter hub in the village of Friockheim, one of two Courier Country projects included in an initiative backed by the Keep Scotland Beautiful campaign.
Fife's CLEAR Buckhaven and Methil scheme is also among the 11 hubs created by the environmental charity, which will see communities given litter picking equipment for local helpers to carry out clean-ups.
Individuals and groups will be able to borrow kit provided through their community hub and Keep Scotland Beautiful said the aim of the scheme is to help communities which are becoming increasingly frustrated by litter worsening during, and following, lockdown.
Its research has shown  almost a third of people believe littering has got worse in their area during the pandemic.
James, who is about to turn 17, carries out almost daily litter picks at the park, and is also gearing up to resume a winter volunteer role gritting village pavements when winter bites.
The teenager said: "Hopefully we can get some more volunteers kitted out for the litter picks, these are usually advertised on the park's Facebook page which I also run.
"The local playgroup has already shown an interest and that would be an interesting outing for them."
Former Carnoustie High School pupil James, who is on the autism spectrum, has previously been hailed for other activities including volunteering with Angus Carers and work around anti-bullying and cyber bullying which took him to a UN convention in Geneva in 2018 as part of the Scottish Government's Year of Young People.
Keep Scotland Beautiful campaigns officer, Heather McLaughlin said: commented: "During lockdown, many of us spent time enjoying our local parks and green spaces.
"Lockdown showed us how important these areas are to our health and well-"being. Unfortunately, a minority of people have behaved in an irresponsible and selfish manner.These kits will help people to tackle litter in the areas they care about.
"We encourage anyone who lives near one of these kits to make use of it, particularly between September 11 and 27, when we are supporting the Great British September Clean following the postponement of our spring clean campaign earlier this year due to the pandemic."