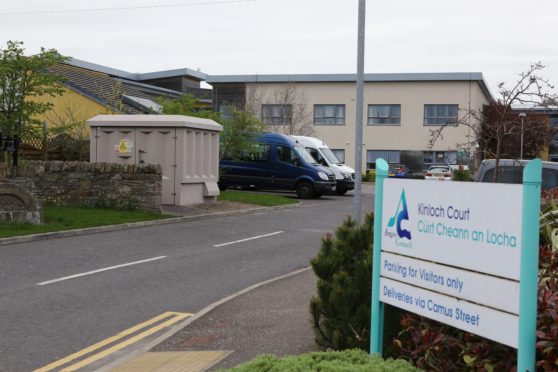 Staff at a Carnoustie care home have been waiting a week for results of coronavirus tests.
Employees of the Kinloch Care Centre are tested every Thursday and normally receive results within two or three days but some have yet to hear the outcome of last week's.
The 16-bed home, operated by Angus Health and Social Care Partnership, had a small outbreak in April, resulting in one death and a number of staff self isolating.
Staff have been given regular tests in recent weeks but now fear they could be unknowingly spreading the virus to vulnerable residents.
A source connected to the home said: "We're very worried about it because someone could have it and not know so they could be spreading it within the home and outside it.
"There has been no communication from the care home itself about why there has been a delay. There was some talk about a backlog.
"I think it's a scandal. Care services looking after the elderly are the number one priority.
"People could be going in tomorrow and be infected.
"If your mum or dad was in there it could be absolutely catastrophic if these things were not being done properly."
Staff were due to be tested again yesterday [Thursday] but have yet to receive results from last week's tests.
"It seems a nonsense that they doing more tests but still haven't had the last ones back," the source added.
"It may be the additional demand because more people are being tested but, given how vulnerable people in care homes are, anyone in contact with them should be a priority."
Tests for care home staff are carried out by the UK Government's Department of Health and Social Care.
A spokesperson for the department said: "Throughout our coronavirus response we have been doing everything we can to ensure all staff and residents in care homes are protected.
"There is a high demand for tests and our laboratories continue to turn test results around as quickly as possible and we plan to rapidly expand it in the coming weeks as well as bringing in new technology to process tests faster.
"NHS Test and Trace is working, our capacity is the highest it has ever been and our laboratories are processing more than one million tests a week."
Gail Smith, Interim Chief Officer for Angus Health and Social Care Partnership, said: "We are aware that there have been issues in terms of demand for testing across the UK and this is having a significant impact on the turnaround times for Covid-19 test results for care homes and their staff.
"This has been escalated with the UK government.
"I would like to take this opportunity to thank all care home staff in Angus for their continued patience and support while these issues are resolved and would encourage staff to continue to get tested each week."