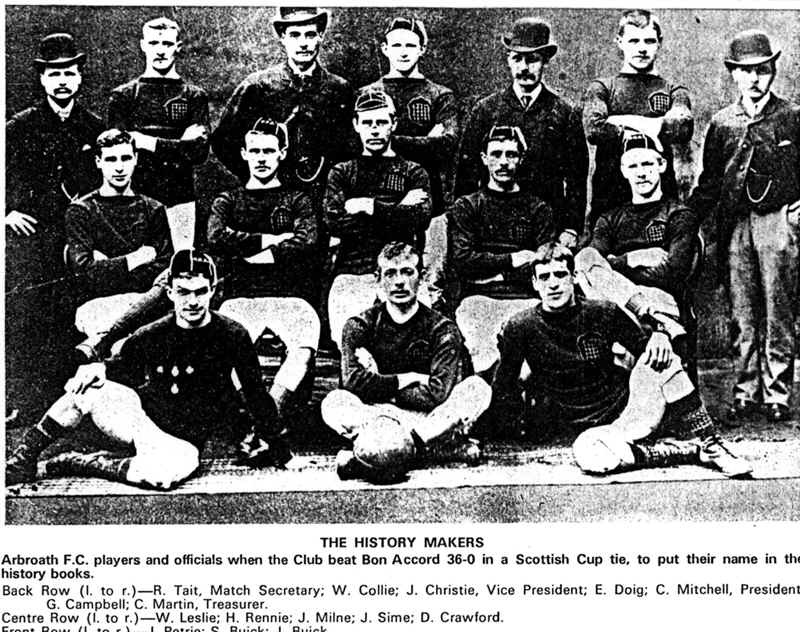 Arbroath FC's world-record 36-0 win remains intact today despite a team in Ecuador winning 41-1.
Guinness World Records have said they won't ratify the result because it did not meet "top-level" criteria.
Arbroath FC chairman John Christison said: "It's tremendous news because the world-record is something we are extremely proud of.
"The 36-0 win means a lot to everyone in the town – it's up there with the Declaration of Arbroath and the Smokies in terms of what we are famous for.
"I can't believe how much interest there has been in this but it shows just how much the record captures the public's imagination."
FC Infonet Tallinn equalled the Red Lichties 36-0 scoreline against minnows Virtsu
Jalgpalliklubi last year in the Estonian Cup, just a few months before the 130th anniversary of Arbroath's historic triumph.
A Guinness World Record spokeswoman said: "The highest score recorded in a first-class football match is 36.
This first occurred in the Scottish Cup match between Arbroath and Bon Accord when Arbroath won 36–0 on their home ground in Arbroath, Scotland, UK on 12 September 1885.
The feat was later equalled in an Estonian Cup match between Infonet FC and Virtsu Jalgpalliklubi, with Infonet FC winning 36–0 at the Lasnamäe KJH Stadium in Tallinn, Estonia, on 13 June 2015.
While this is an amazing achievement, for records directly involving performance in sports, we must only accept those which occur at a top-level professional, international, or pre-eminent amateur (i.e. Olympics).
"So unfortunately we won't be able to ratify the Ecuador result as a Guinness World Record."
Pelileo Sporting Club ran riot to come out as 44-1 winners in their clash with rivals Indi Native in front of just 300 spectators.
Winger Ronny Medina scored 18 goals with Carlos Manzano and Joel Soto trying to keep up with teammate Medina by grabbing five and six goals respectively.
Indi Native president Diego Culequi said the result was unexpected and the players being unaccustomed to the hot weather may have contributed to the heavy defeat.
Arbroath were 15-0 up at half-time during their once world record 36-0 win against Bon Accord in a Scottish Cup tie in September 1885.
The final tally could have been much more as many years later referee Dave Stormont admitted they could actually have won 43-0 after he chalked off seven goals for offside.