A Rottweiler owner has spoken of her relief after her beloved pet escaped unscathed after plunging into a harbour.
Four-year-old Teej fell into the water at Arbroath at around 10am on Tuesday morning while on a walk round the harbour with local couple Leigh Addis and Kieron Stibbles.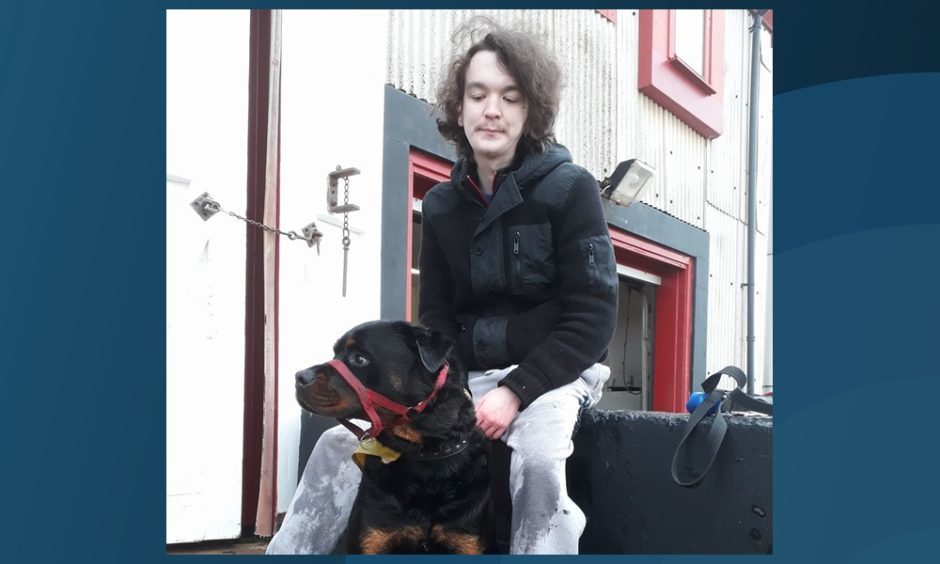 Luckily RNLI supporter Blair Durno was on the pier at the time and raised the alarm as Leigh tried to coax Teej to an area when he could be easily reached.
The Arbroath inshore lifeboat Robert Fergusson was scrambled to rescue Teej and Kieran joined RNLI crew members as part of the rescue mission.
Kieron managed to persuade Teej into the boat from the water's edge.
Slightly shaken but unharmed, he was brought back to shore.
Leigh said: "Teej was out on his ordinary walk with Kieron around the harbour area, which is one of his most favourite places to be – he loves nosing at the crab cages.
"He's very good with answering to his name when called so we have never had an issue with having Teej off the lead and letting him wander nearby.
"I had taken my eyes off of him for two seconds to look out over the pier and when I turned around Teej had snuck to the side of the crab cages next to the edge of the pier.
"It was his reacting to my voice calling him suddenly that caused him to turn and by being at the edge he jumped into the harbour.
"Luckily, there was another guy on the pier, Blair, whose attention I got and he immediately came to help.
"Blair was the one who called the Coastguard as I tried to coax Teej to an area when he could be easily reached and keep him calm.
"I'd like to urge any dog owner to be extremely mindful of their dog's whereabouts when off the lead.
"Sometimes a two second distraction is all it takes for a mishap."
Leigh said Teej is none the worse for his ordeal and was back playing happily as soon as he returned home.
"I was glad to have been there at that time to help," said Blair.
"The quick response of the inshore lifeboat ensured that the dog was recovered from the very cold water quickly."
Michael Marr, inshore lifeboat helmsmen, said: "The owner did the right thing in this situation.
"They didn't attempt to go into the water and rescue their dog themselves as this could have them in danger too.
"Instead, they did the right thing by calling for help. We would advise all dog owners to keep their dogs on a lead when walking near water or cliff edges."